Renfro Valley Bluegrass Festival
By Berk Bryant
The Country Gentleman
It was hot. It was dry. Umbrellas sprang up in the open areas like mushrooms, and the music was first rate. Yes, it was a bluegrass festival, the weekend of July 7, at Renfro Valley. (Gee, I hope they won't mind me using the name Renfro Valley in this bit.)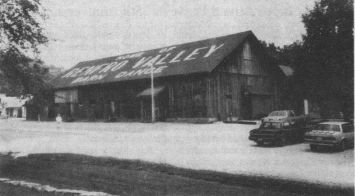 The Oold barn at Renfro Valley
We had a fine time visiting not only the performers, but also other friends we have met at various other places and festivals. We saw folks we had gotten acquainted with in Indiana, Michigan and several other places.
The hot weather didn't curtail the antics of Little Roy Lewis one degree. Old Joe Clark and son Terry were on just ahead of the Lewis Family's second show. Little Roy managed to hide from Old Joe and get into one of his latest get-ups. With a little help from the producers of foam rubber, a tight top, blonde wig, miniskirt, black hose and high heels, Little Roy was ready for Old Joe. But Old Joe was definitely not ready for Little Roy. The crowd ... well, they were ready for everybody.
The Lewis Family was followed that time by Raymond Fairchild. Raymond is seen by many, including me, as probably the best of the banjo pickers around today. That is not intended to say any less for the many fine, fine banjo players, simply a little more for Raymond.
Another treat and highlight on this show each year is the Roan Mountain Hilltoppers. They are a great old/young group from East Tennessee, The Birchfields. Creed, banjo player, is 85 years old; brother Joe with fiddle is 78. Bill, who is Creed's son, I think, plays guitar left-handed without changing the strings around. He reaches over the neck. He is good, but it sure is awkward-looking to watch. Janis, Bill's wife, plays undoubtedly the best wash-tub bass I have ever heard. On a record you can't tell it from the real thing. These folks are not exactly the best musicians that ever took to the stage, but they are definitely the "darlings" of every crowd I have seen them in.
Other noteworthy groups appearing were Bill Sky Family, Outdoor Plumbing, Candy Mountain Express, Parker Brothers and others who performed at open stage early. There were also some other folks there that I have begun to see more and more of at different festivals around over the country. Who are they, you ask?
We have been seeing an increase in younger members of the audience everywhere we go. By young people, I mean those from small kids to teenagers to young adults. And even more than that, there is an increasing number of younger folks going into bluegrass music as musicians. I for one say "Welcome!" Beats the heck out of riots, arrests, and everything else going on except being able to enjoy the show. In case you haven't gotten the word yet, young people think it's alright to like bluegrass and attend festivals and behave and really enjoy being there.