WAMZ'S 13th Birthday Party on Friday the 13th Not Unlucky
By Jean Metcalfe
"This next song was written by Louisville's own Debbie Hupp."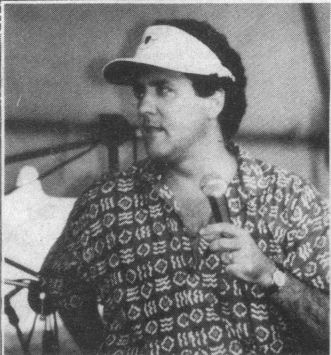 Steven Lee Cook. photo by Jean Metcalfe
Steven Lee Cook was introducing "If Anybody Can" to the celebrants at WAMZ Radio's 13th Birthday Party at Louisville's Waterfront Park.
The song had been penned by the writer of the Kenny Rogers hit "You Decorated My Life," which earned Ms. Hupp a Grammy.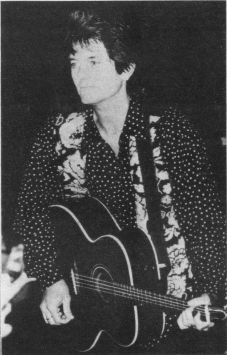 Rodney Crowell. Photo by Mark Sickles
Cook was entertaining the good-sized crowd that would grow increasingly larger in anticipation of the appearance of headliner Rodney Crowell.
It was Friday, the thirteenth of July, and there wasn't anything unlucky in sight. Fun was in the air from the moment we paid the early nominal admission and effortlessly succumbed to a corn dog with mustard that was almost as good as those at the Kentucky State Fair.
Friday was day one of a three-day celebration which would help "Project BridgeLight" light up three of Louisville's trans-Ohio River bridges. Of the birthday celebration, Coyote Calhoun, Program Director and afternoon drive-time deejay for WAMZ, said: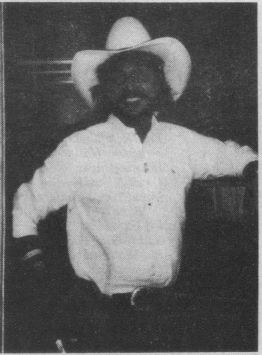 Coyote Calhoun. Photo by Sandy Daughtery
"Basically, we've been here now for thirteen years and it was a chance for us to get together and do something for our listeners and also raise money for "Project BridgeLight" which Mayor Abramson and the governing bodies of the Indiana local government are very high on right now. So it just seemed like having a three-day fest like this would be very appropriate, and we're real pleased that we could bring this talent in town and raise funds and everybody have a good time."
Cook and the Desert Wind Band presented fine covers of such favorites as "Pink Cadillac," "Crime of Passion" and "Super Love," before yielding to Pirates of the Mississippi, a talented quintet of spirited up-and-coming young musicians based in Nashville. (See interview this page.)
The "Pirates" presented an entertaining set of songs that included their debut single "Honky Tonk Blues," a Hank Williams classic that was good to both Williams (No. 2 in 1952) and Charley Pride (No. 1 in 1980). It would show up for the Pirates at No. 65 in the July 28, 1990, issue of Billboard as the strongest new entry in their Hot Country Singles & Tracks chart -- the Hot Shot Debut.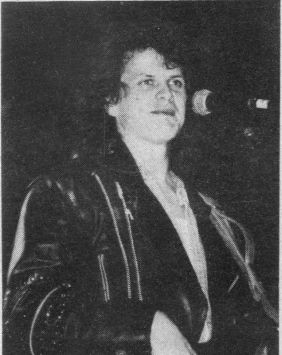 Paul Martin of Exile. Photo by Sandy Daughtery
Other Pirates selections were the Wayland Holyfield/Guy Clark "I Take My Comfort In You" and the nice ballad "Feed Jake." Of the latter song, Billboard columnist Gerry Wood said in the aforementioned issue: "Congratulations to Danny Bear Mayo for writing one of the first great songs to come out of Nashville in the '90s, and kudos to lead singer Bill McCorvey for his heartfelt interpretation."
Returning from the backstage area following a post-performance interview with the Pirates, I discovered that the crowd had greatly increased in numbers, awaiting the appearance of Rodney Crowell.
Crowell was extremely entertaining and had a wonderful rapport with his audience. He's not too hard to look at, either.
Although married to singer Rosanne Cash (daughter of Johnny Cash, who is married to June Carter Cash) Crowell richly deserves the reputation he has earned as an exceptional singer-songwriter-performer. (He has also served as producer for his famous father-in-law on several projects.)
Among the selections Crowell performed were "After All This Time," "Many A Long and Lonesome Highway," "She's Crazy for Leavin'," "Above and Beyond the Call of Love," "Traveling Man," and the Oaks hit "Leaving Louisiana In the Broad Daylight."
He sang his new single, "My Past Is Present," a cut on his CBS Keys to the Highway album, and asked the fans to call Coyote Calhoun at WAMZ Radio and request it.
Despite the light rain that eventually fell during Crowell's set, the fans did not leave. At times the guys in the band would have to take cover, fearing the danger that is present when one is touching anything electric while standing in water.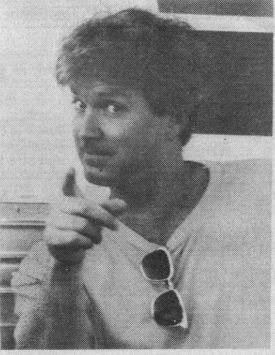 T. Graham Brown. Photo by Sandy Daughtery
Crowell found himself playing solo a couple of times before a canopy was put in place mid-concert. He had already put on quite a show, and it was s pleasant surprise when he continued in the unfavorable conditions.
"It's not my destiny to be electrocuted," Crowell assured the fans, "so anybody got a special song they want to hear? I'm takin' requests." Many were shouted out and he obliged the ones who wanted "Victim Or A Fool," from 1982 when it hit No. 34 on the country charts.
From time to time he would stop and consult with the roadies and band members, and sometimes he would use his guitar as an umbrella, but he kept coming back for more. When we reluctantly left before concert's end to keep an appointment, the fans were still packed tight as close as they could get to the stage. Some were dancing in place. A short, wiry gent in cowboy attire was putting on a show all by himself at the edge of the crowd, kicking the toe of his cowboy boot higher than his head on several occasions.
At one point Crowell told the crowd, "I know it's not my destiny to be electrocuted, but I can't expect everybody else to believe that, so, we'll carry on as long as we can, and if somebody has to leave the stage, you just gotta bear with us." And he went on with the show.
Rodney Crowell has a lot of hit songs, and I enjoyed hearing each one. I must confess to deriving much pleasure from his performance (both vocal and stage antics) of the Elvis Presley hit "One Night."
Crowell's set was probably the longest period of time that I have ever spent directly in front of a stack of speakers in order to watch, hear and photograph a performer.
Local and regional bands who performed during the weekend, included Ray Pomerleau and Level Ground, The Shaford Brothers Band, Doc Dockery and the Pirtle Sisters, Chris O'Neil and the Lone Wolf Band, Karen Kraft and Kicks, Tom Seacat and James Company Band, Steven Robbins and Uncle Pecos, Joe Anthony and Bustin' Loose, and Kenny Vaughn.
Besides Pirates of the Mississippi and Rodney Crowell, Les Taylor, David Lynn Jones, T. Graham Brown and Exile added their considerable talents to the celebration.
What a swell party it was.
Congratulations, WAMZ Radio, on 13 years of bringing top country music to Louisville and surrounding areas.