A Short Collection of MERF Stories
The MERF Benefit on Sunday, November 4, raised over $16,000 for the charitable organization. Sixty-five bands participated, performing in eight clubs around the city.
LMN reporters made it to some of the clubs for some of the bands. Below are their comments and impressions.
The Musical Chairs Tour
By Scott Furlong and Karen Le Van
"MERF" stands for Musician's Emergency Relief Fund, or, as we discovered, a new meaning -- "Musical Encounters with Real Friends" -- friends helping friends raise money to help friends in need when tragedy strikes or times get hard.
This ninth anniversary event was great and we shared it with a new friend we met at the third annual Louisville Area Songwriters' Cooperative Seminar. Joseph Diamond had attended the seminar for the first time and picked up an honorable mention for his song "You Changed On Me" in LASC's Songwriting Competition '90. He is an extremely talented musician and songwriter from upstate New York who now resides in St. Louis, Mo. He wanted to taste the flavor of the music business in Louisville, so what better way than to attend MERF?
After spending Sunday afternoon penning a couple "hit songs," at 6:30 we headed for Phoenix Hill Tavern, first stop on the musical chairs tour. At 7:00 Steve Ferguson took the roof off the garden upstairs at Phoenix Hill. Mark Smalley (Mr. Uncle P's) verbally gave us the Cliff Notes of the history of rock 'n' roll as it relates to this innovative expressionist Mr. Steve Ferguson. We started dancing to the happy music he was creating as soon as we walked in the door, barely stopping to catch our breath. We gave Steve Ferguson and the Humanitarians a ten on the danceability scale. (After hearing Ferguson's November 4 performance, writer Furlong bought the tape Steve Ferguson Live At Uncle Pleasant's and indicated that his next step is to go to Mom's Music to get a red Telecaster guitar.)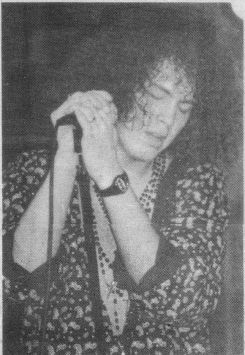 Mark Maxwell of Spanky Lee. Photo by Jean Metcalfe
A quick stroll down the hall led us to the Taproom where Londa Crenshaw grossed out everybody ... and they loved it. Her songs involving love, life and "cats" enthralled the full house in the Taproom. After a brief trip downstairs to catch Nervous Melvin so Joseph could hear some Sixties rock 'n' roll, it was back to the Taproom for Walker and Kays and their mellow sound of jazz.
Then it was time to hit the road for some soul motivation. At Splash, Chequee took the stage and proved they are Louisville's premier club entertainers. We gave them a ten-plus for danceability. We were easily -- and literally -- the hottest couple on the dance floor.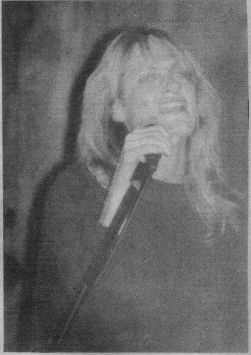 Barbara Carter of Shaking Family. Photo by Jean Metcalfe
Then back to Phoenix Hill to catch Shaking Family. (We saluted country music as we passed the Do Drop en route to Phoenix Hill). The Saloon was packed to capacity, and then some, when they started the opening tune. You could feel the beat in your chest and we wondered if maybe we'd fast-forwarded to December 3. Could this be "Quaking Family"? The sound rocked as clear as a bell. Nice to hear such controlled high-energy music. Barbara Carter's hair was beautiful as she seemed to be dancing with the mike stand. The visual and vocal strength of this group makes it easy to see why they have a major record deal with Elektra.
We stopped in briefly to hear Debbie Tuggle in the Taproom. Joseph wanted to hear some of the songs she had picked up so many honorable mention certificates for at the LASC contest, but she was doing cover tunes so we hit the road once again.
Next stop, Cherokee Blues Club, where the "killer" Kingbees came on with a rousing set of well-rehearsed R&B tunes. They were as tight as any soul act we heard all night.
The MERF benefit was a great event. The evening was filled with samples of a wide variety of music, and Joseph was very impressed. He said he had traveled all over and couldn't recall seeing a club that is as unique and that offers as much as Phoenix Hill Tavern. As the Kingbees were singing "Here I Am," we decided to call it a night. In the immortal words of Docrates (in an article in the November issue of this newspaper), "We were there; now we're not."
MERF at Phoenix Hill
By Bob Bahr
I watched a couple walk past me in Phoenix Hill's Roof Garden the night of MERF and it got me thinking. I presumed they were from out of town, the way they were casing the joint. I wondered what it would be like to see Phoenix Hill for the first time.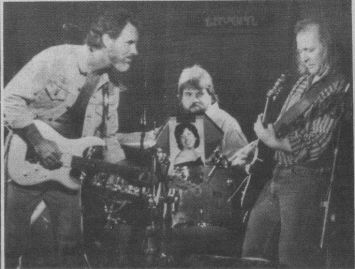 L to R, MERF President Wayne Young, Marvin Maxwell and Pogie Decker.. Photo by Jean Metcalfe
It really is a fantastic place, with three distinct rooms, tasteful decor and very professional employees. This couple was evidently awestruck, their eyes running all over the beautiful brass, plants and worn wood. Of course, Louisville natives are desensitized to all that, and we are painfully aware of the high cover charges, expensive drinks and the small group of undesirable regulars that plague the place. But even to somewhat jaded Phoenix Hill goers, Sunday night at the Musician's Emergency Relief Fund benefit was a jaw-dropping experience.
Phoenix Hill was the smorgasbord of MERF night, with three stages juggling 18 of the biggest draws in Louisville. The lineup didn't disappoint. It was tremendous fun to run from room to room, catching bits of all three concurrent acts of the given hour.
WQMF's tasteless morning team, Uncle Wiggley and the Caucasian Hogs, deserved and received eight seconds of my attention. Unfortunately, those eight seconds could have been more wisely used augmenting the mere 20 seconds of music I caught coming from Steve Ferguson and the Humanitarians as they finished up in the Roof Garden. This was no time to cry in my Long Island Iced Tea, however. It was off to the Taproom to catch the first strummings of soloist Londa Crenshaw.
Good conversation and entertaining, engrossing originals kept me tapping with Crenshaw for most of the hour. Then down to the Saloon stage for the last three songs from Nervous Melvin and the Mistakes. No surprises here, just capable covers of Rolling Stones and Buddy Holly gems and occasional flashes of imaginative interpretation. Highlights included interesting, machine-gun guitar work closing "Paint It Black" and questionable time keeping on that Stones cover and "Time Is On My Side." One thing holds true for Nervous Melvin: They are good at what they do. Nuff said.
Murphy's Law was preparing for a killer set in the Roof Garden while the crowd started to build up. Earlier on, the crowd seemed about 70% musician. Now the spectators were the majority, and the bands slipped into performance mode.
Mike Murphy was outstanding and extraordinarily charismatic. What a kick to hear that voice come out of that face and body. The Law came down hard on Otis Rush's "All Your Lovin'" and Chuck Berry's "Nadine," playing tight as a watch spring and both raw and polished in that magic way of good rock 'n' roll. After getting a healthy dose of "Nyquil Blues," we said goodbye to "Pork Pie Hat" (an ill-advised Mingus cover) and ran down to hear the last of the electrifying Rhino Ivory and the Monkey Paws and their kicking version of Big Bill Broonzy's "Key to the Highway."
LMNOP and its fine reputation drew us back up to the Roof Garden for Buechel-basted covers of classic rock. A game try at Dire Straits' "Sultans of Swing" and a Fleetwood Mac cover (why?) were intriguing enough to keep us in our seats, and our reward was a wonderfully countrified version of the Beatles' "I Feel Fine." Competent takes on the Georgia Satellites' "Keep Your Hands to Yourself" and Pink Floyd's "The Lunatic" failed to quicken pulses, so we pushed our way downstairs to catch Hopscotch Army.
We should have skipped it.
Boring originals and lifeless covers didn't just shoo us away from the Saloon stage; Hopscotch Army shooed us right out of Phoenix Hill altogether. Ironically enough, we went right into the hands of Hopscotch Army veteran Danny Flanigan at Snagilwet's. We ended our Phoenix Hill evening with beautiful, image-packed, no bulls--- originals from Flanigan a mile down the road. Perhaps the best Phoenix Hill nights end like that ... in another club.
Alas, our impatient departure meant missing headliners Spanky Lee and Shaking Family. In perfect testimony to the richness of Phoenix Hill's MERF lineup, we didn't feel like we missed a thing. In fact, any more may have resulted in musical overload.
MERF at Snagilwet
By Leonard January
Standing outside Snagilwet's front doors on the eve of the MERF Benefit, Gary "Lip" Gibson and Rich Williams, two local musicians, are about as similar in appearance as Frank Zappa is to Pat Boone.
Mr. Gibson, musician-thin with long, processed-curled hair, seems to radiate the definitive look of a player who has been through the wringer of life.
Mr. Williams, on the other hand, looks akin to a certified public account, ready to quote you the net cash flow of your investments. He is, to one's surprise, a diehard drummer who has seen his fair share of musical anguish. Where appearances leave off, commonalties of hard-luck stories takes over.
Mr. Gibson tells of his battle with overcoming a stroke that left him disabled for several months. Like Mr. Williams, a drummer, had it not been for the availability of relief funds from MERF, failure to meet his mortgage payments could have translated into a disaster. The money from MERF saved the day.
Mr. Williams tells of a friend, also a musician, whose son was hospitalized with a gunshot wound. Without MERF funding, financial disaster would have been imminent as they had no insurance.
As the stories wove a common bond between these two musicians, the stage at Snagilwet became host to several local bands playing throughout the evening. The funds raised by them will go directly into MERF. The tragedies, for sure, are never ending. The funds, realistically, are finite.
For the five-dollar cover charge, the patrons of Snagilwet were treated to a varied mixture of rock 'n' roll, alternative rock, alternative rock with a harder edge, and some new age music. The night opened with Tempus Fugit playing an interesting, laid-back Grateful Dead-type set. In increments of forty minutes, New Deal, Mrs. Frazier, Bloomington's Mere Mortals, and Danny Flanigan perpetuated the evening's entertainment.
Mr. Flanigan once again proved that soft, sensitive, provocative music is very much in demand these days. As I left after Mr. Flanigan's set, I felt somewhat at ease. His thought-provoking lyrics and music seemed to be weaving themselves together in my mind with the hard-luck tales of "Lip" Gibson and Rich Williams.
Side by side, these two factions seem to celebrate a fellowship and spirit that exemplifies the spirit of MERF.