"Annie" at Derby Dinner Playhouse
By Jean Metcalfe
Returning home after a chilling round of errands on a cold, rainy afternoon, the last thing I wanted to do was get dressed up and head out once again into the cold night. But since our table at the Derby Dinner Playhouse was reserved for that November 9 evening, and since I had been looking forward to seeing "Annie," I grabbed my husband, my raincoat and my umbrella, and we headed north to Clarksville, Ind. I'm glad we did.
Derby Dinner Playhouse's ample buffet and their hot coffee took the chill off, but it was the lovely singing of the eight talented Barnstormers that provided the warm glow that I would continue to feel throughout the evening.
I must admit to being something of a Bah! Humbug! sayer when Christmas decorations and carols start making their appearance before I've done my Halloween shopping. But, well, they were the first carols I had actually listened to this year.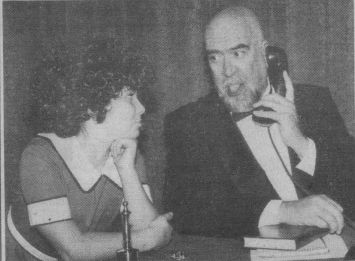 Brandie Gray as Annie and Ewel Cornett as Daddy Warbucks
The Barnstormers chased away all Scrooge-like thoughts with a nice combination of "Peace, Peace, Peace" and "Silent Night," complete with candles, following up with "Let There Be Peace On Earth." Add goose flesh to that warm glow.
Producer/Director Bekki Jo Schneider, wearing a sparkly, Christmas-red sequined blouse, took the stage to introduce the evening's production. Three "Annies" and eight "Little Girls" had been selected to handle the children's roles for the duration of the run, Ms. Schneider said, "so you'll come three times."
"Maybe this play will bring home to you some of the things that we are facing in our nation today," she continued, then wished for everyone and their families "a wonderful 'Tomorrow' and a little bit of optimism."
"God bless you. God bless your families. And God bless our nation," she concluded.
The Barnstormers added their amen with a nice performance of the Lee Greenwood hit song "God Bless the USA."
But the star of the evening was "Annie."
Two Armies, actually: the play, and the little lady – Ashley Mueller – who played the title role on November 9. Although I feel sure that all three Annies selected for the play's run were excellent, it is hard to imagine a young lady more charming or better-suited to the role than Ashley Mueller. Such an engaging smile. Cute, but not "precious." That's my kind of little girl.
Ewel Cornett, founder of Actors Theatre of Louisville, was the perfect "Daddy Warbucks" for the comic-strip-turned musical.
Rita Thomas as "Miss Hannigan," was loveable, despite her character's harsh treatment of the orphans in her care, e.g. waking them up (with an annoying, ear drum-bursting whistle) at 4:00 a.m. to mop the floors. Swigging from her ever-handy flask, Hannigan elicited laughs with such lines as "Why any kid would want to be an orphan I'll never know!"
Lee Buckholz as "Rooster Hannigan" and Barbara Cullen as "Lily St. Regis" played their parts well, speaking with voices that were not pleasing to the ear. I enjoyed their arrivals. I welcomed their departures. They were, however, responsible for one of the better numbers of the evening. Hannigan joined her brother, Rooster, and his girlfriend, Lilly, for "Fasy Street," a rousing song-and- dance number. The audience (we) loved 'em.
The story line and the happy ending were predictable – and absolutely essential. Although we already knew the outcome, getting there was much more than half the fun. Hearing "Tomorrow" sung several times was a real treat Annie's enunciation and volume were excellent, with very few words lost, and then only when she faced in our opposite direction from the in-the-round stage.
Bob Andres as "Drake" the butler brought more to his role than one could possibly imagine. Numerous compliments were paid him at the intermission and at show's end as he sold merchandise from a display in the lobby of the jewelry and accessories he designs and makes.
Each of the little "orphans" played her part well, the tiniest moppet stealing the hearts of her audience.
Kudos to the casting director and to all those responsible for bringing "Annie" to Derby Dinner's stage. I loved it.
"Annie" would be a great holiday-season treat for someone special on your list. The musical will be playing at Derby Dinner Playhouse in Clarksville, Ind. a good many tomorrows – through December 31.
"The Nerd" opens on January 8, "Dreamgirls" runs from February 19 through April 14, and "Steel Magnolias" is scheduled for April 16 through May 19.
By popular demand, no doubt, Gary Morris will be in concert on January 4 and 5, 1991, with two performances each day.