"GO FORWARD TO THE PAST"
Do Drop Inn Turns Back the Clock
By Jean Metcalfe
The Epics were blaring out with a spirited version of "Let's Go to the Hop" and the dance floor was just about full when I arrived at the Do Drop Inn around 9:00 p.m. on Monday, January 15. Trudy Walters, the Inn's co-owner was wearing a Fifties outfit, complete with poodle skirt, and a respectable number of the other patrons had also worn the prescribed outfit of the evening.
"Dedicated to the One I Love" and "Barbara Ann," among other oldies, kept the dance floor busy at the establishment on Story Avenue in the Butchertown area of Louisville. The crowd was having a good time; they seemed to have a first-hand knowledge of the songs that the talented Fifties and Sixties band was playing.
The Epics threw in "Sweetest Thing (I've Ever Known)," "Elvira" and "Louie Louie" in a departure from the older stuff. But there was also "Unchained Melody," "Great Balls of Fire" and "You've Lost That Loving Feeling." Ah, what memories.
At about 11:00 o'clock the jitterbug contest got underway and a dozen or so couples did their fanciest steps to the beat of "Rock Around the Clock." At song's end, the audience applauded loudest for the team of Janet McArthur and Dennis R. Stoy, and they were awarded the $50 first-prize money. They repeated theirprize-winning style in a victory lap around the floor, and came away more than a little bit winded.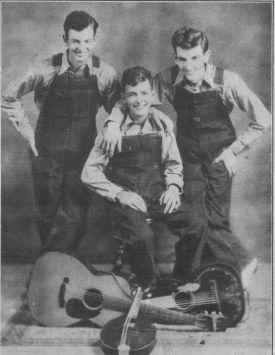 Janet McArthur and Dennis R.Stoy pose during and after their prize-winning jitterbug performance
The crowd was beginning to thin out a tad as I said goodbye to Trudy and Felix -- Felix Wuerth and Trudy are partners in the Do Drop Inn -- but the dance floor was still doing a thriving business.
The winners of the $50 prize for the best-dressed couple hadn't been announced when I left. But my saddle oxfords were beginning to pinch and my 100% wool letter sweater with the orange "F" was feeling much too warm, not to mention that no one had asked me to dance -- just like sock hops at my high school -- so my friend and I departed. We didn't want to be late for curfew. (Confession: my friend did get asked to dance, but she declined with the excuse -- a valid one since I was off taking pictures -- "I have to watch my friend's purse.")
"Go Forward to the Past" will continue on Monday nights at the Do Drop Inn, with music from 8:30 p.m. until midnight. There is a $2 cover charge.
The Sultans provided the music on January 22 and Cosmo and the Counts kept 'em jumpin' on the 29th.
On February 5 The Mystics will provide the entertainment. The Trendells are scheduled for February 12.