"Hard Rockin' Roller" La Duke Rocks In His Home Town
Madd Rabbit Opens
By Jean Metcalfe
A cold wind was blowing in the Louisville area, but the atmosphere in Uncle Pleasant's on the evening of January 25 was definitely hot. Loud, too. The air was filled with electricity – translate mega-amps – and the room was filled (almost) with devotees of hard rock.
My eighteen-year-old son would've loved it! And I would have, too, had I been able to enjoy it from the privacy of my automobile like at a drive-in movie, with an adjustable speaker. (A friend, whose name I shan't divulge, suggested that cigarette butts make excellent earplugs.)
I enjoyed the antics of the Madd Rabbit madcaps. No hutch could have contained the young bucks. They were dressed in a manner that seemed appropriate to the reputation they claim –-"the craziest band in rock 'n' roll."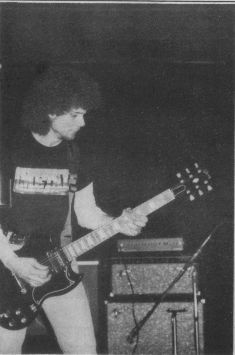 Rockin' David La Duke. Photo by Jean Metcalfe
Madd Rabbit – especially lead singer Jeff Ehrhart – employed all the ingredients that bring about the proliferation of groupies of the female gender. And just in case his leotards weren't stretched enough in just the right place, Ehrhan; didn't mind stretching them by hand.
Lead guitarist Chad Huber, drummer Steve "The Diver Pup" Hayes and Richard "The Electric" Doe-T, on electric bass, rounded out the foursome and they were a likeable group. They took the stage a few seconds after I had looked at my watch for the fourth or fifth time. I was impatient with the 45-minute delay, which someone described as "fashionably late." (Not starting on time, by any other name, still means loss of sleep for this reporter.) Probably wasn't Madd Rabbit's fault.
Despite the discomfort my ears were feeling, Madd Rabbit's set seemed to race by – no tortoise pace here. I wish the vocals had been more understandable – several of the song titles hinted at interesting lyrics. There were tunes from their current album Hare Razor, including "Buyin' Tyme,"-"Girls Red Hot" and "Two-Minute Race,"which they said they wrote about the Kentucky Derby.
Soon the guys were announcing their last number – "The Rabbitar." "It's kind of our theme song," they said. "Maybe it's a warning song to all those guys out there who like to f--- with the little guys," they added. (Sounds as if they've already paid a few dues in "the biz.") The final number of their set was well chosen. It had an extended instrumental tag – one of those "I'm not gonna be the last one to quit playing" sorta tags. A fun performance.
Madd Rabbit members are "about half way through" writing songs for their upcoming album, Lettuce Prey and hope to go into the studio in July of this year.
Their Hare Razor album is available on cassette from Electric Ladyland and Ear-X-tacy in Louisville and at Disc Connection in Clarksville, Ind. Mail orders will be filled upon receipt of $6 and a request for Hare Razor from Chad Huber, 640 W. Utica St., Sellersburg, IN 47172.
Billed as "high energy, a--kickin, guitar driven hard rockin roll, David La Duke's Sinbad didn't turn the volume down. The four-piece rock group did put out a lot of energy, but it seemed slightly laid back when compared to the Madd Rabbit bunch. La Duke's performance was closer to what one might expect from a hard rocker his age – probably "thirtysomething."
With a Little Orphan Annie hair style and wearing a "Metal Forces" T-shirt, jeans and sneakers, La Duke stuck fairly close to his mike and played up a storm. The sound mix was something less than perfect, but I don't think many of the patrons noticed; most were still there when I left before show's end.
At one point in the evening, one of the Sinbad members advised the audience not to get "messed up" while there. "If you do," he said,-"be sure to use your designated driver." I appreciated that show of concern.
As is true of quite a few rock groups, most of the song lyrics were hard to understand. It was only natural, then, that the songs this aspiring lyricist enjoyed most were the ones I recognized. One such song was "(I Can't Get No) Satisfaction" which did all right for the Rolling Stones.
Since this reporter was at post-deadline and holding, I had to leave while David La Duke's Sinbad was still going strong. As I neared the exit, I couldn't resist pausing long enough to listen to La Duke and Sinbad rip it up with "Johnny B. Goode." At song's end I braved the cold wind to head for the car and home. Reporters – like "Johnny" – must B. Goode.
On February 11, La Duke and his group will perform down at the Broadway Roller Rink at 22nd and Broadway. Starting time is 2 p.m. and all ages are welcome.
La Duke's current album, Have Rock Will Travel, is available from Shively Records, Ear-X-tacy, Electric Ladyland, Four Seasons Records and Better Days Records.