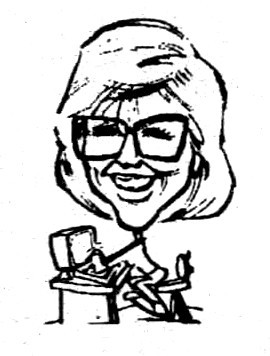 Newsical Notes
L.A.S.C. says a very special "thanks" to Karen Le Van and Scott Furlong for throwing our 1989 Christmas party. The party wasn't until December 29, but the festive mood was still there. To use an old cliche, "A good time was had by all"; to which I might add "and some of us stayed too long."
Anne Howard Maxwell, daughter of member Marian Maxwell, has recently had an album released on Voss Records. The first of several albums under her multi-record contract, it is titled Shadow of My Heart and is available on CD, cassette and LP. Anne, a resident of Los Angeles, possesses a wealth of talent (like her mother) and we know Marian is proud of her.
Marie Augustine has had a lot of guitar lessons in her day and now she's the teacher. If you'd like to learn guitar from a talented and personable guitar player, get in touch with Marie – she'd be glad to teach you.
Had a phone call from "Papa" Gene Adams in mid-January. Sorry to learn that he hasn't been feeling well for quite a while. He spent the Christmas holidays with his family at his daughter's home in eastern Kentucky, even though the trip was a difficult one.
While there, he was asked to sing his "Ship Soon to Sail" for an 86-year-old lady who had heard about Gene. Naturally, she liked the song and wanted to hear more. Gene graciously obliged with three or four more numbers before he had to take a break. He enjoyed the "command performance" even though he wasn't feeling up to snuff.
We're thinking about you Gene and look forward to seeing you back down at The Rud soon!
Lisa K. Gray, a resident of Hanover, Ind., recently mailed in her membership renewal and sent along a brief note. Transportation problems do not allow her to attend meetings, but she wants to let us know that she is available to do demos for other songwriters.
Lisa sings and plays keyboards with a local band, writes "a few" songs, sings at weddings and does demos and artwork.
Good to hear from you, Lisa. Hope to see you at a meeting soon. Hanover is a pretty good piece from Louisville.
Had an occasion to read one of member Oyo Habibullah's poems from her newly published book "Oyo Means Love." It painted a powerful and moving picture of the plight of many families right here in River City. Copies of the book are available from the author.
Honorary Member Alan Rhody has recently had his "Train Wreck of Emotion" recorded on an album by independent artist Connie McCurley in West Memphis, Ark. on CMAC Records. The Ricky Van Shelton hit song has also been cut by Jean Stafford, a "pretty-good-sized country star" in Australia.
Norwegian Bjorn Jens, who is "real big" in his home country, has just finished up an album, produced by Tree writer Michael Garvin, that included a song Alan cowrote with Curtis Green. The song is a statement song called "The Face of the Earth." They're very excited about the song and hope that it will be recorded in the U.S. and receive national attention.
Alan has been on the road a lot lately, as usual and his songs have been traveling as well. Seems Rhody originals have been played on the radio in England, Sweden, South Africa, Canada, New Zealand, German, Japan, et al.
Alan is especially excited about the re-release of his album Stop the Rain. It has been digitally re-mixed and re-mastered and cassettes will be available at Alan's concert at The Rudyard Kipling Restaurant on February 17, or by mail. (See Alan's ad in this newspaper.) CDs will be available later in the year.
Alan will be appearing at Rick's City Cafe in Frankfort, Ky. on February 28 and with his band – The Insomniacs – at Douglas Corner in Nashville on March 1.
Nashville venues where Alan has appeared lately include Bluebird Cafe and Douglas Comer. Alan Rhody and the Insomniacs take Alan back to his folk/rock roots. Alan has started a new recording project which is going to be in the folk/pop direction. He will continue to write songs, "some of which will be country and some won't."
Ask the team of Charlie Walls and Sammy Reid about their experiences at the January 20 Charlie Daniels concert. "Music Man" Walls sure is a silvery-tongued fellow!
Charlie will be playing at Jenny Wiley State Resort Park's "Sweethearts Weekend" on February 10, from 8:30 p.m. until midnight. He'd sure like to have some folks stop by and suggests calling the park for additional info about the weekend.