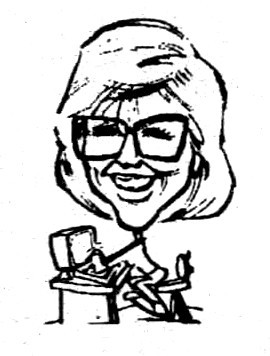 Newsical Notes
I received a note a while back from member Betty Lou Sherrard telling me how much she and her friends enjoyed the Eddie Miles concert at Flaherty's III on November 13. She sent along a photograph of her and Miles which she thought we might include in the L.A.S.C. Letter, but unfortunately the quality of the photograph did not lend itself to good reproduction. Seems Betty Lou got two hugs from Elvis … er Miles... one when she presented Miles with a rose and another for picture-taking purposes. You sure seemed to be having a good time, Betty Lou.
An additional letter a week or so later provided a cute picture of Betty Lou's granddaughter Melody and a request for us to sign the moppet up as a "supporter" member of L.A.S.C. Thanks, Betty Lou and Melody.
"Papa" Gene Adams has been in the hospital four times in the past few weeks and we're sorry to hear that. Hope 1990 is a better year for our good old country singer/songwriter buddy. We're glad that he was able to be on the November 18 "Run for the Royalties" showcase and he did a fine job.
He also did a fine job in his taped appearance on WLKY-TV a while back, speaking about the Veteran's Bonus issue. Gene is an old hand at being on the teevee and he always manages to speak clearly about the subject at hand.
Lee Ewing telephoned from Nashville a few weeks ago. He was interested in getting in touch with some old friends in Louisville. Saying that he is in Nashville to stay, he asked me to pass along to all his L.A.S.C. friends a hello from him.
Charlie Walls and his Silicon Valley Boys (synthesized band) and Claude Wayne and Cousin Mini Minne traveled to Austin, Ind. on November 30 to entertain the students at Austin High School. Charlie reports that the kids were a very receptive audience. That doesn't surprise me – a couple of years ago four L.A.S.C.ers entertained the Austin H.S. students and we were very impressed with the students' attention and courtesy. Co-oper Gardner Barger, a teacher at AHS, arranged for both of the perfonnances.
Alan Rhody, L.A.S.C. Honorary Member No. 4, dropped us a brief note right after the November 18 Seminar, saying he was sorry that his part of the seminar was so brief this year. (He had a gig that conflicted with our showcase.) He added that he is available for shows, lectures, showcases, etc. in the 1990 season and asks us to let him know if he can be of service.
A Christmas card from Bruce Rinehart brings word that he will be performing at The Stable in Bardstown, Ky. every Friday and Saturday night in February, from 9:30 to 11:30. Bruce said he'd be spending Christmas in Texas this year.
Doc Dockery told me at our December 18 meeting that he had gotten an early Christmas present – an eight-track recorder. "It's just a cassette," he said, but he looked mighty happy and it's quite understandable. We'll be expecting some good demos at future critique sessions.
Rob "Butch" Williams called Membership Chairperson Diana Black a while back to say that he has been in the studio recently to produce and play all the installments for the tune "I'll See You In My Dreams" cut by Ron Thompson for Thompson's own label. I spoke with Butch a couple of weeks later and he said he is getting a group of seven or eight of his own songs ready to take to a Chicago publisher in January. He wants all of us to wish him luck and we certainly do just that.
Butch said that he's ready, willing and able to help the L.A.S.C. when we need him and he'd especially like to do some vocal work on some of our showcases. (Showcase Committee, are you listening?)
Butch is also trying to work something out with the local cable television people to do a songwriter program in January or February.
Our thanks to Scott Furlong and to Marie Augustine for representing the L.A.S.C. at holiday functions of the American Cancer Society. Marie was snapped up for another gig by another group immediately after finishing one for the Society; that's a nice compliment, Marie.
Our heartfelt sympathy is extended Lo member Judy Johns and family on the untimely death of her husband on December 12.