Charlie Musselwhite – Truly A Living Legend
By Susan O'Neil
(Susan is vocalist for local blues group da Mudcats, who opened for Charlie Musselwhite.)
When I was asked to cover this show for the Louisville Music News I was both flattered and excited.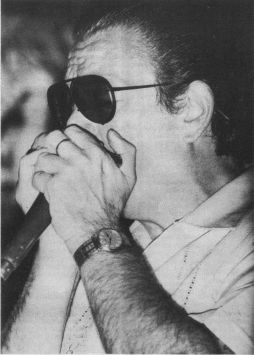 Charlie Musselwhite. Photo by Mark Sickles
I decided it would be novel to cover the opening act from a performer's standpoint. After the knots left my stomach and my knees quit shaking, I realized that the audience present at the Rudyard Kipling on the evening of June 5 was ready to be entertained.
All I can say is da Mudcats gave it their best shot. I thank everyone in the audience for being so wonderful and making us feel so welcome. We had a real good time opening for Charlie Musselwhite!
The Charlie Musselwhite Band took the stage and proved their expertise as a funky power trio. A. J. Joyce on bass, Tommy Hill on drums, and Andrew Jones on guitar are truly masters of their trade.
Charlie Musselwhite began his portion of the show with "Kiddeo," a cut off his Alligator recording Ace of Harps. He followed with rousing versions of "River Hip Mama" and "The Blues Overtook Me." Both tunes are laced with the trademark accents and breaks for which Charlie is known. "The Blues Overtook Me" has an intense guitar, harp harmony that brought me out of my seat. (I wasn't the only one.) By the time he launched into this one, the audience was totally involved, many thumping and gyrating to the marvelous sounds that filled the room.
Perhaps Charlie was trying to cool things down with "Yesterdays," a smoky instrumental featuring hypnotic harp riffs. This tune proved only to stimulate the audience's enthusiasm, resulting in thunderous applause. He ended the first set with a stirring version of "Up and Down the Avenue."
Charlie Musselwhite and the Charlie Musselwhite Band pulled out all the stops for their second show of the evening. This intricately tight band hammered out more hard driving blues featuring more whistles and screams from the "harmonica king" than anyone could hope for. A personal favorite, "She May Be Your Woman," a down-and-dirty drag, sent waves of chilling emotion through my soul.
Another highlight of the second set was when Jim Rosen of da Mudcats joined Charlie on stage for a harp duo. Rosen was visibly in awe of Musselwhite and both performed with finesse, much to the delight of the audience.
The entire evening was filled with emotionally charged music that is truly indicative of the blues.