Cincinnati Folk Artist Walter Craft Leaves the Queen City
By Paul Moffett
Walter Craft, longtime folk performer from Cincinnati, has moved to .Wisconsin in order to study with Skip Jones, a socially active folk performer. Craft characterizes the move as "a sabbatical."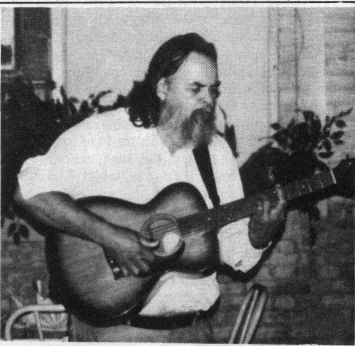 Walter Kraft at the Cellar Restaurant in New Albany
Craft was in Louisville recently, visiting fellow folk performer John Gage. Gage and Craft have cooperated frequently in presenting folk musicians to their respective cities.
Craft lamented that the folk scene in Cincinnati has shifted away from local, live folk musicians toward what he calls "easy listening folk," both in live performance and on the radio. This shift in focus has made it more difficult for Craft to engage in what he perceives to be his "work," which he defines as "helping to create a world where it's easier to be good."
Craft met Skip Jones at the Highlander Center in Tennessee, where Jones was teaching group singing. The; Highlander Center, founded by Miles Horton, teaches group-oriented activities. Folk performer Guy Carawan has long been associated with the Center and lives on the site. Craft noted that he was impressed by the fact that Jones was able to get a group of people to sing along with one another and enjoy the process. That skill is what Craft plans to learn.