Gary Morris At Derby Dinner Playhouse
By Jean Metcalfe
Gary Morris didn't mind that I referred to him in this newspaper as an "animal" when he appeared in concert at the Louisville Zoo with the Louisville Orchestra back in July of 1989. At least that's what he told me when I spoke with him between concerts at the Derby Dinner Playhouse in Clarksville, Ind. on June 13. I was glad.
What would Morris like for our readers to know about him? "That I'm making records. A lot of people still think I'm in New York, which totally puzzles me, because I'm out of 'Les Miserables' for two years now." (Morris had played the role of Jean Valjean in the hit Broadway show for about six months.)
He mentioned the new album that is due out in August or September, and added that he wouldn't have a day off until September 10.
Since he doesn't like to repeat material in two successive shows, such as the one at Derby Dinner Playhouse, Morris said that the dinner show that evening (a sell-out) would not contain the same songs he did in the earlier cocktail show.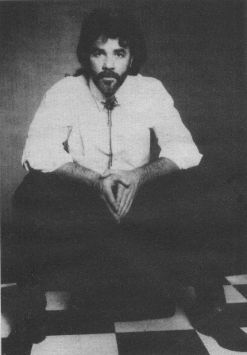 Garry Morris
"Not even 'Wind Beneath My Wings'"? I asked. Morris conceded that he'd have to repeat that one.
Morris also told me that he had written a song in Louisville -- or at least had started writing it -- while at the zoo. It seems that Morris was backstage with the piano player, and, speaking of the youthful zoo workers (apparently high school or college students) who were bringing them refreshments, the piano player said, "They're looking older younger now."
"I took that title and wrote a song about my son; wrote maybe half of it that evening. That's how it began," he related. (I was sorry that I would not be attending the dinner show, as he indicated he would sing it then.)
When we had arrived at Derby Dinner Playhouse earlier in the evening, there was a sizeable crowd of eager fans -- mostly women -- waiting for the doors to open. At 6:00 p.m. Morris strolled onstage grinning a boyish grin and chewing on a guitar pick. He wore a dark suit, a maroon shirt, a string tie and high-top tennis shoes (black).
He began to sing: "I'm gonna love you the rest of my life the way that I love you tonight."
"How are you doing tonight?" Morris asked the audience at song's end. He continued to chat with them, asking who would be there for the second show and who was in the audience from out of state. And he mentioned the new album that he had just finished.
Morris said that he had written all the songs on the album. "The last song I wrote is so new that I might even forget some of the words. . . . If I do miss some words, you all won't know it," Morris kidded.
The new song, "One Fall Is All It Takes," had a nice feel. In it Morris sang of spring and summer, and then:
If you were here right now
The leaves are gold
If you come I know you'll stay
One fall is all it takes.
Derby Dinner's stage is set up for theater in the round, but Morris would be facing pretty much in one direction all evening. To those of us in the "cheap seats," Morris said, "You guys are going to be looking at my butt all night." Squeals from that direction indicated that some fans might enjoy that view. Someone in our party (who, as the cliche goes, shall remain nameless) suggested to us that she wouldn't mind the "hind sight" if he would just take off his jacket.
Morris spent a good bit of time talking to the audience about his early years in the business trying to "make it." He had been singing, he said, for ten years, got a contract with Warner Brothers, stayed for ten albums and ten years. Went with Capitol. Found out he didn't know anything about the music business.
He asked the head of A&R (artist and repertoire) at Capitol "What secrets do I need to know?" The A&R man replied, "Son, the secret to having a great career in the music business is finding a good song." Morris then favored us with a portion of that first "great" song that he went out and found. Sample: "You don't know me from Adam, madam, May I introduce myself to you?"
He regaled the audience with how three times the A&R man told him to "go out and find a great song." The second song he picked and recorded was "What's Forever For."
Gary Morris at Derby Diner Playhouse on Jun3 13.
According to Morris, Michael Martin Murphey heard him on the radio and . . . the rest is history. Murphey recorded the song and took it to No. 1 in 1982. Said Morris of Murphey, "I put a contract out on him and he won't fly yet."
Morris proved the adage "The third time's the charm" when he selected "The Love She Found In Me." It broke into the Top 5, and Morris began to think that he "could buy some land here and there." The song was nominated for song of the year by the Academy of Country Music.
Morris went on to tell of going to the awards show -- his first one. He had phoned his parents in Ft. Worth, Texas (where he was born 41 years ago) and invited them to fly to Los Angeles to attend with him. They called back in about 20 minutes, saying that they had decided to drive since the flight was scheduled to depart at 11:15 and arrive at 11:56 and "we don't want to fly that fast." They decided to fly after a bit of discussion about time zones.
Morris said that although "The Love She Found In Me" didn't win . . . (drum roll) "Wind Beneath My Wings" did.
"Two songs in the Top 5. One of them won. Decided to get a manager to guide me through life," Morris related.
His manager advised him to "cross over" (sing more than one kind of music), "be a household word -- like Tidy Bowl," Morris said with a grin.
There were a number of distractions during the brief (one-hour) concert. Several times people arrived late, and Morris stopped and acknowledged them. Waitresses took and delivered drink orders, and a few folks shouted out a number of times for Morris to "turn around." Morris handled the audience well.
(After a couple of light exchanges, he finally concluded the give-and-take with a "Shut up," said, of course, in a friendly tone, that stopped the kibitzer in the least offensive way. Morris would chuckle later backstage when I mentioned that some performers might not be able to tell a fan to shut up, without causing tension in the audience. Morris could and did, I thought. He chuckled again. He said that although in the instance referred to the fan hadn't gone too far, that "it has happened before." He obviously knows how to handle audiences.)
At one point in the evening there was a noise that intruded into the concert from a behind-the-scenes location. Morris stopped and asked, "What are we making back there, popcorn?" (I think it was the blending of drinks.)
The consensus of those people I knew who attended the concert was that it was indeed a good show. A couple of them would like to have heard more songs even though they had enjoyed the patter.
Morris spoke of his three months in "La Boheme" and of his role as a blind man in "The Colbys" of TV fame. ("Thirteen weeks later through the magic of television I got my sight back so I can sing for you all.")
Morris continued by singing the title cut from his Plain Brown Wrapper album, a song that broke into the Top 10 on the country charts. He has had about 16 songs to attain Top 10 status, and he took at least five of them to the coveted No. 1 slot.
During one song Morris brought onstage a woman from the audience to hold the vocal mike for him so that he could stroll around the stage. This turned into a funny bit of stuff, during which Morris twisted, leaned and stretched to try to keep the wandering microphone close to his mouth. "I really thought it would be easy," he explained, after realizing that he had been wrong. Could the "stage hand" that held the mike have been a little nervous? A kiss from Morris was her reward.
Responding to the numerous requests from the audience for something from "Les Miserables," Morris said that his favorite part of the show had been the prologue. With that, he plunged right into it in a strong operatic voice. He followed up with a wonderful performance of the touching prayer from "Les Miz," "Bring Him Home," which brought the talented singer enthusiastic applause. Fantastic!.
A symphonic version of "Les Miserables" has been available for about a month, with Morris reprising the Jean Valjean role. I am anxious to get my copy of the album.
(A quick check indicated that it was available at Four Seasons Records in sets of three CDs for $47.99, or three cassette tapes for $29.49. The proprietor indicated that sales had been good. It was not available at two other stores that I checked, but I'm sure it is available elsewhere.)
Morris finished with -- what else -- the award-winning "The Wind Beneath My Wings." He introduced it by mentioning that Bette Midler had done the song for the movie "Beaches" and that "just for you, I'm gonna do it right."
The demand for an encore brought Morris back for one more. What do you do if you are Gary Morris and you have already sung "The Wind Beneath My Wings" and the audience is demanding an encore? Why you come back out, sing "Amazing Grace" and leave the stage while the audience applauds loudly, that's what.