Good Time at Jim Porter's Good Time Emporium
"MERF (Big) Band" Debuts
By Jean Metcalfe
The audience wasn't the only ones who had fun at the June 24 Musicians Emergency Relief Fund benefit. Steve Crews, pianist for the evening -- and what a fine job he did! -- told me he had enjoyed playing so much that his fingers would be sure to remind him in the morning just how much.
All the band members, resplendent in tuxedos, turned in performances that in no way revealed they had been together for only a short time. This was an ad hoc big band, but that will probably change. Emcee Ted Fleischaker got an enthusiastic "yes" when he asked the audience if they'd like to hear the group do it again -- it would be a shame, he said, for them to do it only once. Amen, brother.
Talented drummer John Roy, president of the Louisville Federation of Musicians, Local 11-637, led the band in such nostalgic numbers as "Down By the Riverside," "Woodchopper's Ball" and "Georgia On My Mind," the latter number featuring a splendid solo by saxophonist Ernie Giancola.
Crews' considerable talent was especially evident in his performance of "Young and Foolish." Ditto for the band's handling of Ted Heath's arrangement of "Stardust." Tom Jolly and Andy Mill ably handled solo parts, earning several shouts of "Bravo!"
June Kelly-Roy was the big band's "canary." She looked fetching in a lovely lavender gown (and a different but equally lovely one for her second set) that sparkled as she belted out "Hello Dolly" and "New York, New York." She captivated her audience with the lovely "Come In From the Rain," causing me to hope for a reprise. "Nobody Knows You When You're Down And Out," she sang, adding at song's end that MERF does not fall into that category.
Since its inception in 1982, MERF has raised over $100,000 to aid musicians who are temporarily down on their luck. MERF founder Marvin Maxwell, who currently serves as its Veep was celebrating his "22nd" birthday that evening, but chose not to come to the stage when invited by Ms. Kelley-Roy, who led the gathering in singing "Happy Birthday" -- with a special tag -- to him.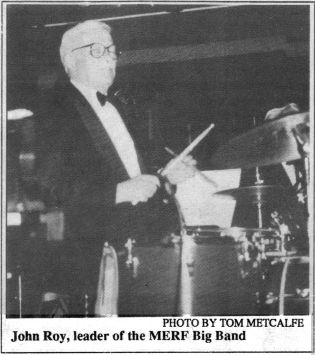 MERF President Wayne Young was in the audience, of course, as were Treasurer Rocky Adcock and Secretary Ron Payne.
"I'm not used to working with a group like this," Tommy "Cosmo" Cosden said, after belting out his 1964 hit "Soft and Pretty."
I'm an old rocker and I'm lovin' it, and I'm gonna keep lovin' it," he promised. A whole lotta energy was goin' on as Cosmo displayed his powerful, raspy voice on "Saint James Infirmary" and a real cookin' version of "Hold On."
The "MERF Band" is to be congratulated for a super fine job. Members of the band were:
Trumpets: Tom Jolly, Roger Dane, Andy Mill and Dick Washburn.
Trombones: Joe Spain, Bill Spiegelhalter, Sam Rosenberg and Dick Sharpe.
Saxophones: Ernie Giancola, Dave Wilson, Matt Eve, Norm Carlisle and Ernie Threlkeld.
Piano: Steve Crews.
Bass: Butch Neeld.
Guitar: Jimmy Steilberg.
Drums: John Roy.
Vocals: June Kelley-Roy and J.T. "Cosmo" Cosden.
The efforts of all who helped stage this most recent MERF benefit -- the first one with the big-band format -- are greatly appreciated, John Roy said. Roy singled out MERF Board Member Tom Jolly as deserving of extra thanks for all the work he did in organizing the band.