June Showcase
By Wally Stewart
By Photos by Paul Moffett
After a month's absence due to the 116th "Run for the Roses," the L.A.S.C. Songwriter Showcase returned on what become a dark and very stormy night. Severe wind, rain, and even tornadoes would attack the Louisville area, but no one at the Rudyard Kipling seemed to be thinking of anything but another evening of good original music.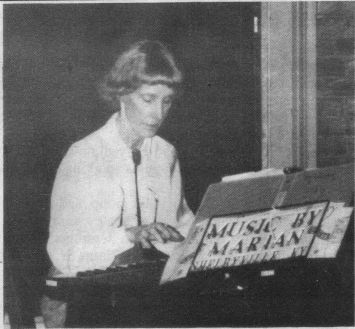 Marian Maxwell.
A fair-sized crowd saw emcee Joyce Trammell open the program by introducing Marian Maxwell, a very busy performer. Marian played keyboard as son-in-low Greg Burden provided guitar and vocals. They storied with her "Read My Lips" and followed with "We Can't Stop Now." "Now" was dedicated to all musicians who are "climbing to the top." A saga of a not-very-successful band and its female groupies come along, titled "If You Listen To Me Baby, You Won't Listen To Me." I like the ideas used in this song and in "If I'm Not Right, Then You Must Be Wrong." Its thought was 'if I'm not right for you, you shouldn't be with me
Cheryl Lynn Rifle stepped in to sing "Oh, No, Not Again" and 'Don't Do This To Me," prompting hostess Rhonda Pierce to note that "Marian has some good show tunes." Riffle maintained her reputation for doing fine covers of Co-op members' songs. and her ability and willingness to do this is greatly appreciated.
Burden resumed the vocal duties as the first act concluded with "Ten Dollar Blues," a light-hearted effort bearing a lament familiar to songwriters "I've got the ten-dollar copyright blues," a reference to the cost of registering a song with the Copyright Office.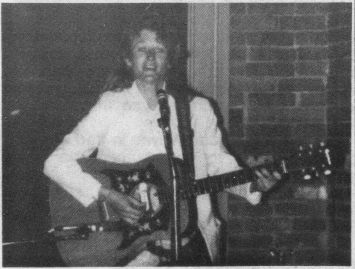 Lisa Marie Murray
A slightly different format was used in the next set. as individually scheduled performers Tim Lynch and Lisa Maria Murray alternated songs. Lynch honored Trammell's request for "In the Doghouse Tonight," a humorous tune that spoke of someone having to say "Scoot over, Rover," from being in disfavor at home. "Doghouse" placed in the top ten in last year's local Kentucky Fried Chicken contest in Frankfort. It also won honorable mention in the Country category and third. place in the Folk/Bluegrass/Other category in the 1989 L.A.S.C. songwriting contest.
As Murray introduced her first number she laughed. "Tim sang about a dog and I'm going to sing about horses." "Run, Fastica. Run" was an intense effort about the racing of a favorite horse, with the emotional line. "Our future lies in your run."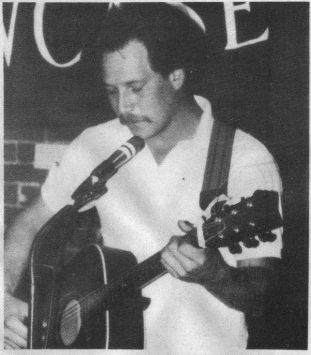 Tim Lynch
A fun story based on Lynch's children came out as the "Terrible Little Twos." Tim supposedly was 'nervous,' but that didn't show as the rollicking antics of a young girl brought great laughter from the audience. Many there remembered their own experiences and smiled with the girl's grandmother, as she thought of the exasperated father's adventures at the same age.
Murray's "It Was Him" was a very moving folk waltz that I was looking forward to healing. I had heard it in a critique session at last year's Songwriting Seminar and was glad to spend a few minutes with it again.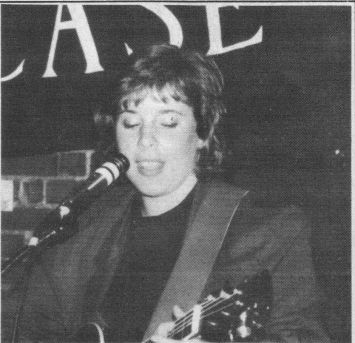 Debbie Graf
The spotlight shone on Lynch and "For Old Time's Sake Tonight," then Murray's guitar brought forth Johnny Horton's "Baby, I'm Ready if You're Willing."
Lynch's works are very eclectic and this showed in his final offering. "Due Respect" was a slow, serious account of a young man going "to fight an ugly war," then not being welcomed back, many years before the granite memorial stood in Washington. The song came from a brother's death in Vietnam.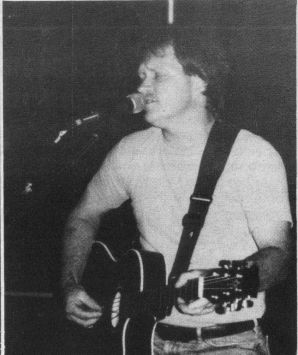 Larry Standiford
Murray brought the program to its first intermission with hers composition "Jesus is Calling You Home."
After the break, Jefferson County teacher Debbie Graf brought her guitar to the stage, along with Steve Frye and his conga drums. Graf's songs reflect a strong social consciousness and her experiences in education, as in "Michael," an eloquently woven story of a special education student. It held such stirring words as "Michael, I cannot make you bright but I'll help you with the fight, 'cause I love you . . . I know you'll find your home."
Graf's time as at student teacher on an Indian reservation provided us with "Navajo Children." Ellisa Earley briefly joined Graf on stage, supplying harmony on a good cover of the Inidigo Girls' "Closer I Am to Fine."
A very impressive Graf original described children asking Santa Claus for a new flag, instead of toys. "The Flag Song" called attention to the diverse racial and ethnic melting pot that is the United States population. This talented teacher then rendered James Taylor's beautiful "Secret of Life," helped out by the accomplished Frye's best percussive work of the evening.
The second half of the set found Trammell introducing Larry Standiford as 'looking like someone," with Larry good-naturedly replying, "Go-o-to-ad Morning. Vi-et-nam!" Standiford is a new Co-oper and has worked with several bands in the past. His country-rock style was first displayed on "Time To Talk About It" and "A Lover's Cry." "Cry" dealt with divorce, and the next tune approached the subject from a different viewpoint, as it portrayed a young child wondering "Where Do All the Daddies Go?"
He then shifted gears with "Remember Who We Are" and "Sick and Tired." The latter was composed during a time spent "rebuilding Eastern Kentucky University after some people tore it up." Standiford's writing is greatly influenced by John Cougar Mellencamp and he appropriately closed with a splendid effort on Mellencamp's "Pink Houses."
The storm outside arrived with the second intermission, as strong winds and rain blew across the Rudyard's parking lot. The audience thinned out as people scurried for their cars. Those who left missed out on additional offerings from each performer.
Marian Maxwell sat down at the house Steinway and was joined by her son-in-law on "Sweet Georgia Brown." Graf and Frye returned with Graf's enchanting "San Francisco." The duo ended with "Polished Stone," which reminded me of Nanci Griffith.
Tim Lynch reprised "Terrible Little Twos," and added "I appreciate having a place where shy people can play their songs." He then generously yielded his stage time to Rhonda Pierce, who shared her gospel tune "His Love."
As Lisa Maria Murray strapped on her guitar for "Ghostriders in the Sky," she expressed her enjoyment of styling cover tunes for herself. Having the "Ghostriders" lead characters as female was an intriguing twist, and she got a lot of applause. Murray exited with her "Sometime," leaving the closing position to Larry Standiford. Standiford sang the original "Dream Shared," then closed with the Animals' bluesy arrangement of Sam Cooke's "Bring It On Home to Me."
As we prepared to splash off to our cars, emcee Trammell reminded us that there will not be a July Showcase. The Saturday singing will return on August 4 and I hope to see you there.