Kentucky Music Weekend and Kentucky Music Week Festival
Set For July 27-29 at Iroquois Amphitheater
Bellarmine College to Host July 30 August 5 Activities
By Paul Moffett
Nancy Johnson Barker, the founder and Director of the Kentucky Music Weekend, didn't set out to run a festival for fifteen years when she first decided that a folk festival would be a good idea. Barker put the first Kentucky Music Weekend together during the nation's bicentennial year, 1976.
"I'd been knocking around the folk scene in Louisville for twenty years. I loved Iroquois Amphitheater, so I went to Kathy Sloane, who was chairwoman of the Bicentennial Commission and asked her for the money to stage a folk festival at Iroquois in conjunction with the Bicentennial. She said okay and that's how it got started."
Fourteen festivals and countless performances later, she's still at it, despite the problems inherent in organizing a. free mid-summer festival in the Ohio Valley.
As a result, the fifteenth Annual Kentucky Music Weekend is on track for July 27-28-29, at the Iroquois Amphitheater. The Kentucky Music Week is set for July 30 through August 3 at Bellarmine College.
Kentucky Music Weekend
The KMW festivals have played host to some of the finest of traditional and folk performers over the years, including such legendary figures as Elizabeth Cotton, writer of "Freight Train;" Jean Ritchie, doyen of Eastern Kentucky mountain musicians; songwriter John Hartford; and others.
The festival, which runs from Friday evening until Sunday afternoon, begins with a 7 -11 p.m. concert at the Amphitheater. This year, the Friday concert will feature Louisville native Alan Rhody; Fred Meyer from Bloomington; Iowans Bell and Shore; Virginia's hammered dulcimer-based Lost Echo String Band; the Bald Knob String Band from Frankfort, singer Carrie Newcomer, formerly of the Lexington band Stone Soup; and John McCormick, from San Francisco. Admission to the concert is free. In an effort to help Louisville-area homeless, donations of non-perishable food items may be made to Dare to Care during the weekend festival for distribution to family shelters.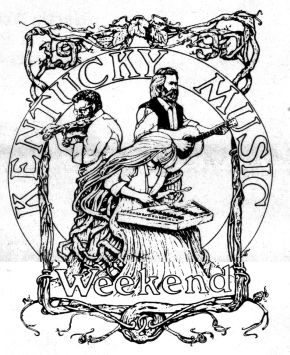 The Saturday concert will have Greg Jowaisas, a singer / songwriter / hammered dulcimer player from Covington, Kentucky; favorities Dick "Richard" Albin & Anne Macfie; San Francisco's Golden Bough; guitarist Duck Baker; the Buzzard Rock String Band; Irish bagpipe players Tim Britton & Carol Ann Hunner; and Jean Ritchie.
Last year, the Saturday concert set the fifty-year attendance record for the amphitheater, according to Johnson.
In addition to the nightly concerts, there will be four stages of music going on constantly during the day on Saturday and Sunday, beginning at ll a.m. each day.
There will also be dancers at various locations. The Angleterre dance group from Louisville will be featured.
Some of the musicians performing include Louisville Irish music bands Tight Squeeze and Ten Penny Bit; Homefront's Jack Twombly and John Gage; members of the Louisville Dulcimer Society; and Kansas-based hammered dulcimer players Eddie and Robert Hiebert.
Some special items are on the agenda this year. Dinner dates with John McCormick and Duck Baker will be raffled off Sunday afternoon at the street dance.
Tom Greenfield, Dean of the College of Arts and Sciences at Bellarmine, will teach a session on "Word Play – Humor and Satire in Music."
The Iroquois Summer Arts and Crafts Festival, which runs simultaneously, has an expanded roster of about seventy-five booths. Many traditional craftsmen, including instrument makers, potters, weavers, fabric artists and woodworkers, will be demonstrating and selling their wares.
Hours for the Arts and Crafts Festival are Saturday, 10 a.m. until 5 p.m.; Sunday from noon till 5.
Admission to the Arts and Crafts Festival is free. For additional information about the Arts and Crafts Festival, write: Ms. Sandi Nipp, 3519 Burba Rd., New Haven, KY 40051.
Kentucky Music Week
Following the weekend of music, Bellarmine College of Arts and Sciences will sponsor the Kentucky Music Week.
There will be five days of instructions in twenty-five arts, from dulcimer and hammered dulcimer playing and building to ballad Singing and pottery, plus evening activities.
On Wednesday and Thursday nights, there will be concerts featuring KMW instructors. The concert will be in Wyatt Hall on the Bellarmine campus. A small admission will be charged.
Registration for the week's classes will be during the Kentucky Music Weekend at the Information Booth. After 7:30 p.m. on Sunday, July 29, registration will take place at Bellarmine College, Bonaventure Hall, Newburg Road, Louisville. For more information, please contact Nancy Barker / KMW, Inc., P.O. Box 651, Bardstown, KY 40004; (502) 348-5237. Brochures will also be available at Four Seasons Records and the Metro parks.
Funding for the week and the weekend comes from Brown and Williamson Tobacco Corp.; Iroquois Amphitheater Association and The Metro Parks Department; Community Music Partnership through the offices of the County Judge Executive Dave Armstrong; the Jefferson County commissioners; the Louisville Board of Aldermen; the Louisville Federation of Musicians and the Music Performance Trust Funds of the United States. Four Seasons Records is also a sponsor.