Murphy's Law
Head Out to Air Devil's Inn -- You Can't Go Wrong
By Theresa Johnson
When heat waves are shimmering off Taylorsville Road and your are driving around without any A/C, I think it's a natural human reflex to head for the nearest, darkest, coolest bar possible. (Did I mention with the frostiest mugs of beer?) And if you happen to be a jazz/blues fan driving around without any A/C, perhaps Air Devils Inn, featuring Michael Murphy and Murphy's Law, is the oasis you've been seeking.
In a manner reminiscent of Garrison Keillor, Murphy jokes with the audience, telling us his band is all the way from Camp Taylor, Kentucky. Murphy's Law consists of John Burgard on guitar, Jimmy Brown on bass, Steve Inman on drums and Michael Murphy on tenor sax. The night I was there (June 13) they played a good mix of jazz and blues standards.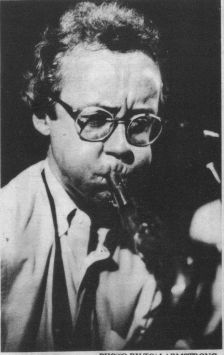 Michael Murphy. Photo by Tom Armstrong
Some of the selections included Stanley Turrentine's "Sugar," "What Loving is Loving," "It's All Right," "No Particular Place to Go" and a song about Nyquil -- yes, folks, Nyquil.
I like the first selection, "Sugar," although at times it was difficult for this listener to enjoy the finer nuances in the music because the soloist played at one level of intensity; there was little, if any, pausing between phrases. In "What Loving is Loving," Murphy borrowed quotes from other musical scores. This gave the music a richer texture that enhanced listening pleasure. "No Particular Place to Go," Chuck Berry's quintessential R&B ode to the joys of teenage love and automobiles, couldn't have sounded better. It was rompy and perky -- just like revving a car engine on a soft summer night.
My favorite selection was a humorous little ditty extolling the virtues of Nyquil (Murphy's drug of choice): "They call me the Nyquil junkie, I don't know what they mean, I just can't be satisfied unless my tongue is green!" Okay . . .
I had the opportunity to chat with Mike Murphy between sets, and he seems to be a very personable, easy-going guy -- as down-to-earth as his faded jeans and sneakers. Through our conversation I learned he started playing saxophone in 1964, he is self-taught, and his mentors include King Curtis and Junior Walker. He has played with such groups as Red Beans and Rice, Another Mule and The Mighty Water Kings. During the day Murphy works in a print shop because -- true to the old cliche -- he found it financially difficult to support himself and his family through his art.
I left Air Devils with a good feeling. Murphy's Law is a very solid, rhythmic band whose foundation is firmly planted in the rock and blues tradition. Michael's sound is robust with a wide and fast vibrato, which at times is flavored by a raspy growl!
So come on all you jazz/blues fans, unstick those sweaty thighs from your car seat and head out to Air Devils to hear Murphy's Law -- they're not just another mirage.