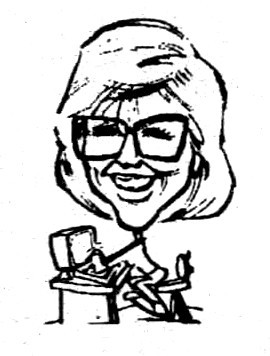 Newsical Notes
Best wishes to L.A.S.C. member John Dowell and his new bride Ronda Sue Raymer. They were married on June 16.
Had a call from Fred Spencer the last day of May just after the June issue had gone out. Fred told me that his band had just auditioned for an appearance at Joe Huber's Barnyard Bash. Good luck, Fred. And, yes, it might be nice to do an L.A.S.C. showcase there one day.
Karen Le Van and Scott Furlong had a wonderful time at "Summer Lights" in Nashville, Tenn. the first weekend in June.
Marie Augustine, at last word, was still "In the swing (litterally), just a-swingin'" and singin' at Jim Porter's Good Time Emporium. Don't know if she sings "Swingin'," John Anderson's hit song of some years back, in her act, but it seems appropriate. Then, again, maybe not.
It was good to see Lynn Riffle back at the L.A.S.C. meeting on June 4 after an absence of several months. She's been busy singing with a band called The Sundowners. They practiced together for a couple of months and did about half a dozen gigs, mostly in Madison, Ind., before the band disbanded. Lynn really enjoyed the experience and is looking for another band.
Donald Ray McGrew has a new cassette album out, titled underground turbulence, and he's been introducing it around town via free concerts in parks, etc. Donald plans to donate the proceeds from turbulence to the Musicians Emergency Relief Fund; he's on MERF's board of directors.
Glad to see the nice feature story on member Debbie Tuggle in the June 10 edition of The Courier-Journal. The article, written by Martha Elson, concerned Debbie and her song "River of Mine," which she sings in public-service announcements publicizing the Ohio River Sweep that took place on June 10. There was also a nice photograph included with the article, and Debbie's son Jordan Pendley was one of those pictured who would participate in the Sweep.
More good news for Debbie: She had a call from the Music City Song Festival, bringing word that her a cappella rendition of "Appalachia" had placed fourth in the vocal category of their contest. Debbie will receive $200 cash and a microphone, both of which she said she could use. Congratulations, Debbie!
Debbie suggested that maybe there were other L.A.S.C. members who had done well in the contest. Let us hear from you.
Charlie Walls informed us at the June 18 meeting that member Loretta Sadler had won $1000 for her "China Cups and Saucers" in the professional division of the Lyric Poem Category of the Music City Song Festival's most recent song contest. Congratulations, Loretta. Lightning (or is it just good writing) does strike twice, doesn't it? Loretta won $1000 a couple of contests ago for the same lyric in the amateur division.
Wally Stewart also heard from the MCSF people. He returned home from work to find a message on his answering machine asking him to call them. Hoping for an Honorable Mention, Wally's heart raced as he dialed. The news? Wally had won a Top 10 award in the Gospel Category of the Novice Lyric Division. His "Vessels Of Love" finished ninth out of approximately 500 entries. Wally is to receive a certificate and $25. "Hopefully some big-time person will offer me fortune and fame as a result," Wally said in the way songwriters joke with each other.
Also in the C-J's pages (Scene magazine, June 9) there was a story about open stages around the area. L.A.S.C.ers figure prominently in them. Our Prez Paul Moffett got some coverage with reference to hosting the Co-op's Monday-night open stage, and Dallas Embry, L.A.S.C. Board of Directors member, was quoted. Dallas takes charge of both of Uncle Pleasant's open stages (Tuesdays and Wednesdays). Keep on supporting the local music scene, gentlemen.
Prez Paul and I recently received a nice thank you note from Scott Furlong, expressing his appreciation to us for the work that we do on behalf of the L.A.S.C. We appreciate the nice words, Scott.
Also received a note from Lucille Wills, renewing her membership and that of her husband Harry. Lucille is a staunch supporter of L.A.S.C., and although she can't always make it to our meetings, she's been busy getting several of her songs demoed by a certain relative of hers. Lucky Lucille.
The June 18 open stage at the Rud was an interesting one. First of all, our efficient Secretary Diana Black made her debut performance in the lead-off spot. She did a fine job, and we're all proud of her. She promises she's gonna keep on performing. (Now that it's a matter of public record, Diana, you'll hafta do it!)
The evening saw many "old-timers" show up. People we hadn't seen for weeks and months were there.
Becky Bennett and Kelly Wilkinson (a.k.a. Becky & Kelly) were there and sat in on a couple of sets, in addition to doing their own set of what emcee Moffett dubbed "commercial country" songs. They sure did receive a good, foot-stomping response.
Wally (long-time-no-see) Hill showed up with Tom Flood, but they didn't play. Tom is staying in Louisville now and attending U of L. He works in the school's library as well.
Jon Newmark stopped in for a few minutes to say that he would be moving to Philadelphia a couple of days later. We'll be missing you, Jon, and we wish you much happiness in "the city of brotherly love."
Docrates asked me during the evening if our newspaper is interested in late-breaking news. I assurred him that we were, at least as late-breaking as we could be, considering the fact that we are a monthly publication.
The late-breaking news? Doc's Thrift World No. 1 was burglarized that very day, and Halloway (Doc's last name, for the uninformed) had spent a good part of the day beefing up the security to prevent a recurrence, and earning bloody knuckles in the process. A quick inventory check revealed that only a few pairs of sunglasses had been taken, Doc related.
Despite the day's trauma, Doc was characteristically philosophical and very calm that evening. I suggested posting a sign on the entrance that would be in keeping with Doc's low-key style of doing things: "Thank you for not breaking and entering."
Former Thrift World partner Hugh "The Donald" Hill is contemplating buying back into the business. Docrates "Merv" Halloway had no comment on Hugh's statements concerning a possible partnership.
Hill also spoke of his desire to own a newspaper. No comment from here on that one.
It was good to see Rebecca Clinard Sleadd back at The Rud and performing once again on the open stage the first couple of weeks in June. Rebecca and her husband Brad have a baby daughter who is almost a year old (it hardly seems possible). She also has a three-year-old son, and they have no doubt caused Rebecca to put aside her music for a while. Glad you're back, Rebecca.
Spotted Willie Little's picture in The Courier-Journal a while back. Don't remember the occasion or the date, but I still wanted to let our L.A.S.C.ers know what's been happening with their fellow members.
Willie and his group Axis have been busy playing around town in clubs, in Theater Square, at The Rudyard Kipling and other venues lately. Rahn Burton, a Louisville native now living in New York, has been featured in several performances with Axis while in town during the month of June. I had the pleasure of catching their final set in Theater Square on June 15. The weather was sunny and hot, but the listening was good and I was glad I had taken a long lunch hour to go see them -- even though I had to skip lunch.
Mark Sickles and his business, Sickles Sights & Sounds, finished a successful exhibit of his protography during the month of May, at the Floyd County Library, and has recently been selected by The Floyd County Museum to participate in their 1990 July Juried Art Exhibit.
The exhibit will be from June 30 through July 28 at The Floyd County Museum, 201 East Spring Street, New Albany, Ind. Hours are Tuesday-Saturday, 10:00 a.m. - 4:00 p.m. The procedure for the exhibit is for local artists to submit two entries, which are judged for selection of exhibit.
Mark wishes to extend a thanks to all who came out to support his May exhibit and encourages everyone to stop by the museum to help support local artists.