Scott Henderson Trio at Zena's Cafe
By Bob Bahr
On Wednesday nights between 9:30 and 10:00 p.m. the Scott Henderson Trio takes the stage under the moosehead at Zena's Cafe, and the jazz cooks.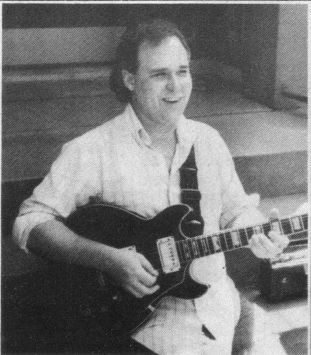 Scott Henderson. Photo by Bob Bahr
Henderson is a guitarist worthy of center stage at New York's Blue Note. Finding him in the friendly neighborhood confines of Zena's is a little like finding fresh haddock flipping around on the centerline of Market Street. What is he doing here?
Well, specifically, he was playing songs such as "Nardis," "Bessie's Blues" and a couple of sparkling originals for 30 to 40 people, enchanting some with his smart, comfortable guitar work and providing others with quite remarkable background music for a night on the town. You're living right if this is the kind of live music you're hearing when you're shooting pool.
Scott Henderson plays guitar like no one else in Louisville. The fact that he plays duet gigs with Jimmy Raney begins to explain his competence and talent. Henderson is most assuredly laid back in his demeanor and style, and yet few performers are more exciting and enjoyable. If you closed your eyes while hearing him play, you might visualize Henderson as a flashy, hotshot performer, doubled over his guitar and making pained expressions with his face. How can someone so calm play with such pyrotechnics? Come to Zena's and shoot a game of pool if you must, but do yourself a favor and sit down at a table for one of the sets and drink in a dose of first-class jazz.
Henderson says he was influenced by the dissonant, free style of saxophonist Ornette Coleman, but Coleman is not so accessible. Henderson's style, if it must be categorized, is straight-ahead bebop. But Henderson is never stale. And while he is traditionally based, he is very modern.
Those outside the jazz fold who complain that jazz musicians merely "go up and down the scales during solos" need to hear Henderson. His ventures up and down the fretboard are always going somewhere familiar, but he's never predictable. And when he completes a phrase, it's as witty as a Dorothy Parker quip and as comfortable as a Ray Brown bass line. His work on the Ibinez six-string betrays a John Coltrane influence, and stretches in his solos often sound like a horn, but these soaring flights may be bookended by appealing Chuck Berryish riffs. Whatever comes to his mind, and whatever he pulls from his mental musical library, comes out his fingers technically brilliant, and it all fits perfectly. Louisville has a treasure in Scott Henderson.
Rounding out the Scott Henderson Trio were Paul Culligan on drums and Rob Whitmer on stand-up bass. Culligan played a half set to accommodate the small room. Whitmer's upright was battle scarred and had a find sound. Henderson's rhythm section seemed to enjoy themselves, despite the workout Henderson gave them. (In addition to his blistering tempos on fully half of the songs, Henderson inexplicably called a blues tune in B natural during the second set. The sidemen were kept on their toes the whole night.) Culligan fared a bit better than Whitmer, laying down a nice solo in fine Max Roach fashion for Bill Evans' "Nardis."
The Trio played for the most part in straight bebop fashion, with occasional forays into other jazz styles. Surely the most memorable departure was Henderson's twisted version of Bud Green and Les Brown's "Sentimental Journey."
Complying with a request, the Trio dug into the old chestnut with a dirty, blues-inflected swing that was as technically correct as it was comical. Purists, take a pill. The drums crashed in a loping rhythm reminiscent of a cancan, and Henderson's guitar approached country & western schlock during his treatment of "Journey's" melody. Henderson later referred to their subversive interpretation as "Doris Day on acid."
As further testament to Henderson's talent, the Louisville native was asked to play with Dizzy Gillespie at Riverbend in Cincinnati June 16. Henderson has played with Bobby Shew and Dave Leibman, and has taught in Europe during past summers. He has two albums on the Mopro label available at Four Seasons Records in Chenoweth Plaza on Brownsboro Road.
* * *
"This is the back door," said Mary Jean Zena, co-owner and manager of Zena's Cafe at Market and 2nd streets. "Actors and actresses (from Actors Theatre of Louisville) come here to unwind and face reality again. But we get all kinds here," she said.
It's easy to see why the ATL crew favors Zena's Cafe; it's hard to imagine a more amicable reintroduction to reality. One long wall of the tavern is adorned with pictures of actors and actresses that have passed through Louisville (and Zena's) since the cafe arrived at 2nd and Market in 1976. The obligatory neon beer signs hang on the walls and in the windows. Draft beer is obviously the drink of choice, but a respectable bourbon decanter collection is displayed in wood and glass cabinets behind the bar. A baseball collection in the right-hand cabinet contains the signatures of managers and umpires, including the scrawl of Al Barlick.
Al Barlick? "The only living umpire that has been inducted into the Baseball Hall of Fame," explained Zena. Don't look for autographs of players though. "They don't know any better," she said. "They go down to Splash."
A healthy portion of the cafe's charm is attributable to Mary Jean Zena's "tough love" bartending/bouncing. In the course of 15 minutes she'll check on the well-being of some of the more indulgent patrons, hail a regular customer with a hearty hello as he walks in the door, and sternly point to the exit and verbally throw out a troublemaker. The biggest reason that different types of people are compatible at Zena's is that Mary Jean Zena is compatible with different types of people.
In addition to draft beers on tap, Zena's offers "fancy drinks like Rattlesnakes, but no blender drinks." Why not? "We don't have a blender," Zena said simply. But they do sell a boatload of cheeseburgers and fries, the most popular item on Zena's short menu. What makes the cheeseburgers so special? "Because we make 'em," she quipped, and in so doing Mary Jean Zena said a mouthful. Perhaps the reason why the jazz is so hot, the beers so good and the atmosphere so pleasant is because Zena's is making it happen.