The Louisville CityFair
By Janell R. Hardin
There was a lot of music to enjoy at the 4th annual Louisville CityFair. And no cover. Held downtown on June 9 and 10, the CityFair was visited by over 110,000 people. Although I did not hear any reggae or alternative bands, most every other musical preference was satisfied.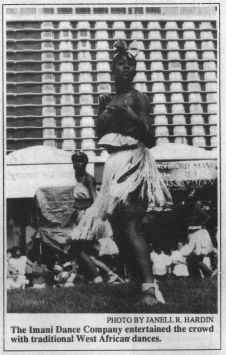 The purpose of the CityFair is to provide Louisvillians with information about city services and neighborhoods. It is also an excellent way for some of Louisville's local bands and performers to reach audiences otherwise unavailable to them.
Everyone knows at least one song by each of the nationally known acts that performed at CityFair. The Drifters, Wilson Pickett, and Martha Reeves and the Vandellas really pleased the crowds with their eternal favorites.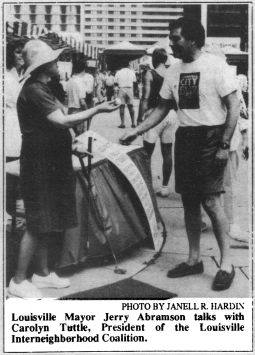 "The big name groups really brought in the crowds," said Susan Miller, Event Coordinator of CityFair. "It was the biggest, best CityFair we've had, due in part to the third music stage added on Main Street. The steps of the Kentucky Center for the Arts made a natural amphitheater," she added.
Three stages and two pavilions, showcasing approximately 30 bands and performers, provided great, continuous sounds the entire weekend -- and that was just the musical entertainment. Needless to say, it was impossible to experience everything in one day.
Some of Louisville's most popular bands, including Rhino Ivory and the Monkey Paws, The Fanatics, The Bobby Lanz Band, Heat, and The Cruisers, were motivating people to dance in the streets. Actually, there was more shakin' going on at the Over 55 Pavilion, to bands like Bob Holt and Prime Time, than anywhere else.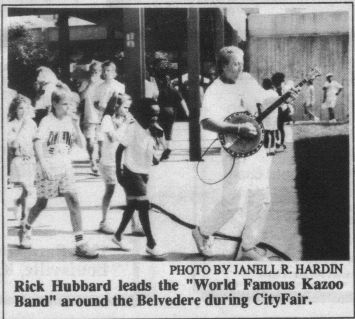 At the Target Children's Pavilion The Imani Dance Company performed traditional West African dances and music, and Rick Hubbard had kids marching around with kazoos and doing the hokey pokey.
Sunday evening at "Jerry's Jam," Mayor and Mrs. Abramson were "throwin' down" with the packed crowd as The Monarchs dominated the CityFair MainStage on the Belvedere. Even the fireworks finale was synchronized to music. Whether shooting hoops, putting golfballs, playing volleyball or visiting neighborhood tents, fairgoers were surrounded by music.
It is no surprise that music is such a key factor to the success of any festival. When die-hard Randy Travis fans throw their heads back and wail with Martha Reeves and the Vandellas as they sing "Respect," you know what the universal language really is.