Welcome Home, Bill
By Jean Metcalfe
The Father of Bluegrass came home to Rosine, Ky. on June 2, and the town fathers named a street for him. Bill Monroe was born in Rosine on September 9, 1911.
"Welcome Home Bill" banners greeted him, as did the townspeople and other bluegrass lovers. It was truly a "mutual admiration society" gathering.
Commemorative caps and "Welcome Home Bill" buttons were going almost as fast as the hot dogs and colas at the several booths on the grounds. The weather kept vying for attention, often threatening but not disrupting the festivities.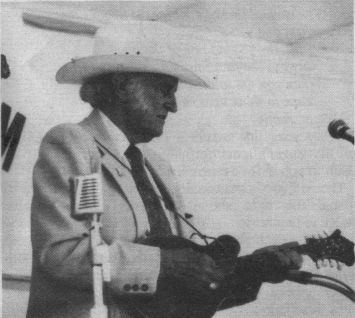 Bill Monroe takes a turn on the mandolin for the hometown folks. Photo by Jean Metcalfe
"Can I come back next year? Please let us come back next year," Monroe said to the audience and the organizers of the three-day event, as the festivities were drawing to a close on Saturday. No answer was needed, of course, but Monroe got one anyway -- a resounding "Yes."
One of the welcoming banners served as a backdrop on the outdoor stage where Bill Monroe and the Bluegrass Boys picked and sang tunes in the style that gave bluegrass music its name.
They opened with "Love Me Good and Be True," after which Monroe spoke to the crowd: "It's really wonderful to be here in Rosine, Ky. ... I'm glad that I originated bluegrass music ... Rosine owns this music ... I'm just proud of the music. ..."
The music continued with guitar player Tom Ewing singing "The Old Hometown." It was especially touching and appropriate to the occasion.
Next came "Mule Skinner Blues," the first song Monroe ever sang on the Grand Ole Opry (he got three encores). In October of last year he celebrated his 50th year on the famed Nashville, Tenn. program. Monroe is also a member of the Country Music Hall of Fame.
And there was "Blue Moon of Kentucky," which Monroe said he wrote in 1946, adding, "It's the state song in Kentucky."
"Now I wanna play one for you on the 'melon,'" Monroe said before treating the bluegrass buffs to 'Southern Flavor.'"
When Monroe's high lonesome vocal started off "Workin' On A Building," a number the group sings as "the bluegrass quartet," I immediately developed an extensive case of "goose bumps."
"We're gonna let 'Tater' Tate play one I wrote," Monroe promised, and Clarence "Tater" Tate demonstrated his expertise on fiddle on "The Old Brown County Jamboree Barn." At song's end Tate (or was it banjo player Blake Williams?) said of Monroe, "He's a good boss to work for. He's kinda stingy. He likes free food better than anybody I ever met."
Monroe's special guest Diana Christian, decked out in an all-white western outfit, complete with fringe, hat and boots, joined the group for a couple of tunes. She introduced the first one as "a song that Bill wrote and The Kentucky HeadHunters just got a gold record for it." There was no need to further identify "Walk Softly On This Heart Of Mine."
"Walk Softly," which Monroe co-wrote with Jake Landers, is a cut on the HeadHunters' first album, "Pickin' On Nashville, and is their first single and first video.
Christian asked the audience to sing along on "Y'All Come," and they did.
Wayne Lewis, who has been with Monroe's group for over ten years, joined the group onstage and performed several fine tunes. He made sure his guitar was carefully strapped on after he had come disasterously close to dropping it when he first came onstage. He confessed that for an instant he thought he'd "busted every bowl of beans" he'd eat for the next six months. Lewis helps "Tater" Tate drive the group's bus to and from performances.
A touching moment came when Monroe dedicated "In the Pines" to a seriously ill fan, Bill Crabtree. "Everybody pray for him," Monroe suggested.
Before favoring the crowd with "Uncle Pen," one of his most-requested songs, Monroe spoke of the uncle about whom he wrote the song some time after he passed away in 1932. "He was a wonderful uncle. Me and him used to live up in the hill here," he said.
Monroe delivered a moving rendition of the song, which contains these words:
Uncle Pen played the fiddle,
Lordy, how it rang,
You could hear it talk,
You could hear it sing.
Bill Monroe and the Bluegrass Boys wrapped up their afternoon set to a standing ovation. They would be back to close the show that evening.
Festival organizer Stoy Geary, Fire Chief for the Rosine Volunteer Fire Department, estimated that at one point on Saturday afternoon the crowd at the free festival numbered 4000. Proceeds from the sale of refreshments and souvenirs and the $700-plus in pass-the-hat donations were earmarked for the Rosine Volunteer Fire and Rescue Department.
I heard a lot of excellent pickin' and singin', with emphasis on the pickin'. Not that the singing wasn't good, it's just that the pickin' was so wonderful.
Big Jim Simpson and the Kentucky Mountain Grass were a real treat. A request tune, "Shuckin' the Corn," was a virtual showcase of good bluegrass pickin', and I especially enjoyed the group's clever "If Lovin' You Is Killin' Me, Lord What A Way to Go." By popular demand they would repeat it in their evening performance.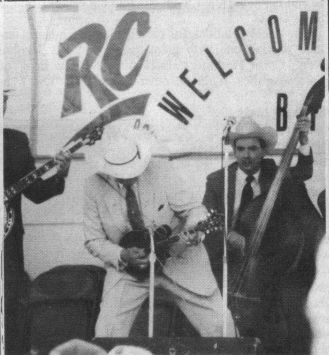 The 'Father of Bluegrass' demonstrates that he can still get down. Photo by Jean Metcalfe
It was the Simpson bunch's lot to precede Monroe and the Bluegrass Boys on Saturday afternoon. Their talent and enthusiasm kept the crowd's attention despite the fact that Monroe had come onstage to sit in a special chair "in the dry" during their set. (A few drops of rain were falling, but no one left.)
Of course, it was hard to ignore the legend and the large tour bus that delivered him right smack dab stageside. After crossing in front of the stage and climbing the steps up to it on the other side, Monroe did a short version of his famous dance before taking his special seat. He glanced at a newspaper for a few minutes before beginning the continuous process of greeting the fans and autographing caps and the special "Welcome Home Bill" buttons.
Monroe tuned his mandolin for a few minutes before joining Simpson and his group for a number. Then it was the hometown hero's turn.
Between Monroe's two appearances onstage, an impressive array of dignitaries made presentations and spoke with pride about Bill Monroe. (President George Bush and Vice-President Dan Quayle had send their regrets.) There was the reading of a proclamation making June 2, 1990 "Bill Monroe Day" in Ohio County, Ky. Circuit Judge Carmel D. Cook gave his version of how bluegrass music got its name. (Musicians used to get together and say "Let's play music like Bill Monroe and the Bluegrass Boys," and they soon shortened it to "Let's play some bluegrass.")
Cook went on to say that he was glad the band had named themselves the Bluegrass Boys instead of "something crazy like 'Hog Callers.'"
When International Bluegrass Music Association representative Steve Kirkland presented Monroe with a concrete block containing Monroe's name -- to be built into the future IBMA museum in Owensboro, Ky. -- the legendary musician allowed as how it's really something when you get your name in concrete. He recalled that he was operated on for appendicitis at the age of ten in Owensboro.
The 79-year-old Monroe graciously accepted each award and accolade, replying with a few words after each presentation. Following an award from a representative of Charlotte, N.C., Monroe said that his daughter Melissa had been born in that city.
Earlier, the city fathers of Rosine had changed the name of the street that led to the house where Monroe had lived in Jerusalem Ridge from McCloud to Bill Monroe Avenue. The road to Uncle Pen's home was changed from Front Street to Uncle Pen Lane.
Monroe's evening performance consisted of an array of his famous songs, including "I Traced Her Little Footprints In the Snow" and "The Old, Old House" ("For all the ladies here tonight, listen to the words and see what they really tell you.")
"Rawhide," which Monroe said he wrote "many, many years ago," brought the audience to their feet, and then the bluegrass quartet brought back a lot of memories with "A Beautiful Life," which I always remember from the words:
Life's evening sun is sinking low,
A few more days and I must go,
To meet the deeds that I have done,
Where there will be no setting sun.
Organizer Geary joined in on the gospel number, prompting Monroe to say of him, "He's a good bass singer." Ms. Christian came back with the Monroe-penned "I Want to Go With You" and concluded with "Amazing Grace," which she dedicated to "Bertha," a local Monroe relative who was in the audience.
Monroe and the Boys did their version of "Shuckin' the Corn," and it was splendid. He did his famous dance during the number and, of course, the crowd loved it.
Lewis returned to do "Chain Gang," prompting Monroe to ask him, "Were you on a chain gang?"
"No," Lewis replied, "That's where you found Blake." (He was referring to Blake Williams, Monroe's banjo player.)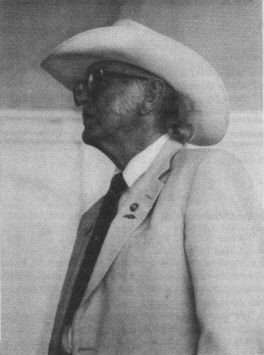 Monroe listens to one of many speakers at the 'Welcome Home, Bill' bluegrass festival in Rosine, Kentucky. Photo by Jean Metcalfe
Someone requested "The Little Cabin Home On the Hill," a Lester Flatt original, and Monroe said, "I know the tenor part," and Lewis said he knew some of the lead. They complied with the request and did an admirable job of it.
Shouts of "Uncle Pen," "Kentucky Waltz," "Mule Skinner Blues" and other titles quickly filled the air when Monroe asked if there were any requests. "Kentucky Waltz" won out, and on the second inquiry, Monroe selected "Uncle Pen."
As the evening was drawing to a close, Monroe invited the audience to sing along on the chorus of each of three songs in a gospel medley, "Swing Low Sweet Chariot," "I'll Fly Away" and "I Saw the Light." The last song had the entire audience on its feet, clapping and singing along.
When emcee Geary asked Monroe if the group was going to play some more, he replied, "It ain't daylight yet."
"I got a tape and the words to a song," Monroe related. "It's entitled 'Rosine,' and I'm gonna record it," Monroe added.
There was much cheering as Monroe began to sing, "Good mornin', captain ...." Everybody knew the song -- "Mule Skinner Blues." After finishing the closing yodel, Monroe waved his hand, thanked everyone and said his goodbyes.
As my husband and I strolled to our car we passed a small group of bluegrass musicians softly playing "Amazing Grace." Sunday morning in Rosine, Ky. was just four minutes old.
Other performers that I heard on Saturday included Delmer Sexton and the Rone County Boys and Clyde and Marie Denny with Wade Hill. Several additional groups were scheduled to appear during the festival: The Western Kentucky Bluegrass Gang, Kirk Brandenburger and Gang, The Richards Family, The Daugherty Sisters, The Kentucky Bluegrass Band, The One Way People, Lowell Flynn and the Evening Light Gospel, The New Generation, Bluegrass Partners from Nashville, Tenn., and James Pharris.