Candy-True(ly)-Calls-Em-to-the-Post By Joyce Trammell
A jagged streak of lightning split open the black clouds that hovered between the twin spires of Churchill Downs, releasing a torrential downpour.
Candy True, bugler at the Downs, nervously fingered the valves of her trumpet as she "warmed up." She was not nervous about calling the horses to the post; it was the lightning that concerned her. She was recalling the time that a ball of fire had raced across the floor in front of her when lightning struck her home.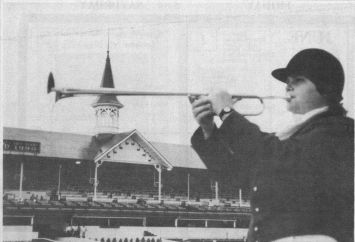 Candy True
"Storms are the only thing that really frighten me," she said. "Well ... spiders, too," she added, flashing her winning smile.
When asked why she chose the trumpet as her instrument, Candy replied, "Because Dandy Hopkins was very popular when we were in fifth grade and she played trumpet, so I decided to."
Humor often laces Candy's conversation, but her love of classical music is her major topic. Between races she explained Stravinsky's use of the twelve-tone scale.
Candy likes teaching private lessons, working with computers and playing at Churchill Downs, all of which pay the bills for her graduate studies. After she receives her doctorate from the University of Louisville she would like to teach at the college level.
Candy was filled with enthusiasm at being able to join the Louisville Orchestra for a benefit concert, held on May 17, to raise funds for the endowment of the principal chair (trumpet) in honor of Leon Rapier, long-time member of the orchestra. As a student of Rapier, Candy learned that dedication is one of the principal ingredients in playing the trumpet.
As the time for the call to the post for another race approached, Candy studied the blackened sky. She picked up the long, slender, golden bugle. Again lightning streaked the sky.
"Here, do you want to hold this?" she jokingly offered.
Candy put on her red coat and black cap, opened the door and stepped outside to the balcony just above Churchill Downs' famous horseshoe of flowers where the 116th Kentucky Derby winner had stood just a few days before.
She raised the gleaming bugle, and the flawless sound of the call to the post echoed back from the grandstands across the way.
Churchill Downs is the home of the Kentucky Derby, and Candy True is a young woman who has become a very important part of Kentucky's most famous event.