LOUISVILLE LOVES REBA
By Diana Black
Three songs into Reba McEntire's set at the Philip Morris Festival of Stars concert, the audience let her have it: a standing ovation that lasted over three minutes. The May 4th show at Freedom Hall was her first since the birth of her son Sheldon and her Louisville fans' response brought tears to her eyes.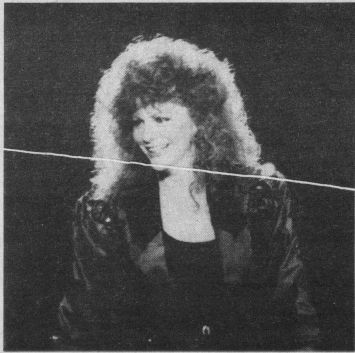 Reba McEntire. Photo by Greg Black
While still relishing those precious minutes, Reba, in that wonderful warm Oklahoma accent of hers, said, "Best welcome back present I could have asked for in my life." In return, she gave one of the best performances the audience could have asked for.
Taking every available opportunity to smile and wave at fans, Reba filled the evening with hits such as "Can't Even Get the Blues," "One Promise Too Late" and "Little Rock." To make room for new material from her seventeenth album, due to be released in August, Reba worked seven favorites into a medley which included: "How Blue," "New Fool at an Old Game," and "I Know How He Feels." Newer tunes that continued to showcase Reba's incredible vocal strength and natural ability to entertain were "Walk On" and, one of the crowd's favorites, "Little Girl."
Reba left the stage as the Silverado Dancers entertained the crowd with some fancy footwork to "Oklahoma Swing." Her sunset-red hair whisked high on her head, Reba reappeared, beautifully dressed in a long, black, "old fashioned" gown and sang her cover of the Everly Brothers tune, "Cathy's Clown."
Reba began the end to the evening by pulling a few thousand heartstrings or two with "Whoever's In New England." Not unexpectedly, the crowd asked for more. She returned to the stage and closed with "Since I Fell For You." As she sang the title lyric for the final time, she pointed to all areas of the crowd, indicating she was expressing how she feels about her fans. The applause level and the standing ovation left no room for doubt – Louisville loves Reba.