Michael Johnson at Joe Huber's Barnyard Bash
By Diana Black
On Friday evening, May 18th, one of the few rain-free days the Kentuckiana area saw all month, Joe Huber's Barnyard Bash in Starlight, Indiana, got hit with thunderous applause from all the fun, laughter, dancing and song.
Inside the huge barn, which has a seating capacity of eight hundred, the audience swooned and swayed to the music of Ron Peake and Open Country. Peake's vocal style and range is a natural to cover such Merle Haggard tunes as "Natural High" and "Twinkle, Twinkle Lucky Star," and to the crowd's delight, he did just that.
To clear the stage for headliner Michael Johnson, it was necessary for Open Country to tear down immediately upon completion of their set. Bob Trinkle, production manager for all concerts held at Huber's, diverted the audience's attention from the activity on stage by conducting an entertaining Country Trivia contest. Trinkle selected people from the audience to be responsible for yelling (and I mean yelling!) certain phrases when he said key words. For example, every time he would direct a trivia question to the audience and include the word "lonely," a designated lady would yell, "I need a man!" (Don't think the crowd didn't love it when Joe Huber ran up to her and gave her a big bear hug the first time she said it!) The best "yeller" was then selected by audience applause. (The lonely lady? She won dinner with The Cumberlands!)
After the crowd settled down from that clever bit, the lights were lowered and the White Lightning Express Cloggers had the audience clapping and stomping to some recent country/pop tunes and old favorites such as "Rocky Top."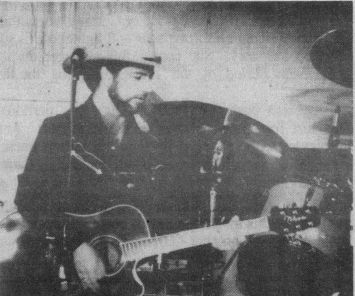 Country Opener: Ron Peak and his band Open Country opened for Michael Johnson at Joe Huber's Barnyard Bash in Border, Ind. on May 18. Photo by Gre Black
At 9:45, Joe Huber took the stage and proudly introduced the evening's special guest, pop and country hit recording artist/songwriter Michael Johnson. Wasting no time getting into the fun mood of the evening, Johnson opened his set with an energetic performance of the tune, "Drop of Water." To audience whistles and applause, he commented, "I know you're wondering whether I'm gonna like you or not. Relax! ... You'll be okay." The crowd cheered.
His second number was the beautifully haunting, "The Moon Is Still Over Her Shoulder," performed as only Johnson can, accompanying himself to perfection on guitar, just as he would continue to do throughout the concert.
Once again the night was filled with laughter as Johnson thanked the audience for their attendance: "I'm glad you came to see me. I don't think I could have made it to your house." Then he entertained with a novelty tune about Jacques Cousteau that included the lyric "scuba doba do-0-0-0."
He stayed on a roll with his ever-prevalent warm sense of humor and a diversity of tunes such as "Roller Coaster Run (Up Too Slow, Down Too Fast)," "Ponies," "Bluer Than Blue," a new tune "Just A Ghost In This House," his version of "Heart and Soul," and a song he "did, but Holly Dunn did it," "That's What Your Love Does To Me."
Near the end of his set, a woman in the audience requested a song not on his play list, a tune written years ago with inspiration from his childhood pet, a springer spaniel. Johnson gladly rallied and commented he was amazed anyone remembered the tune. He was even more surprised, he said, that no one so far that evening had asked him to play his big hit, "Wildfire." He said that was okay because he is recognized as Paul Williams, too!
For many fans, his fine performance came to an end much too soon. After he sang the answer to the musical question "What's What," with his recent hit song, "That's That," he closed with a touching performance, "Give Me Wings."
The crowd came to its feet, applauding Johnson as he left the stage and the house lights were raised. A few moments later, he appeared on the main floor to the delight of the many fans who wanted autographs and pictures and a chance to tell him he had put on a great show.