Michael Johnson
"It's a labor of love" . . . and that's that.
By Diana Black
His friends made him do it.
He said he kept telling them he was going to go to Barcelona and study classical guitar. Finally, in 1966, they told him he "had" to go. Obliging the friendly threat, he traveled to the Spanish seaport where he met a teacher who would have a great impact on his music. The teacher said his other students were "better," but in Michael Johnson he saw "hope; a passion."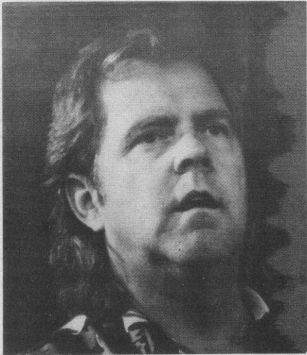 Michael Johnson. Photo by Greg Black
Sitting on a plush leather sofa in Joe Huber's living room and talking with Johnson on a warm Friday evening in mid-May, I saw and heard personal evidence of that passion.
Dressed in a bright blue print shirt and jeans, sipping a cup of coffee, Johnson spoke candidly and with genuine enthusiasm of his successes and struggles.
He is very appreciative of the fact he was named Billboards Top Country Singles Artist in 1987 and that he has produced such hits as "Bluer Than Blue," "Give Me Wings," "The Moon Is Still Over Her Shoulder" and "That's That," to mention a few.
He also appreciates that his love of music has given him the opportunity to tour much of Europe, to perform in Japan and very recently, to be invited back on three separate occasions to concerts in London.
He feels fortunate now to be able to devote time to the one area of his career he feels needs the most attention, his songwriting. "Fifteen years ago a few songs fell out," he said. But for the past three years, he has concentrated on crafting his songs. To accomplish this, he force himself to rewrite when he would really rather avoid the pain and start on something new. Johnson is actively co-writing and he feels that it keeps him "operating at the edge of his ability."
Currently, Johnson spends most of his working hours writing. He still performs approximately six days out of each month, keeping himself in vocal shape. When asked how he manages to put so much of himself into his performances, he smilingly admitted, "I warm up until I want to sing and then I stop!" So when it comes time for him to step on stage, Michael wants to sing and play as much as his fans want to hear him.
And fans will be happy to know they are going to get the chance to hear even more of Johnson in the near future. He will be going into the studio soon, possibly with partner Brent Maher, to put together an "album that will be more in line with his RCA release, Wings. He says the cuts on the album will be more simply produced than recent efforts, allowing him to pursue his passion for folk-art.
There was that wonderful word "passion" again. Johnson, still relaxed with barely an hour to go before he was to headline Huber's Barnyard Bash, had magically taken our interview full circle. We were back to what makes Michael Johnson the dedicated performer he is: he is a "patron of music and the arts" and has "always done what he loves."