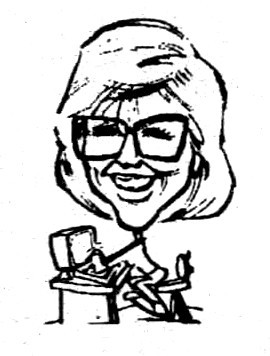 Newsical Notes
Debbie did it! As we went to press last month, Debbie Tuggle knew that her original songs "Ever' Time My Heart Goes Home" and "Follow the Light" had made it to the finals in the Southern Songwriters Guild's Second Annual Songwriting Contest. We are happy to tell you that "Ever' Time" not only won the $100 first-place prize money in the country category, she also picked up $500 for being the contest's grand prize winner for the same song. In addition to the cash prizes, Debbie will also receive five hours of studio time at Nightwing Recording Studio in Shreveport, La., and a publishing interview with Tree Publishing Company.
Congratulations, Debbie!
One of these days I'm hoping to find time to catch up with the group "North of Nashville." The members of this new band are L.A.S.C. members Becky Bennett and Kelly Wilkinson (a.k.a. Becky & Kelly), plus Hickory Vaught (formerly of The Kentucky Ramblers) and Kenny White (member of New Horizon).
They've played a number of gigs now, including several at The Powder Keg in Charlestown, Ind., and one on May 26 at The Rudyard Kipling with Scott Furlong and Borderline. Newspaper deadlines and prior commitments have prevented me from hearing them, but I hope to remedy that soon.
John Goodin and Ray Major, who once performed as a strolling-strings duo at Trattoria Mattei, have gotten back together for some gigs at The Cellar in New Albany, Ind. My husband and I were among those who stopped in on Friday, May 25, to hear the guys (and enjoy owner Rosalie Sowder's fine cuisine). The evening was great fun, with Prez Paul and Beth Moffett, John Gage and his wife Susan and little son Will also dropping by. The Moffetts had folk singer Walter Craft in tow, and Tom Moore showed up. Not too surprisingly, there were enough musical instruments among the players to get a jam session going. Rosalie and her husband Earl joined us, and it was a fun evening. The non-players even got to sing along.
I'm glad Prez Paul wouldn't accept my bet that Jerry Jeff Walker was the writer of one of the tunes sung by Craft that evening. It would have broken my perfect record (net earnings to date, $5.25). I think I'm gonna quit while I'm still batting a thousand. The song and the writer of it? "Night Rider's Lament" by Michael Burton. Paul had guessed U. Utah Phillips and John Gage had said only that Jerry Jeff hadn't written it. Bet Bill Ede would've known the answer.
Bruce Rinehart called a couple times to let us know that he's still alive and playing a few gigs here and there. (See calendar.) Reporting for work at about 4:00 a.m., as Bruce does these days, doesn't lend itself to a musician's late-night hours. Bruce says he hopes to get back to his normal 6:00 a.m. starting time before long. Six o'clock sounds reasonable to me, and if you believe that ...
Lots of interesting and exciting things are happening with L.A.S.C. Honorary Member Alan Rhody. He just recently received his first gold record as a publisher and his fifth one as a writer. (See article elsewhere in this newspaper.)
"The Mother Road," co-written by Alan and Kevin Welch has been released on Welch's new self-titled CD on Warner/Reprise. "And a hot cut it is, too!" Alan said.
Alan performed his "And A Rainbow" on a segment of "American Magazine" which he taped recently. The Nashville Network program will be aired at noon and again at 5:30 p.m. on July 10 and August 14.
The nationally acclaimed Kentucky Harvest program founded in Louisville in 1987 by Stan Curtis has a new theme song. "Kentucky Harvest," written and recorded by Alan in a folk-country style, is being revamped to reflect the now nationwide scope of the food-bank-for-the-needy program. Alan's recording of his song is being used at presentations around the state during May and June, and a rock version of the song (sung by an artist other than Alan) will be used at celebrations around the U.S. later this year.
Alan is scheduled to perform on Nashville's "Summer Lights" extravaganza on Saturday, June 2. Several well-known writers will perform 15-minute sets on the Fourth Avenue stage from 9:00 - 10:30 p.m.