Prince In Waiting? By Karen Le Van
I've always heard it said, "Better late than never." And for Prince Phillip Mitchell, winner of Best Vocal Performance in L.A.S.C.'s Songwriting Competition '89, the award was officially presented almost six months to the date late. The award was designed and made by Louisville potter Jim Griley.
Phillip was pleased to receive the award on a mid-May evening at Charades in the Quality Inn at First and Jefferson Streets where he was performing. He said it was the first time he had been recognized by any Louisville organization.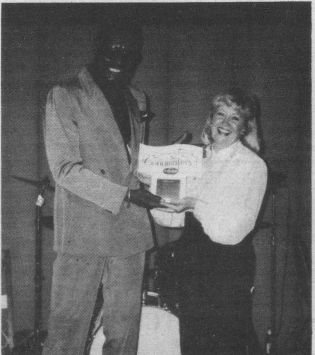 Prince Phillip Michell accepts his L.A.S.C. award from Karen Le Van. Photo by Bobby Turner
Phillip has five gold records, one of which was for "Starting All Over Again," a hit by Mel & Tim seventeen years ago. The song was also cut just last year by Razzy Bailey, and it is currently on the R&B Midnight Run album by Bobby "Blue" Bland.
Phillip has also been given awards as "Honorary Citizen" in L.A., Atlanta, and Muscle Shoals, Ala., and is in the Music Hall of Fame in Alabama.
His band, The Mood Makers, consists of Bill Simmons on bass, Paul Tech on drums, James Gant on keyboards, and Billy Clements on guitar.
Simmons formerly played with George Benson, and Gant was recently honored as Louisville Musician of the Year by L.A.M.P. Clements is one of Louisville's best jazz guitarists.
Presently Phillip is putting the finishing touches on his new Ichiban album, which should be ready in a couple of months. He thinks the title cut will be "While the Cat's Away."
Phillip is scheduled to tour Europe again in October.
PHOTO BY BOBBY TURNER
Prince Phillip Mitchell accepts L.A.S.C. award from Karen Le Van.