Spencer Bohren: Blues Legend (Not yet, but well on his way)
By Dallas Embry
One recent Thursday night I strolled into Uncle Pleasant's expecting to hear some pretty good delta blues from some guy Alan Rhody had told me about a year or so ago. Imagine my surprise when I heard the Grandpa Jones tune "Eight More Miles to Louisville" being played and sung by J. J. Cale!
As I walked farther into the room where the stage is, I saw that it wasn't Cale, but the man I came to see – Spencer Bohren – who can hold his own against Cale or anyone else.
Playing some pretty impressive licks on his handmade Max Krimmel Acoustic, he slid effortlessly from Grandpa Jones to Henry Townsend's "Cairo Blues." After a little rap about the "bad women in Cairo," he did a pretty little song called "In Between Friends."
Switching to his 1928 National steel-bodied Triolian, he began warming up the small but enthusiastic crowd with "My Baby," then performed Willie McTell's "Broke Down Engine Blues," which was written at about the same time his guitar was created. I had come expecting to listen for a little while, then head back to Portland, but when Bohren picked up his 1949 National lap steel and began to play Elmore James' "The Sky Is Crying," I knew I was in for a rare treat and wouldn't be going anywhere until the music was over.
Every once in a while I'm lucky enough to experience what I call "goose-bump music" that pierces my heart and goes to the very core of my musical soul. When I experience this, I want to laugh, cry, shout, sing, jump up and down and melt into the music, all simultaneously, but since this occurs instantaneously, the only outlet I have is "goose bumps" from the top of my head to the tips of my toes – and it feels so good.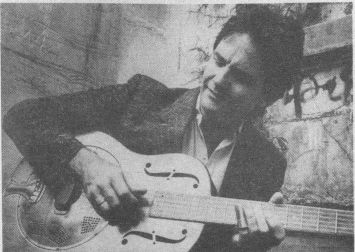 Spencer Bohren
The combination of Bohren's singing and soulful lapsteel playing made "The Sky Is Crying" one of those magical experiences and made me a Spencer Bohren fan.
Having placed his audience firmly in the palm of his hand, he replaced the lap steel with his 1959 National Ranger electric guitar and proceeded to keep us there with "Bring It On Home," "Thief In the Night," the funky blues-rap of "Shoppin' for Clothes," a version of "Hoodoo You Love," wherein he sounded exactly like Bo Diddley doing the Ellis McDaniel original and "Dark Road Blues" with his own arrangement of this traditional road" song.
Prior to playing Fred Neil's "Never Get Out of These Blues Alive," Bohren commented, "No one is doing folk/blues anymore," but those of us in that room knew exactly who was still carrying on that tradition – we were listening to him.
Bohren ended his first set with the story of how he acquired his steel-bodied guitar, an entertaining tale of marital strife. He went on to play the song he wrote for Arthur, the man who gave him the instrument. In the song, called "Eloise (why do you treat me so mean?)," the fight between Arthur and Eloise could actually be heard as Bohren punctuated his lyrics with raps of his knuckles on the body of his guitar.
Bohren has recorded with such artists as Dr. John, John Mooney and Ron Wood. He has appeared with the Neville Brothers, Ernie K-Doe, James Booker, Earl King and Sam Meyers, among others.
For the last seven years, he and his family have called an Airstream Trailer home as they travel the highways and byways of America while Bohren contributes his prowess to the folk blues tradition. He stopped in Louisville while en route to the Kerrville Folk Festival.
Bohren is a guitar man's guitar player and his voice compares favorably with the voices of J. B. Lenoir, Cale, Robbie Robertson, Jimmy Reed, Elmore James and Joe Cocker.
He began his second set with an a cappella version of the gospel song "Put Your Foot On the Rock." Picking up his acoustic, he boogie-woogied with John Mooney's "Shake That Thing" before performing Slim Harpo's "That Ain't Your Business," which, curiously enough, he learned from Swedish blues rocker Totta while recording an album in Sweden.
After entertaining us with the Muscle Shoals soul of "When A Man Loves A Woman," his own "Born In A Biscayne," and the ragtime romp of Blind Blake's "Hey, Hey, Daddy Blues," he once again picked up his lap steel. It was goose bump time again as he played the Jaggers / Richards composition "No Expectations," followed by his own N'awlins gumbo blues "Witch Doctor," during which he finessed his way through some of the most impressive improvisational steel playing it has ever been my pleasure to hear.
On electric guitar, he shuffled with Jimmy Reed's "Bright Lights, Big City," then sounded remarkably like J. B. Lenoir while doing Lenoir's "Down in Mississippi." You could feel the humidity of the delta when he played his own "Midnight Delta," then he gave us the gospel jump of Obed Cline's "Take It Or Leave It," and evoked memories of Hot Tuna with "EZ Rider."
Before he performed "Come Back, Corrina," he told the crowd that his daughter's name came from that song. He also has a son, named after Django Reinhardt. "Eight More Miles" followed "Black Bottom B1ues," the original version of "Caledonia."
After a clamor for an encore, he rocked with Buddy Holly's "Not Fade Away," then, at my request, played "Witch Doctor" again for Jim Griley to close out the night. It was even better than the first time – goose bumps galore!