T. GRAHAM BROWN, HOLLY DUNN AT FAIRGROUNDS By Jean Metcalfe
T. Graham Brown has a new album out. So does Holly Dunn. And the audience at Broadbent Arena on Sunday afternoon, March 6, was treated to a generous sampling of each.
Holly Dunn's voice floated out to greet our slightly-tardy arrival, and by the time we found a pair of seats in the dark arena, she had mentioned her Heart Full Of Love album and was introducing her newest single from it, "My Anniversary For Being A Fool." Good song.
"I know you're taking notes and are gonna run right out and buy it," Ms. Dunn said. A smattering of applause prompted her to add, "I've already sold ten copies."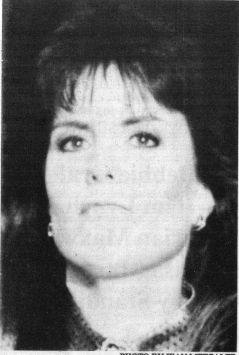 Holly Dunn. Photo by Jean Metcalfe
Ms. Dunn was wearing her hair in a very feminine and becoming style. Her costume consisted of snug slacks and a sparkly vest, and she looked lovely. My husband/photographer continued to focus the close-up lens on her long after the roll of film was spent.
Ms. Dunn pleased the fans with the old familiar hit songs, "What's Gone Forever" and "Daddy's Hands." And there was a lovely a cappella version of a gospel number she fondly recalled hearing in church "where I heard some of the best singing I had ever heard." "Ready for the Judgment Day" showed off the vocal harmonies of her band members, and I especially enjoyed the bass part. At song's end, Ms. Dunn thanked her audience and urged them to "say amen."
"There's gonna be an 800 number come up on the screen any minute now. You can make all your checks payable to me. Isn't that how it works?" Guess the televangelist humor is still alive and well, and Ms. Dunn was just poking a little fun at herself.
Ms. Dunn's rendition of Marty Robbins' "Don't Worry (About Me)" was a great crowd pleaser. At song's end, a fan shouted out "Indiana loves you." The quick Ms. Dunn responded, "How about Kentucky?" and there was a loud answer of applause, "Works every time," she boasted.
Naturally her "Daddy's Hands" (which were "soft and kind when I was crying" and "hard as steel when I'd done wrong,") pleased the Holly Dunn fans.
From the new album there was "You Really Had Me Going (Now I'm Gone)" and the audience really liked it.
Ms. Dunn provided a real treat with the Buck Owens song "Crying Time." During the lengthy pause before the final words of the tag, Ms. Dunn teased the audience: "You must be expecting something big here." There were sounds of agreement, and the petite singer titillated them with "Wait a minute until I hitch up my pants." When she finally delivered the give-it-all-I've-got final words and the applause had died down, Ms. Dunn suggested "I think I hurt myself."
Ms. Dunn introduced her band members and they did a number that allowed them to showcase their individual talents. "Aren't they something?" she asked/commented. "It's hard to believe I just found them at a truck stop," she teased.
"Are You Ever Gonna Love Me," one of Ms. Dunn's best-known songs and a cut from her album The Blue Rose Of Texas, was the finale number. The audience loved Holly Dunn and demonstrated that fact with a generous amount of applause at the end of her performance.
Headliner T. Graham Brown put on an energetic performance, showcasing (naturally) songs from his brand-new album Bumper to Bumper. The album was scheduled to be released the next day, so there were none for sale at the concert. Too bad. (I have since bought a copy and I like it a lot.)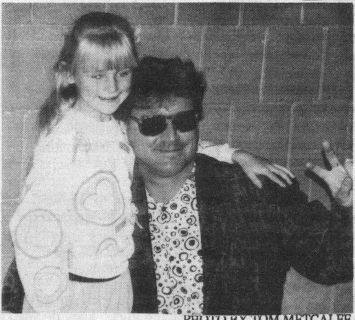 T. Graham Brown poses with a young fan
After finishing up one of the cuts from Bumper, Brown thanked the crowd and told them, "It's good to be back on the charts, I'll tell you that." He sounded very convincing. Don't know how long he's been off the charts, but he was very prominent on them in 1985-88.
Brown didn't forget to include his past hits on the Sunday afternoon performance. No. 1 hits "I Tell It Like It Used to Be," "Hell and High Water," "Don't Go to Strangers" and "Darlene" were scattered throughout the set. Brown displayed his from-the-heart style on other Top 10 hits "I Tell It Like It Used to Be," "I Wish That I Could Hurt That Way Again," "Brilliant Conversationalist," "She Couldn't Love Me Anymore" and "Come As You Were (Before You Stopped Loving Me)."
Brown's band was superb, and he featured each member at various times during the evening. He asked the audience, "How do you all like the band today?" Naturally they applauded loudly. Brown spotlighted his great sax player a couple of times, and at one point asked his keyboard player to step into the spotlight to show off his "tacky" outfit. "He's trying to take over the (reputation as) tackiest dresser in the band from me," Brown confided.
I really enjoyed Brown's performance. Taking his trademark dark glasses off for a song or two, then putting them back on again throughout the evening, he explained, "I wear these glasses 'cause I'm shy. It doesn't make any difference whether I wear them or not 'cause I sing with my eyes closed."
Brown did not play a musical instrument; perhaps it's because his band backs him up so expertly that he feels it's not necessary. But his voice is instrument enough. It's gutsy and it's full of soul. I agree with what I've heard others say of him: "He can just flat out sing!"
There was a good-sized crowd there for the Jefferson County Fraternal Order of Police's "21st Annual Country & Western Show." Hope Louisville's finest reaped a good-sized profit for the handicapped children who were to benefit from the proceeds. The children were very evident in the audience and they were having a great time. Being confined to wheelchairs didn't keep several of them from dancing. Kudos to the F.O.P.!
I was fortunate to have the opportunity to speak with both Holly Dunn and T. Graham Brown between sets. Both performers were very congenial, and patiently signed autographs and posed for pictures for those of us who were gathered backstage.
Ms. Dunn looked much more petite up close than she had appeared on stage. She could not think of an answer to my question, "How would you like for people to think of Holly Dunn?" I'm sure it's not too easy to answer questions immediately after a performance.
Brown was leaning against the wall, waiting for his turn onstage, when I spotted him. After he had posed with children and adults, and had signed a number of autographs, I approached him. He was very friendly and had a quick response to my questions.
T. Graham Brown would like for our readers to think of him as "just a regular guy." That's what he said when I asked him. He convinced me. Of course, I could have been a bit flustered.