Walls and Reid Ink Pierce, Release Single By Paul Moffett
Charlie Walls has done a lot of things inthe music business. He plays regularly, runs a recording studio, writes songs, produces demos and makes frequent trips to.Nashville to plug material.
Now he's added a new title: record company chief executive for Music Man Records.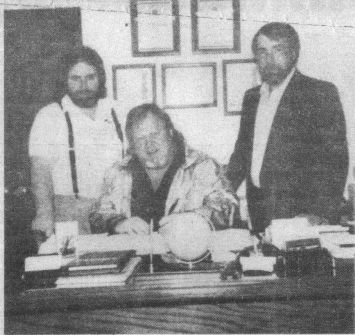 Johnie Pierce, seated, signs publishing agreement with Charlie Walls, left and Sammy Reid.
"This ol' boy, Johnnie Pierce, came to my studio to make a demo," said Walls. "He's been playing around here for years and I've known him about that long, so we got to talking and one thing led to another and first thing you know, we decided to release a couple of songs on cassette."
The tunes, "Give Me Your Heart" and "Runnin' From Love," were written by Pierce, with a touch of re-writing from Walls. Walls and Sammy Reid are co-owners of Walls and Reid Publishing, a BM1 affliated company which is handling the publishing.
Walls created Music Man Records for the purpose of releasing the single. Pierce's group, called Johnie Pierce and the Dawnbreakers, are the primary sales agents for the record. The first run of two hundred cassettes sold out rapidly, so Walls and Pierce decided to have 45s pressed.
The 45s were also necessary in order to get more airplay. Many radio stations will not play cassettes, insisting that the quality of the cassette is not up to standard. Walls has been spending lots of time and gasoline on promoting the record to radio stations in south-central Kentucky, as well as northern Tennessee.
To date, he has gotten radio airplay on these stations: WANY, Albany, Ky.; WKYR, Burksvi11e, Ky; WTCO, Campbellsvile, Ky.; WAIN, Columbia; WMGE, Danville, Ky.; WKED, Frankfort, Ky.; WGRK, Greensburg, Ky.; WHBN, Harrodsburg, Ky.; WKDO, Liberty, Ky.; WLSK, Lebanon, Ky.; WLBN, Springfield, Ky.; WFLW, Monticello, Ky.; WJRS, Russell Springs, Ky.; WSEK, Somerset, Ky.; WRSL, Stanford, Ky.; WVLK, K-93 Lexington, Ky.; and WSBI, Tenn.
Walls noted that if he can get enough airplay and sell a respectable number of records, a major label might become interested and pick up the record. That would be a highly desirable outcome for an independent record label like Music Man Records.