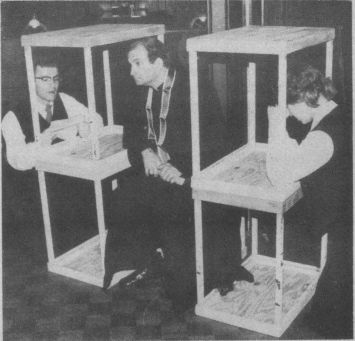 Left to Right, Cary Wiger as Felix, Glen Veteto as Father O'Reilly, and Dana Jo Adams as Nancy Ralansky
Do Black Patent Leather Shoes Really Reflect Up?
Derby Dinner Playhouse
By Paul Moffett
I grew up in a largely Protestant town in the South, but my mother knew a Catholic, so I was sure I could get all the jokes. Hadn't I heard about black patent leather shoes reflecting up?
As it turned out, I got most of the jokes delivered by this energetic musical, as well as getting a moist eye in the appropriate places. Not being Catholic was not a hindrance to enjoying the singing and dancing.
"Do Black Patent Leather Shoes Really Reflect Up?," with book by John R. Powers and music and lyrics by James Quinn and Alaric Jans, is being produced and directed at the Derby Dinner Playhouse by Bekki Jo Schneider, who describes herself as "a good Catholic girl, or at least a Catholic girl."
The play is about nine youngsters growing up, from the second through the twelfth grade of a Catholic school, and their interactions with the staff of the school.
Glen Veteto as Father O'Reilly is alternately stern and exasperated, a dispenser of platitudes and a man of ordinary comments and a pretty good dancer and singer. His lecture on sex to the eighth-grade boys, "Private Parts," is a hoot and will remind all men of why they don't like to take cold showers.
Linda Brinkerhoff as the fearsome Sister Lee strikes terror with her yardstick and whistle but reveals her humanity at the correct moments. It was a pleasure to see a person of (somewhat) advanced years portrayed sympathetically, yet without lapsing into sentimentality or caricature. Brinkerhoff manages it perfectly.
Bill Hanna plays the loner Eddie Ryan as a mix between Andy Hardy and James Cagney as the Kid, with the nod going to the Cagney side.
His girl Becky Bacowski, played by Melissa Combs, starts out overweight and woeful, singing "Does God Love Little Fat Girls, Too?" with just the slightest hint of a crack in her voice. She is transformed into the strongest character in the play, facing and making the hardest choices. Combs' singing is excellent, as is Hanna's.
Choreographer Barbara Cullen makes tomboy Virginia Lear come alive, so much so that an unexpected fall exiting the stage seemed just another event in the character's life. Cary Wiger's nerd Felix Lindor carries dirty pictures in his wallet but turns out all right anyway.
William Theisen, as the shy, overweight Louie Schlang, very nearly steals the show with a wonderful bit at the freshman mixer. He is abruptly transformed into a brown leather-jacketed rock 'n' roll singer, complete with sunglasses and the best of Elvis's arm waves, singing "Doo-Waa, Doo-Wee," a sendup of late Fifties rock. Just as abruptly, he returns to his shy self, barely able to dance with a girl without falling down.
Other characters are Mike Depki, the school bad boy, played by Lee Buckholz; Nancy Ralansky, the girl in the school with the largest chest measurement, portrayed by Dana Jo Adams; teacher's pet Mary Kenny, played by Georgette Kleier; and Larry Henderson, played by Greg Hiatt.
The musicians for the show are Glenn Fisher, Bill Corcoran and Tim Moore on keyboards; Melody Rago on reeds; Mark McCulloch, bass; and Darryel Cotten, percussion. Corcoran is the Musical Director of the show as well.
Thumbs up on this one. The production continues through March 25. Ticket prices range from $14.50 to $21.50, depending on the day. For more information, call (812) 288-8281.