February Showcase By Diana Black
February was short on days, but the February L.A.S.C. Songwriter Showcase was definitely not short on talent.
Bill Matz, accompanying himself on guitar, made his first showcase appearance look like a piece of cake. He led off the Saturday evening performances with his set of original tunes "about situations we get ourselves into."
Bill's first song, "I'm Elated With What I Said," spoke to many of us, I'm sure. He expressed the determination of someone finally doing what's best for them. And, by the way, happy about it!
"I Love It," a very positive song, was followed by "Where Is The Justice?" Bill provided a very sobering look at people in unhappy job situations. (A universal theme that reappeared later that evening in another performer's set.) Bill's song asked the question: Where is the justice when you have "no voice in the matter" and there's "no consideration for people like you and me?"
"I Had to Move (Apart)," "The Employment Trap," and "Just Conversation" led listeners to Bill's final and most powerful song.
Bill obviously feels strongly about, as he said, "the growing problem in our community and all across the United States." The chorus to his tune, "The Streets Are On Fire," sums up Bill's feelings on the war on drugs this way:
The streets are on fire/We're living in a war zone.
The streets are on fire/We just can't escape.
The streets are on fire/We've got to stop the blaze.
The second set of the evening showcased a special guest of the L.A.S.C., Bill Mackechnie of Nicholasville, Kentucky.
Bill's voice has the fine quality and great range of singer/songwriter Kenny Loggins. (Some also thought he sounded like James Taylor. Either one's okay in my book!) His solo performance was further enhanced by his fine guitar ability and his well-crafted songs.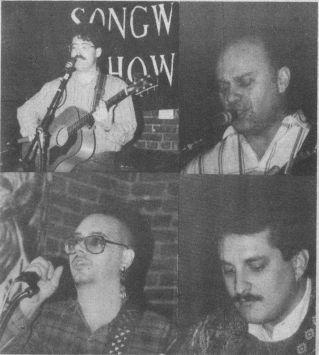 Clockwize, from upper left: Bill Mackechnie, Bill Matz, Tom Flood, Bob Maples. All Photos by Paul Moffett, except Bill Matz photo by Tom Metcalfe.
"Life On The Run" had a Christopher Cross "Ride Like the Wind" feel. Bill introduced this original tune by saying he was going to get his one violent tune out of the way first. (No, it did not even come close to the violence we see and hear on TV every day!) The story told of a person "tired of living life on the run." A fugitive life further expressed by the lyric: "(I) ran away from justice/No justice will I find."
From "Faithless Moments," a very thought-provoking tune about learning how to live with yourself before anyone else can, Bill moved to his tune "Summer Rain." Here Bill painted a steamy picture of sultry, summer days when "cigarettes are too hot to smoke, coffee's all you've got to drink," and "it's impossible to think."
Bill's set also included "Opportunity" (a nice blues number), "Do I Satisfy You?" and "Be My Man." (Before you ask, he introduced the latter song as a female tune!) But the number that got the whole place jumpin' was "Tempted."
This tune was a great foot-stomping, hand-clapping, knee-slapping, good ole down-home country song. And his lyrics -- they never missed a beat! I think listeners half expected to see Bill turn blue from lack of oxygen! But in keeping with his entire set, he pulled the song off beautifully. (All indications are that the foundation of the Rud withstood all that foot-stomping just fine!)
If you attended the showcase that evening and were unable to pick out the titles of Bob Maples' tunes, that's okay. Bob says he has that problem, too. In fact, if you ask him, he may let you title one or two of them. If you know Bob, you know he likes to concentrate on what's in his songs, rather than labels.
And, if you know Bob, you know he enjoys sharing the stage with friends. Fred Otto, playing "assorted tiny instruments," and Steve Dalton, on congas, accompanied throughout the set. Bob played guitar and his ex-brother-in-law's keyboard. (Something about a divorce settlement!)
(I'll try this one more time...) And, if you know Bob, you are familiar with the one-eyed Gypsy who reappears in the majority of his tunes; you are also aware that he is greatly influenced by Frank Zappa. Bob's unique set was true to form.
"Gypsy Doctor" gave us a look at one man's struggle to "bring his fever down." (Yeah, he gets the female doctor.) The Calypso tune, "I Just Want To See God," put it on the line with: "Play guitar all day/Live my way/I just want to see God."
Bob and friends finished the set with a medley of three songs that took listeners through a maze of characters. The one-armed monkey appeared in "Real Frank and the Monkey Dance." Zappa declared "Let's blow this popcorn stand/It's got no commercial potential whatsoever" in the tune "The Vampire Nocturne in Gm." And last, but not least, the "Strange City Downtown Woman" could be found at the "Jamaican Smorgasbord." (The last is a takeoff of Marie Augustine's "One Dish From Your Smorgasbord Is Gone." In fact, the character mentioned in Bob's tune is Marie!)
Speaking of "labels," Tom Flood joked that he has never been labeled as much as when he appears on the showcase. Once he was billed as a "perennial favorite" and had to look up the meaning in a dictionary. (Had a difficult time figuring out if the co-op meant: everlasting; plant every year; a coming and a going!) This showcase he was billed as returning after a "sojourn" in Nashville. He added that at least he learns a new word every time he appears!
Perennial favorite Tom performed some old and some new tunes with the help of two friends -- Steve May on fiddle and, later in the set, Fred Otto on pennywhistle. Tom opened his set with an instrumental co-written with Nashville writer Charles Williams titled "Renegade." The tune was penned with Clint Eastwood in mind; both Tom and Steve did a wonderful job on this number.
"I Hear the Train" was written while Tom was in Music City and has a slick, professional Nashville feel. His tale of "how the railroad helped our nation grow" built some nice images. Musically, Steve May's accompaniment on fiddle set a wonderful mood with the sweet, haunting sound of a train fading in the distance.
Tom's "You Spark My Fire Of Love, You're Still My Flame" was written for the strong influence at home. His poem "The Mule Egg" was a departure from the songs listeners had heard most of the evening. I won't begin to relate the poem. Ask Tom, he'll be happy to tell you, I'm sure. "The Ballad of Charlie Morton" preceded the final song of Tom's set, "Working Man's Blues." Tom featured Steve on fiddle and Fred on harmonica during this "perennial favorite" tune. Tom's ballad speaks of a troublesome situation much like the one in Bill Matz's earlier tune. In Tom's words, "Working man's blues will be the death of me." We sure hope not.