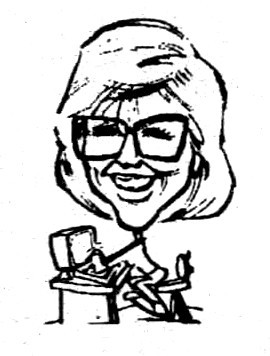 Newsical Notes
Ron Gambrell is at it again. Heard his U of L dunk song on the 11:00 p.m. news on one of the local television stations a while back. Keep on writing, Ron.
Congratulations to Becky Bennett and Kelly Wilkinson for their second-place win in Do Drop Inn's Annual talent contest. They picked up $300 for their efforts. Way to go!
Kelly told me via telephone from her Lexington home that they were pleased with the second-place finish considering that they were brave enough to "slip in a couple of original tunes" in their allotted three-song set. The originals were Joann Hatcher's "Last Goodbye Kiss" and Alan Morris' "Too Hot to Handle," a song written with Becky and Kelly's vocals in mind. The two singers send their thanks to Joann and Alan.
Kelly also sends along thanks to Hickory Vaught for lending her his mandolin and "teaching me three chords in a week." She feels it helped in the contest.
Becky and Kelly are currently lining up gigs with Hickory and Kenny White.
Lucille and Harry Wills made front-page news again recently. The February 1990 edition of the Portland Anchor pictured the happy couple celebrating their fifty-first wedding anniversary at the Toll Bridge Inn on February 3. Following dinner there they continued the celebration at L.A.S.C.'s Songwriter Showcase at the Rudyard Kipling. Congratulations, you two. That's a wonderful milestone!
If you haven't heard by now, Docrates and Hugh Hill have gone into the recycling business. Well, that's somewhat correct. They have opened H & H Thrift World #1 at Shelby and Breckinridge, and I'm sure they'd be happy to have their friends and fellow members come in to browse. Dallas Embry is but one of their customers so far. At a recent open stage he was sporting a nice jacket that he picked up at their place for a song -- figuratively speaking.
Charlie Walls is on a roll. He recently received word (and a certificate to verify it) that his original tune "I've Got A Bad Memory" won first place in the Country Division of Hidden Hits Song Festival '89. The win will put $200 in Charlie's wallet. Congratulations, "Music Man," we're (once again, and still) proud of you! (And I believe your publishing partner deserves a bit of the credit for believing in you, right, Charlie?)
Additionally, Charlie has been selected by the Louisville Workshop of the NSAI to represent them in vying for one of two slots on the really big NSAI showcase on Friday, March 16 at the Vanderbilt Plaza Hotel in Nashville, Tenn. If Charlie makes the cut he will perform his "She Kept It All But Her Word" for a live audience of some 800 people in the songwriting business.
Past NSAI showcases have featured the likes of Guy Clark, Waylon Jennings, Johnny Cash and many, many other big-name entertainers. We'll cross our fingers for you, Charlie, and I'll try to join Diana and Gregg Black, Earl Meyers, Sammy Reid and perhaps Larry Easton, who plan to be in the audience that evening.
Lee Cable told me some time back that he has an album "in the works." We'll be looking forward to word that the album has been finished, and when that happens we'll let our readers know.
Had one of my occasional calls from Rich Lober in Dayton, Ohio. He said he hoped to be back at work in Louisville sometime in March. He's written about five new songs, he said, and added that he was scheduled to play at the Canal Street Tavern in Dayton, Ohio on February 27, and at the Bluebird Cafe in Nashville, Tenn. on April 15. See you soon, Rich.
Claude Wayne is still out there doing gigs with his great ventriloquist's dummy Mini Minnie Pearl, and he's been getting good responses to the performances. On February 11 he won the $50 first prize in Do Drop Inn's weekly talent contest, and was scheduled for a second-round try on the 25th. A win would put him in the finals. Good luck, Claude.
In a contest at the Desert Rose (formerly Dry Gulch) Claude won $75 for besting the other contestants on January 25. He finished out of the money in the finals there on February 8, however.
And ... Claude will be on the bill when the J.D. Black Band opens for John Anderson ("Swingin'") at the Desert Rose on Thursday, March 8.
Additionally, Claude is in the process of starting up a deejay service. He's bought up all the necessary equipment and soon he'll be available to provide music for private parties, reunions, receptions, etc. Claude will spin music from the Thirties through the Eighties. Keep him in mind for your special occasion.
Scott Furlong and Borderline! That's the name of Scott's new group that debuted on Tuesday evening, February 20, at Uncle Pleasant's. Karen Le Van's Sound Investments put together a little premiere party for that evening, complete with refreshments and fliers with individual photos of the band members. Honorary L.A.S.C. member Prince Phillip Mitchell made a guest appearance. It was a fun evening, and we wish Scott and his group much success.
Congratulations to new member John Missik and his wife on the birth of a baby girl, Leah Veronica. John says that they all feel on top of the world!
Mark Sickles and his Sights and Sounds photography business have been on a roll ... literally. He just recently completed a two-week trip to California to rendezvous with Dennis Quaid and the Eclectics (Bonnie Raitt's studio and tour band) at a sold-out show in Santa Cruz.
Mark met with the band after the show and delivered requested photos of the band from the Seventh Annual Riverfest in Austin, Texas. He also had the opportunity to discuss their pending album contract with A&M records, and to offer congratulations to the band members for their contributions to Bonnie Raitt's Grammy-nominated album, Nick of Time.
Upon returning to the Louisville area, Mark has been submitting his portfolio to interested bands and promoters in Nashville, Tenn. and working with Anson Funderburgh's publicist in Atlanta, Ga. More recently he was able to visit with John Prine after his sold-out show at the Macauley Theatre. Prine was interested in getting shots of the evening's performance and a shot of himself and Bonnie Raitt from the Palace Theater in 1985.
Mark is looking forward to some tentative road work plans and to his photography exhibit in May.
Guess you were pretty happy with Ms. Raitt's sweep of the Emmy awards on the 21st, eh Mark?
Ocilla Lawson's new tape of children's songs got a publicity boost in recent days. The Community-Standard, a newspaper that covers the Fern Creek, Highview and Buechel neighborhoods, included a nice photograph and a lengthy story about Ocilla and her Imagine With Me album.
"The tape is a hit," according to writer Rob Patterson, who is also the newspaper's publisher/editor. And Patterson should know -- his two young daughters love the songs.
Since we last wrote about Ocilla's album, she has placed it for sale in some eight stores.
Good for you Ocilla. Keep on doing what you're doing.
Sorry I missed Alan Rhody's concert at the Rudyard Kipling on February 17. I was looking forward to hearing him and picking up a copy of his digitally re-mixed and re-mastered Stop the Rain LP. I have his Border Crossings album and I like it a lot.
I would like to thank all of my L.A.S.C. friends for your kind expressions of sympathy at the time of my father's death. You are very important to me and I am grateful for your friendship.