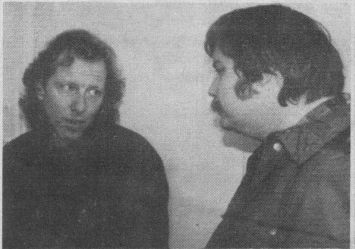 RHOD(Y) WEARY? Alan Rhody, at left, and Bill Ede, two of Louisville's premier songwriter-performers, were spotted backstage following John Prine's concert on February 18 at the Macauley Theatre.
Rhody, now living in Nashville, Tenn., is the writer of Lorrie Morgan's hit song "Train Wreck of Emotion" and the title cut on Ricky Van Shelton's Wild-Eyed Dream album.
Ede has hit-potential songs, but no cuts as yet.
For the uninitiated, Prine is a songwriter's songwriter, and is perhaps best known for "Paradise," a tune he wrote about the ravages of strip mining in Muhlenburg County, Ky., where his parents were born.
Any chance of a collaboration, gentlemen?
PHOTO BY MARK SICKLES