The Swedish-American Dixieland Band Plays in Poland Loose notes from the Diary of Quentin Sharpenstein
After tours to Budapest, London and Berlin, the Swedish-American Dixieland Band decided to visit Warsaw.
The game plan for the tours: Play Dixieland jazz whenever and wherever we can; on the street, in schools and in nightclubs -- wherever. The reaction to this style of music is fantastic!
I think part of the reason is that the Europeans do not try to bury one style of music as soon as another appears. All music, regardless of style and age, commands equal time in most of Europe. By that I mean that the playlist on European radio is set up very differently from that of the U.S. Instead of flipping channels for country, top 40, jazz, classical, etc., you can tune in to a station and hear the likes of Miles Davis, J.S. Bach, Tammy Wynette and Louis Armstrong in one sitting.
The nightclub scene is a different story. It's very lively, and dancing is to the beat of the Great American Music Machine. You'll hear the latest from American instruments such as Fender guitars, Peavey amps and Roland synthesizers. The feel leans more to Miami Sound Machine than to raw rock 'n' roll.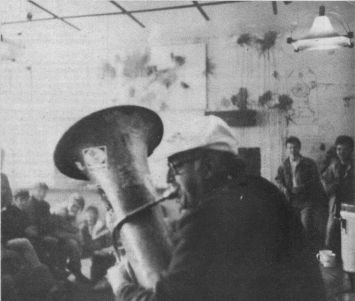 Quentin Sharpenstein performs at an alternative high school in Warsaw for young people with drug problems. 'It was one of the highlights of my trip,' he said. PHOTO BY KJELL SUNDIN
Hard drugs are no problem in Warsaw, but watch out for the drunks! The average Polish patron hits the vodka and beer pretty heavily. At every club that we went to at least one Pole was bounced for overimbibing. (Nobody ever heard of TAP over here.)
The American dollar is still king in Eastern Europe. You can live here with Western currency on virtually pennies a day. There's a big difference between our standard of living and theirs. The average Polish worker makes approximately 70,000 zlotys a month. That's about $8.75, or just about what it costs to have our band of six eat dinner at a fine restaurant in Warsaw.
As the only American in the group, I feel so lucky to be able to see Europe with my Swedish friends. They serve as tour guides, interpretors and protectors.
If you have wanderlust, pack up your instrument and take off. The world awaits you. The old cliche "Music is the international language" has new meaning for me now.
(Quentin Sharpenstein plays tuba and trombone with the Rascals of Ragtyme and teaches music at three local elementary schools.)