Tight Squeeze: Still Happy in the Arms of Celtic Music
By John Goodin
Can a band find success and happiness playing Celtic music in Louisville? Can they successfully produce and market a professional cassette of their music? Tight Squeeze says yes.
Formed in 1985, Tight Squeeze consists of Henry Austin (guitar), Beverly Buchanan (accordions, three-holed pipe, piano), Nancy Harris (flute, pennywhistle, piccolo) and Pete Komsiski (fiddle, piano). The group plays concerts, dances, historical programs, parties and weddings. Their performances are often augmented by the addition of dancer Maureen Pawley, a specialist in dance forms of the British Isles. Louisville Music News recently interviewed Henry Austin and Nancy Harris about the band and its new recording.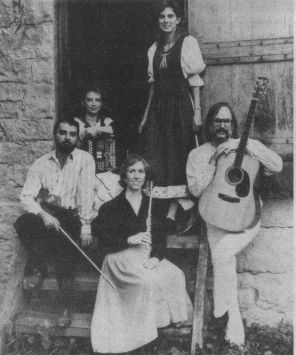 Tight Squeeze
LMN: Let's talk about your influences. Who did you listen to that made you want to play this kind of music?
NH: I listened to medieval, renaissance and baroque music. It was real basic, it had kind of a gut feeling to it. It seemed like part of me.
HA: Probably anybody listening to my playing will hear rock 'n' roll in it. That's where I started from and obviously had a lot of influences then, as we probably all did. But I had a guitar teacher who opened me up to a lot of different kinds of music. That was Elliot Randall, who's a New York studio musician now. Later on I got interested in this kind of music through dancing. I was doing traditional dancing and really liked the music. Now I tend to listen to the more progressive groups like Relativity and Touchstone. Duck Baker is someone who I've taken a lot of guitar lessons from; and he certainly is a challenge to any guitar player. I think you can hear his influence on our tape when we're playing "Shamrock Shores." I like the more energetic, high-energy sound, even using modern instruments in some cases like the synthesizers. So I'm not a purist by any means.
NH: Henry and I have both found that, in picking out tunes, we tend to go for the ones that really have a melody that you can remember. A lot of the Irish tunes are just pure drive and rhythm. We tend to go for the ones with nice melodies.
LMN: Any plans for releasing your cassette in the CD format?
NH: No. When we go platinum, then we'll think about CDs.
HA: Since this was our very first effort, we wanted to put it out in this format so we could see how our sales would go. It allowed us to put out something and keep our costs low. Also to test out our market.
LMN: How many cassettes did you produce?
HA: We had 200 to start with, which have sold out. So now we're going to go for a second run. They've been selling at our gigs and we have them at Hawley-Cooke and the Harp and Shamrock. Probably they'll be going into Four Seasons Records also. We're mail ordering them.
LMN: Are you advertising?
NH: No. When we play jobs we have order blanks out and people just come up and take the order blanks.
HA: That was part of our incentive for finally making the tape. After a couple of years of people coming up to us and saying "Do you have a tape?" we finally said "We'd better do this." If people like you, they would like to take some of that same memory home with them. What better way to do it than if it's recorded? My particular interest in doing this is not monetary. We wanted to break even with the project. We wanted to have a decent high-quality, professional tape available for folks who have followed us for years and years.
NH: We also wanted to preserve the sound for ourselves because the band is constantly changing. At least we can say "This is what Tight Squeeze sounded like in November 1989. "
HA: I think that ever since I've been involved with this music, one of the things I've wanted to do is to promote it. Promote the music in any sort of way it can be, which means playing as often as possible and especially for people in places that don't normally hear it. I think the cassette is just another means to promote this kind of music and reach a lot of people who may never have heard it before. It's such a lively and happy music for the most part.
LMN: Who does the arranging for the band?
NH: We all do. We consult on what we want to do, we try a lot of different things. Somebody will say "Hey, why don't you do this" or "Did you like what I just did?" and it all just comes together.
HA: It's done so democratically, it's just amazing.
LMN: Are the arrangements worked out in rehearsals, or do you try things when you're playing gigs?
NH: Pretty much in rehearsals. It depends on how loose the gig is.
HA: At dances where we play things over and over again, we have a lot of leeway to experiment; working out harmonies, dropping in and out of the sound, trying different voicings.
LMN: How much of anything is written out? Is it all head arrangements or does someone actually say, "I think I'll write a harmony part for this?"
NH: We have some written harmony parts, but not usually.
LMN: Do you sketch out the arrangement once it's solidified?
NH: I write them down because after a while somebody says "Didn't we do this?" and I can say "Wait a minute, I've got it written down."
HA: Nancy is the keeper of the book. It really is needed because we have such a large repertoire of tunes that we may not play some tunes for a year and then the book is very handy.
LMN: Let me ask about recording techniques. You went to Falk Studio. Did you record live as a group?
HA: Essentially everything was live and recorded as a group.
LMN: Was everyone miked separately? Did you face each other?
HA: Yeah, it was kind of in a semicircle except for the bodhran, which was used on a couple of the cuts and was put off in the drum booth. We were asked going in "Do you want this to sound high tech?" and basically we said no. We wanted to still have a traditional quality to it yet with our own particular twist. We did overdub some piano and we overdubbed some bass lines and the flute on the solo guitar thing.
HA: One thing about this music for me is that it has such a sense of history. Many of the tunes on this tape have a lot of history behind them. I had ancestors in the 1700s who came from Dublin, Ireland and there are certain tunes that will even bring an image of Ireland to my mind.
LMN: If someone wants to hear Tight Squeeze live, how can they find you?
HA: Often we'll put things in the calendar of the Louisville Music News. We hope to be back at the Kentucky Music Weekend this year. Also, we play the traditional dance circuit in a tri-state area. We're scheduled to play on the Star of Louisville on St. Patrick's Day, March 17, from two to four.