"I Play for the Audience" - And They Loved It!
Abb Locke at Uncle Pleasant's
By Dallas Embry
Back when he was seventeen, picking cotton on his father's Arkansas farm, Abb Locke heard Louis Jordan play and said "...if I ever get me some money, I'm going to buy me a sax."
Luckily for those of us who were at Uncle P's on Friday the thirteenth, Locke got him some money and he bought a sax. Since then, he has played with such artists as Muddy Waters, B. B. King, Albert King, Freddie King, Earl Hooker, Jimmy Reed, Otis Rush, Eddie Clearwater, Gerald Sims, Lonnie Brooks, Bill Dogget and with Albert Collins in Carnegie Hall.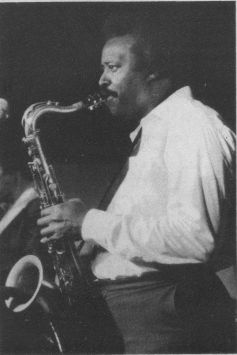 Abbe Locke. Photo by Tom Armstrong
When he took command of the stage at Uncle P's, Locke opened with Bill Dogget's million selling "Honky Tonk," which was only fitting, since he blew sax on the original.
After getting everyone in the mood with "Honky Tonk," Locke chose "Every Day I Have the Blues" for his first vocal. He then endeared himself to his audience by strolling off the stage and roaming the club, saxophone in hand, until he had gone up to every person there, in effect providing everyone with their very own, personal saxophone solo. When he sat in a vacant chair at an otherwise full table, the band softened their volume, and his solo soared.
Locke also did the vocals on Slim Harpo's "Scratch My Back" and "Since I Fell For You," backed up by George Brown on guitar, Late Turner on bass, and Bernard Whitaker on drums.
Everyone sang at one time or another. Brown stretched his vocal cords as well as his guitar strings on Jimi Hendrix's "Red House" when he sang "...got a bad, bad feelin' my baby don't live here no more" adding "That's all right, I still got my guitar."
Stick man Whitaker showed his vocal stuff on "Dock of the Bay" and "My Girl," on which Brown and Turner did back-up singing. Bass man Turner was, nevertheless, the dominant vocalist.
Locke and band played such blues as "Messin' with the Kid," "Driftin' and Driftin'," Muddy Waters' "I'm A Man," and "Detroit Blues," which was written by Locke and contains the heartfelt line "...goin' North where I won't have to keep sayin' 'Yassuh, Boss!'"
As good as the vocals were, my personal favorites were the instrumentals like "Honky Tonk," the country classic "I Can't Stop Loving You" and the Beatles' "Come Together," where the sax took the melody and wailed into an original arrangement that was great. Locke's tenor sax was what everyone came to hear and he did not disappoint. He made his horn cry, scream, shout, sing and growl, as he played everything from rock 'n' roll as it used to was, to the final funk of James Brown.
The final set consisted of the aforementioned "I Can't Stop Loving You," then a boogie version of "I'm A Man," which segued into "Hootchie Cootchie Man" and back again.
Someone in the audience then requested James Brown. With "Make It Funky," George Brown did James to a "T," with Locke providing the screams when he wasn't wailing on horn. It was followed with the funky "Papa's Got a Brand New Bag."
Locke closed this Friday the thirteenth show with the highly appropriate "I Got My Mojo Workin'" and went back to Chicago, leaving behind a bunch of new fans to spread the work about him and his hot band, eagerly looking forward to his next visit.