Come To The Cabaret And "TAKE 5"
Fresh from a sold-out concert in Clarksville, Ind., the cabaret-style group Take 5 will be in concert at the Bomhard Theater, Kentucky Center for the Arts, on May 11 at 8 p.m.
Take Swill take all takers on a sentimental journey through four decades of music from the "Big Band" sounds of Duke Ellington and Glen Miller, to the smooth, stylish sounds of the Manhattan Transfer.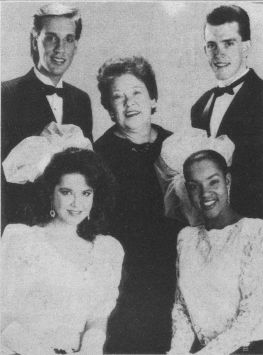 Take Five
From Broadway to the Silver Screen, from the rockin' Fifties to the soulful Sixties, there will be a pause to hear "Top Hits" from the Seventies and Eighties — all performed with Take 5 flair.
Take 5 has appeared at the Metro United Way's "Victory Celebration" at the Kentucky Center for the Arts, the Capitol PlazaHotel in Frankfort, Ky. and many of the top country clubs and restaurants in the area.
The members of Take 5, all originally from Louisville, are no strangers to area stages. Their collective personal credits include Derby Dinner Playhouse, The Stephen Foster Story, The Cumberland County Playhouse, Music Theatre Louisville, Iroquois Park Players, The Motet Singers, Clarksville Little Theatre and the Caribbean Cruise Lines.
The May ll performance is presented by Cosmopolitan Coach Company and WLSY Sunny 101.7.
Tickets are available at KCA or by calling (502) 584- 7777 or (502) 239-0879.