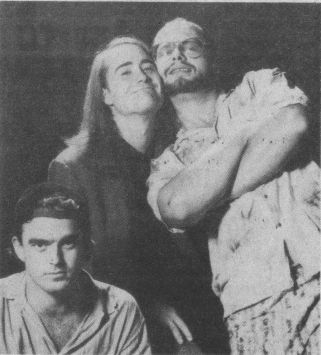 The New Deal: Bryan Hurst, center, Chris Abromavage, upper right, Steve Jones, lower left. Photo by Tom Willis
Cutting The New Deal: Dirk Departs
By Jim Powell
For the past five years, the Louisville area has had the pleasure of relying upon the collaborative efforts of Dirk Gaskey and Bryan Hurst, first as The Core of Resistance and more recently as The New Deal, to satisfy their dietary needs for alternative/progressive music. Recently, however, Dirk told me that he had left The New Deal.
When I asked him why he had left a band that he helped found, he responded with the customary answer, "artistic differences." At that point, an irrepressible half-grin, half-smirk appeared on his face and he offered further elaboration by saying that he had grown tired of the direction that the band was taking and he wanted to move in another direction. Dirk also informed me that he was talking to other musicians and would soon put together another band.
After hearing the news of Dirk's departure from The New Deal, I made arrangements with the band's manager, Elaine Ford, to talk with the remaining members of the band, Bryan Hurst, bassist Chris Abromavage, and drummer Steve Jones. I was invited to their rehearsal on April 17 and, after listening to four songs that they were working on, the three remaining members of the band and I talked about Dirk's departure and the band as it now stands.
The attitude of the members of The New Deal about the departure was summed up by Chris, who said, "We want it made clear that we do not engage in nor will we condone Dirk-bashing."
Bryan explained, "There was an attitude problem -- people showing up late for practice, etc. -- because this band had risen and fallen without getting anywhere. The attitude was real up and down. Over the last few months, it was more down than up. There were a few good times, but it seemed more like a chore than a pleasure. There were a couple of times that Dirk was not at practice, for whatever reason, (and) the three of us would fiddle around and we thought that the chemistry was so much better with the three of us. We decided that we would have to do something differently if we were going to keep on going as a band, because we were on the verge of quitting.
We talked it over at different times and decided that changes had to be made. Dirk wasn't really happy with what we were doing and the directions we were taking as a band, but the three of us wanted to continue, so there was no real animosity or anything. We're sure that Dirk will find something more to his liking. Regardless, we will remain friends."
When I was listening to the band rehearse, I noticed that the lack of fullness that I was expecting was not there. Bryan said, "We were going to audition people to join, but we only auditioned one person and, for different reasons, it just didn't happen. We're doing a few things differently than before, but the main thing now is better cohesion as a band."
Chris pointed out, "It's easier to get three people to do the same thing than it is to get four people to do the same thing."
Steve added, "I don't think that it is a concentrated effort or anything, it's just more fun. We get together naturally. It sounds fuller, everybody's trying harder, everything sounds better. You play better because everybody is having fun."
The New Deal has at its call their alter-ego Up Your Sleeve when the members want to do an acoustic set or a few songs. This group had its beginnings with a show that Bryan was to open (as a solo).
"I worked on a few songs," Hurst noted, "and got really scared, (because) I knew it was going to be a big show. While I was rehearsing the solo material, Chris walked in, picked up his bass and started playing. Later, I saw an advertisement for some congas for rent and I thought that it would be a great idea to add some congas to this material. Two days before the show, Steve learned to play the congas, and Up Your Sleeve was born."
At Tewligans on April 21, the New Deal made its Louisville debut as a three-piece band. Starting with a new song called "While You Were Sleeping," the band proceeded through two sets. Mixing original material with old and new covers, the show also featured the appearance of Up Your Sleeve.
For the long-time fans of The New Deal, there were the excellent covers of the Stones' "Under My Thumb," the Byrds' "Feel a Whole Lot Better," and the Doors' "Break on Through." The group also performed their original tunes, "Dr. Burzinski," "Only a Farmer," "Deliverance" and, what is perhaps their best song, "Spanish House."
Assuming the Up Your Sleeve persona at the close of the first set, they played their original "Memory Hole" and covered the Beat's "Save It for Later," and the Beatles' "Rain." Steve's efforts on the conga and the triangle could not be heard, due to technical problems and after the set he moaned, "I felt foolish playing that thing. I must have looked like an idiot."
The opening of the second set featured an excellent cover of "Take Five," the Paul Desmond tune that sounds quite simple but which is difficult to play. The crowd became so involved that a friend of Hurst, Biff Banger, joined the band on stage to cover Lou Reed's "Sweet Jane." The show ended with "One Lust Song," which also enticed an audience member to attempt to join the band on the spot.
The New Deal is scheduled to go into the studio on May 2 to record a tape to shop to record companies. Vince Emmett of Shaking Family has agreed to produce the tape.
Dirk has just begun to work as the soundman at Uncle Pleasant's.