"Jesus Christ Superstar" Revival at the Derby Dinner Playhouse
By Paul Moffett
A revival of a hit musical presents certain problems for a reviewer, most notably the need to suspend old feelings, since it is all too easy t o let pleasant memories color the current experience, or else to be offended by the fact that the new staging is not at all like the remembered one.
In the case of Derby Dinner's revival of "Jesus Christ, Superstar," that difficulty is compounded by the problems associated with staging a "large" play in a very small space. Nevertheless, the company manages to make this familiar musical sparkle once more.
There were some glitches in the production the night the play was reviewed. A couple of mikes on stage were mis-adjusted and, once, a mike was turned on with an audible "pop." in the middle of a tune, a problem familiar to anyone who has ever worked on a stage with amplification.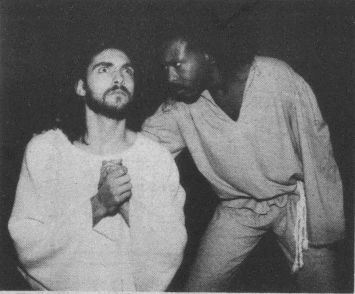 Jeff Bodnar, left, as Jesus, and Tyrone Davis portrays Judas.
The musical accompaniment, directed by Bill Corcoran, was muted, perhaps because of the location of the band. An acquaintance who plays in a local band groused that the guitar needed more volume, since it was, after all, a rock musical.
Jeff Bodnar handled the role of Jesus as a wide eyed madman who may or may not have ever had a genuinely powerful religious experience. Singer-actor Tyrone Davis, who works in the studios of New York with the likes of Billy Joel and Stevie Wonder, put much more passion into his role as Judas, flinging himself about the stage with considerable abandon. Unfortunately, his diction wasn't clear, requiring memory to fill in the words on his songs. Had the music not been so familiar, it would have been a problem.
Local chanteuse Gayle King, as Mary Magdalene, handled her vocal chores very well, although her role in this production seemed curiously limited, bordering on being little more than a walk-through. David Lewis and Glenn Veteto were excellent as King Herod and Pilate, respectively. Having just seen Veteto as Father O'Reilly in "Do Black Patent Leather Shoes Really Reflect Up?" it was somewhat of a giggle to see him playing for the other team.
Herod's priests' costumes looked like Liberace does Buck Rogers. Costumer Tom Klipsch, who handles one of the priest roles, had a field day with these, managing to make them simultaneously menacing and ridiculous. Herod's elevator boots would have put Elton John's pair (from Tommy) to shame.
Members of Jesus' entourage swirled constantly about the stage, imparting a sense of space and movement even when there was none. The stage was covered with narrow, snaking paths and hilly ramps, topped with what was essentially a jungle gym for adults. This very bare, simple staging worked quite well, managing to evoke the desert-dry hills of Israel as we have come to believe them to be.
All in all, DDP's production works both as entertainment and as a musical, despite the minor problems. It is a tribute to the quality of the music and book of Andrew Lloyd Webber and Tim Rice, as well as to the handling by the Derby Dinner crew.
The story ain't too bad, either.