Louisville Group Semi-Finalist in Jazz Search By Jean Metcalfe
Walker & Kays, talented jazz group from Louisville, competed in Atlanta, Ga. on April 9 in the sixth annual Hennessy Cognac Jazz Search.
Although they did not progress to the f'mals and they will not be eligible to compete in that contest again, Greg Walker was philosophical about the outcome. It was an honor, he said, to be among the twelve semi- finalists.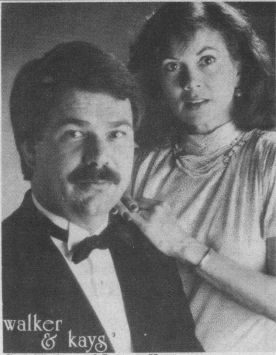 Greg Walker and Jeanette Kays
Had they won the contest, they would have gone on to the next stage at The Palace in Hollywood for the opportunity to appear at the Playboy Jazz Festival at the Hollywood Bowl and be featured on the VH-1 jazz program "New Visions." The host and judge will be Doc Severinsen, leader of the famed "Tonight Show" orchestra.
Louisville can be proud to claim a group the caliber of Walker & Kays. Being one of twelve semi-finalists out of 1,000 entries from as far away as Brazil and Japan is indeed quite an accomplishment.
Walker & Kays have already traveled extensively, opening for such names as Maynard Ferguson, Woody Herman, The Les Brown Orchestra and Lionel Hampton.
The four-piece ensemble headed by Greg Walker (guitar and vocals) and Jeanette Kays (vocals) also includes David Crites on vocals and bass and Lawrence Clark on percussion.