Mike Snider Trio, Kentucky Ramblers at Shepherdsville Country Music Show
By Jean Metcalfe
Friday, April 13, was a lucky day for me. Acting on a tip from Berk Bryant, host of WFPL 89.3 FM's "Sunday Bluegrass" program, my husband and I drove to the Shepherdsville (Ky.) Country Music Show, arriving just as Bryant was introducing Gary Brewer and the Kentucky Ramblers.
The popular bluegrass group kicked off an evening that was replete with flat-out wonderful picking and singing. Lead singer Brewer plays guitar and writes a good many of the group's songs. About 75% of the tunes on their play list are Brewer originals.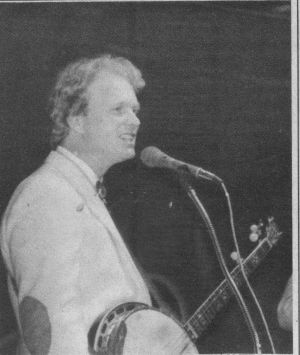 Mike Snider. Photo by Tom Metcalfe
During their two trips to the stage, the bluegrass band got better and better. They were red hot on the second set and I couldn't help but chuckle. when the Mike Snider Trio had the wisdom to lead off their final set with a gospel number while the smoke was still clearing from GBKR's closing number.
The five-piece group played and sang original selections from their new album, Down Home Memories. One such was a fine rendition of "Let's Go Back to Kentucky." I especially enjoyed Brewer's "Home Ain't the Way It Used to Be," which he said was "a true story about my Daddy growing up as a pup down in Tennessee." Very touching. I experienced cold chills as Brewer painted word pictures of things that I had experienced in my own childhood.
Brewer's father is the Ramblers' bus driver and "takes care of us on the road," Brewer said, before bringing him on stage to do a couple of numbers. I had to reach for my coat and a handkerchief when he sang "Shake Hands With Mother Again." The guys in the group provided harmony for the poignant number.
It was a treat to see the elder Brewer stand at center stage wearing blue jeans supported by suspenders and sing about "The Model Church," a "meeting house" that "wasn't built for show." There was an "Amen" from the audience at song's end and my husband commented that "their bus driver sings better than most people." Amen to that. And there were several good cover songs from the group; "John Henry" was but one of them.
Introducing it as "Get Off the Stove, Granny, You're Too Old to Ride the Range," GBKR tore into "Rollin' In My Sweet Baby's Arms" and it was so hot that it should have set off the smoke detectors. Ditto for "Long Journey Home" and "Rocky Top." It is not difficult to see why the Kentucky Ramblers play about 300 gigs a year.
Funny man Snider came on stage for the final set of the evening and said, "Ain't them Kentucky Ramblers good? I could sit back there and listen to them all night and I thought there for a minute I was gonna have to."
Snider had the wisdom and show-biz sawy to quickly start the musical portion of his second set with "In the Garden." He had closed his first set with a lovely version of "Amazing Grace."
Snider continued with "Snuff Dipper," a song about his wife "Sweetie." (The Sniders are expecting a baby in November.) He writes some funny stuff; an example is the audience favorite "The Satellite TV Blues."
("Satellite, satellite, watch it all day, watch it all night") He doesn't sing but merely talks with the music.
I had spoken with Snider backstage just a few minutes before he was scheduled to take his first turn on the Shepherdsville stage. He was very friendly and pleasant and looked younger than he appears on television and he looks quite youthful on the telly. I asked if he gets nervous just before a performance; he said that he doesn't. He did mention that before a "Nashville Now" performance he was told, "Don't worry about it if you mess up, there's only 40 million people watching." "Oh, No," he said, indicating his reaction.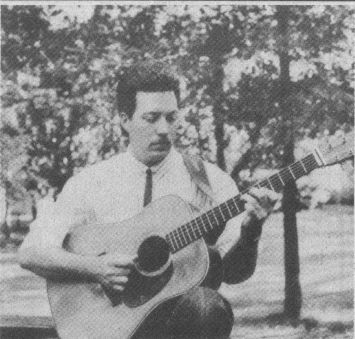 Gary Brewer
I asked if there was anything special that he would like me to include in the story I would write. He replied, "I would like to say that I'm thankful to get to do this for a living. And I'm powerful thankful to the Good Lord for giving me the talent to do it. It's just a miracle that anybody ever gets into the music business and make a living at it. And I'm overwhelmed that people pay me to do it …. and sometimes they don't."
A frequent "Nashville Now" performer, Snider told joke after joke in his good old boy accent; the accent is real and he uses it to good advantage. A sample of his humor: Speaking about growing up in a large family, he said, "I never knew what it was like to sleep by myself until I got married."
Then there was a man in his home town who was "trying to put on city ways." "He got carpet for his bathroom. He liked it so much he's thinking about running it up to the house."
When one woman in the audience got a bit too frequent and loud with her comments to Snider, he said back to her, "Where'd you learn to whisper lady — in a sawmill?" Even so, he said it in a fun way.
Until he turned pro in 1985, Snider, a neat, trim blond young man, was a hog farmer. His father still has about 700 head of hogs on the farm in Gleeson, Tenn. where Snider lives.
Snider brought along the Mike Snider Trio and they, too, were excellent. Besides being a very funny fellow, he is quite a banjo player. The trio shone with their excellent playing ability, doing covers of "Alabama Jubilee" and "The Bells of St. Mary's."
The trio's guitar player Bobby Clark was described by Snider as "one of the best mandolin players that ever drew a breath," and he didn't intend it as a negative comment on Clark's expertise on guitar. Fiddler Glenn Duncan is an outstanding musician and it was not surprising to learn that he had recorded with Emmylou Harris and played with heavyweights Bill Monroe, Reba McEntire, Jim & Jesse and the Osborne Brothers.
The Kentucky Ramblers are a five-piece group and a talented group they are. Brewer handles lead vocals and plays guitar; Larry Beasley is the banjo player and sings baritone; Elmer Burchett Jr. plays the bass fiddle and sings tenor; the mandolin master is Dale Taylor who sings bass; Steve Day does back-up harmony and plays the fiddle. All are from Kentucky. Brewer is from Louisville and his group claims top billing on the Mayor's SummerScene and WinterScene programs in the city each year.
Gary Brewer and the Kentucky Ramblers new album, Down Home Memories, is on Copper Creek Records and is available on cassette tape and CD.
The gnoup will presenting The 5th Annual Blackberry Blossom Bluegrass Festival on June 1-2. The family event is located seven miles south of Jamestown, Ky. on Highway 127 (l-1/2 miles north of Lake Cumberland State Park beside Lake Cumberland Country Store). Further information may be had by calling Stretchgrass Productions at (502) 448-9107.
A special thank you to Kenny Taylor and his wife for their excellent hospitality. It was the first of what I hope will be many visits to their Shepherdsville Country Music Show, located on Highway 44, two miles west of I-65. Taylor and his band 44 Country provide the entertainment on Saturday nights and there is a special guest each week.
The Osborne Brothers and Doyle Lawson and Quick Silver will be appearing there on Friday, May 25. Admission is $10. Additional information may be had by calling (502) 366-5595, (502) 969-3515 or (502) 5439967.