"NEW HORIZON"
Bluegrass Lambada at The Rud?
Text and photos by Jean Metcalfe
Well, that's what New Horizon lead singer Larry Raley said was going to happen -- right after their concert at The Rudyard Kipling on April 3.
Of course they were just kidding around, but I stayed until the bluegrass foursome's last set just in case. Just kidding, again. I stayed because New Horizon is good.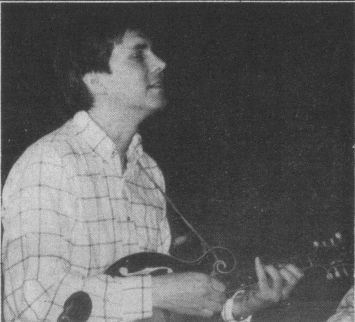 Mike Schroeder
They're good and they're fun to watch. Their audience rapport was most enjoyable, as they ripped through some great bluegrass music, laced with witty segues and clever banter. (Yes, banjo player Steve Cooley does look a tad like Burl Ives and/or Santa Claus, but neither can match his talent.)
Mike Schroeder on mandolin and Kenny White on acoustic guitar joined with Cooley and Raley to round out the purveyors of "progressive bluegrass." For the most part they stuck with bluegrass fan favorites. There was "New Camptown Races," "Bury Me Beneath the Willow" and "She'll Be Coming Round the Mountain," the latter an instrumental version that let each member show his stuff. And it was certainly "the right stuff."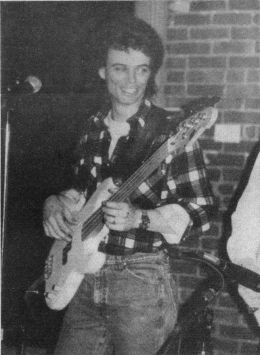 Larry Raley, bass and vocals
They did "Early Morning Rain," introducing it with a good-natured argument about whose song it was. One called it a Gordon Lightfoot song and one said Elvis Presley. A third said he'd only heard it by Harold Thom (of The Cumberlands), so they decided then and there to refer to it as a Gordon Lightfoot / Elvis Presley / Harold Thom song. Nice compromise. Songwriters would probably vote for Lightfoot as he is the writer, although Ian and Sylvia and, later, Peter, Paul and Mary had commercial successes with the song that topped Lightfoot's own version. Probably cried all the way to the bank.
Requests were received from the audience for "Blue Moon of Kentucky" and "Uncle Pen," and the crowd-pleasing New Horizon gents complied. "We'll try anything once even if it's wrong," Cooley said. The word from here is that "it" definitely wasn't wrong! Never mind that they didn't have a fiddle. They joked about that fact, wondering aloud why a fiddle was necessary to play "Uncle Pen." "Because," one said, "Uncle Pen had a fiddle."
The three sets of the evening included "There's More Pretty Girls Than One," "Life's Highway" and "One Tear." The timing of a line in the latter song brought a sneaky grin to the face of Raley. The line, "It helps keep my feet on the ground," came immediately after the talented lead singer had made a slight error. Raley's voice is especially suited to bluegrass music and he doesn't make many mistakes.
I loved the great vocal harmony on "Movin' On" and I enjoyed the several references to songs played in the Key of G. White referred to it as "God's key" and Cooley said, "You know, Lester (Flatt) and Earl (Scruggs) made lots of money in G."
The ever-popular "Salty Dog" and "On the Banks of the Ohio" closed out the evening.
Cooley and White were both suffering with sore throats and didn't stick around to jam. And ... no Lambada. Oh, well, maybe next time.