NSAI Spring Symposium a Big Success By Earl Meyers and Diana Black
Where else in the world can you sit in on a conversation with Mae Axton, co-writer of "Heartbreak Hotel," snap Brenda Bowlin's picture with Bill Monroe and tell Kostas, who penned "Timber, I'm Falling," where to go (he asked Earl where the men's room was), in less than twenty-four hours? Only in Nashville at the NSAI (Nashville Songwriters Association International) Spring Symposium and Songwriter Awards Ceremony.
The Vanderbilt Plaza Hotel saw the likes of Gardner Barger, Sammy Reid, Charlie Walls and the two of us at the two-day event plus the Sunday moming Continental Breakfast with Pat Huber, NSAI Executive Director.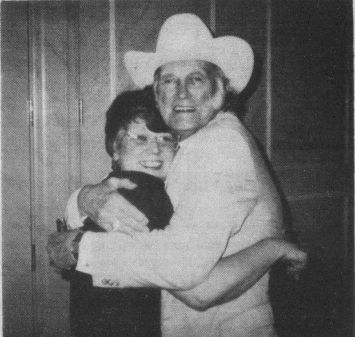 LASC member Brenda Bowlin got a BIG hug from the father of bluegrass, Bill Monroe. Brenda was in Nashville for the Twelfth Annual NSAI Spring Symposium. Photo by Earl Meyers
Kenny Perkins, Kenneth Young, Brenda Bowlin, Judy Johns, along with Greg Black, were able to join our Louisville group for part of the event.
The Friday evening showcase was emceed by Lorianne Crook and Charlie Chase of The Nashville Network's popular television show "Crook and Chase." During the evening we saw performances by such excellent songwriters as Whitey Shafer ("All My Ex's Live in Texas," "I Wonder Do You Think Of Me"), Janis Ian ("At Seventeen"), Mary Chapin Carpenter ("Never Had It So Good"), Billy Hill ("Too Much Month at the End of the Money") and newcomer Kevin Welch ("Till I'm Too Old To Die Young"), to name only a few.
We also heard the Thom Schuyler hit, "Sixteenth Avenue," performed by Lacy J . Dalton, plus the recent Jon Vezner/Don Henry success for Kathy Mattea, "Where've You Been," sung by none other than Kathy herself. .
Panel sessions included major publishers, producers, record-label executives, radio program directors, managers, songwriters and a performing-rights president. Topics "included a session on the "nuts and bolts approach to the basics of the industry and how they are changing" and a panel discussion with established co-writers which included a walk-through of one of each co-writing team's major hits.
A three-hour "Welcome to My Office" session gave those of us who just "happened" to arrive at the symposium with a tape and lyric sheet, the opportunity to have a tune critiqued by two music publishers.
Roger Murrah, Pat Huber, Jana Talbot, Mary Frances Wright, Sherrill Blackman, to name only a few of the people who put hours and hours of work into the event, put together an extremely professional, informative and entertaining symposium.
The Louisville group's consensus? We wouldn't have missed it!