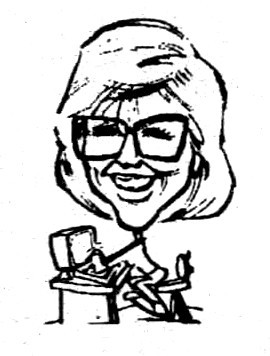 Newsical Notes
L.A.S.C. Prez Paul and first Lady Beth Moffett were surprised and delighted to spot Co-op charter member David Evans in the cast of Derby Dinner Playhouse's production of "Jesus Christ Superstar."
Dave took a brief hiatus from performing music a while back, but apparently is back sans guitar (for "Superstar" anyway). Sounds like fun. I saw the earlier DDP production of the rock musical, but, alas, Dave was not in that cast.
Ah, Claude Wayne and his winning ways! After having qualified for the semi-finals of Do Drop Inn's Sunday-night talent contest (and winning $50 for his efforts), the man of many voices won that round — and $100 — on April 8. The finals take place in January of next year and Claude will be in there doing their ... er ... his best.
Our readers may remember that L.A.S.C. members Becky Bennett and Kelly Wilkinson placed second in the finals of last year's contest at the Do Drop.
Claude's got a lot of other irons in the fire these days and one of the hottest is the opportunity to open for his hero(ine) Loretta Lynn on August 18 at the Little Opry in Nashville, Ind.
Debbie Tuggle is certainly staying busy these days. Lots of interesting and exciting things are happening in her life." She sends word that she will be doing four shows in Huntington, W. Va. as part of their Earth Day Celebration. She will be backed by Gary Brewer and the Kentucky Ramblers. She will also do two shows at area high schools and two park concerts while in Huntington.
Debbie has filmed a video in Cincinnati, Ohio and Huntington, W. Va. that features her new environmental song "River of Mine." The video is being cut into three PSA spots to be distributed to all areas of the Ohio River Sweep from Cairo, Ill. to Pittsburgh, Pa.
And ... just before Kentucky Govemor Wallace Wilkinson speaks at his Derby Breakfast, Debbie will perform "River of Mine" and another Tuggle original, "I Am Home in My Kentucky."
Additionally, Debbie performed on April 9 at Founder's Square amid environmental speeches by Jefferson County Judge-Executive Dave Armstrong and Male High School students.
Debbie's originals "Follow the Light" and "Ever' Time My Heart Goes Home" have made the finals in the Song of the Year Contest sponsored by the Southern Songwriters Guild in Shreveport, La. and the results should be in by the time you read this. (We're wishing you good luck, Debbie, as we type this column eight days before the results are armounced.)
Debbie's other activities include a performance of her Kentucky show for the East Kentucky Leadership Conference in Hazard on April 27 and at the L Z Bluegrass Vietnam Vets reunion on July 21 at the Water Tower.
Ron Gambrell has been getting airplay recently on one of his original tunes, "Love's Not Something A Lady Should Fake." The song is a cut on a four-song EP by the Bobby Lanz Band. Grrrreat!
Sickles Sights and Sounds will be doing a photo exhibit starting May 1 through May 27 at New Albany-Floyd County Public Library Lower Level. It will be an exhibit of the work of member Mark Sickles over the past ten years. For further information contact Mark at (812) 945-9873 or the library at (812) 949-3529.
Check it out — Mark does excellent work.
Congratulations to Rusty and Debbie Bladen on the birth of a daughter, Ann Elizabeth, on March 14. Neil Bladen, two years old, rounds out the Bladen family.
Rusty's song "Don't Blame It On Me," has been getting airplay on WORX 96.7 FM in Madison. Ind. In fact, the Bladen original is currently the most requested song for that station. "That's because it's my hometown," the modest songwriter suggested.
Once again, thanks to Berk Bryant, host of "Sunday Bluegrass," for playing an original song written by a member of the L.A.S.C. The song, "A Ship Soon to Sail," was penned by Papa Gene Adams and performed by New Horizon. Berk plans to play another Adams tune, "Love On the Line," also performed by New Horizon, on his April 30 show.
Berk's "Sunday Bluegrass" promotes bluegrass music and airs every Sunday evening at 8 on WFPL 89.3 FM. Tune in.