Saxton's Cornet Band By Joyce Trammell
The ballroom at the Old State Capitol in Frankfort, Ky. came alive on April 23 as Saxton's Cornet Band struck up the familiar overture "When Johnny Comes Marching Home Again." After the Grand March, the band continued with a program of waltzes, reels and schottesches.
No, the above story is not taken from a newspaper from the 1860s. On April 23, 1990, the Kentucky Historical Society, along with the U.S. 7th Kentucky Volunteer Infantry, sponsored a reception and ball. The event was to honor a group of about sixty men and women of the American Civil War Society of Briton.
The music for the ball was provided by Saxton's Cornet Band, one of the few groups in the nation to play authentic music of the Civil War era. The nine-piece group is made up primarily of faculty members, employees and students of the University of Kentucky, Georgetown College and Eastern Kentucky University, and was founded by Phillipia Burgen and her husband William Gay.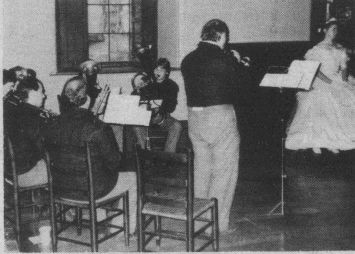 Saxton's Cornet Band. Photo by Joyce Trammell
Burgen decided to attend the University of Kentucky to study for her doctorate because of the University's strong department of American Music Studies. They moved to central Kentucky from California, where Gay was working at Disney Studios. They brought with them authentic and reproductions of "Sax Horns" and drums, hoping to form a band similar to one Gay had been involved with in California.
Professor H. M. Lewis, first cornet, has assembled a collection of sheet music of the period, mostly from private sources, as very little is available from the National Archives. The "backward horns," as Professor Lewis calls them, were designed so that the bell of the horn faced the soldiers who were marching behind the band. If a Civil War unit had the money, it equipped its band with these horns. If not, they played whatever brass they could find.
The Saxton band played with an exceptionally delicate sound, the cornet soaring to a high melody line. At the end of the program, a lone fifer from the British group stepped forward and the soldiers danced and sang to "Dixie" and "Rally 'Round the Flag." Cheers and hat tossing followed each of the songs.
Finally, the fifer played softly and the soldiers and their lades sang "Oh, there's no place like home, there's no place like home."
The band is receiving bookings for lecture series as well as from Civil War Re-enactment committees. A booking at Perryville, Ky., site of one of Kentucky's largest Civil War battles, is in the works for next October.
As for the night at the Old State Capitol, this reporter believes that not only the men and women who re-enact the times of the American Civil War, but also the ghosts who haunt the Old State Capitol, had a "ball" this night.