Matt Haimovitz Opens Museum Concert Series
By Patricia E. Finger
The J.B. Speed Art Museum began their 1990 concert series at the University of Louisville on October 7, 1990, with the young cello virtuoso, Matt Haimovitz. Although Haimovitz has not yet reached the age of twenty, his career as a world-class cellist already spans five years since his participation with Maestro Zubin Mehta and the Israel Philharmonic in a 1985 concert which was filmed and broadcast by Israel National Television.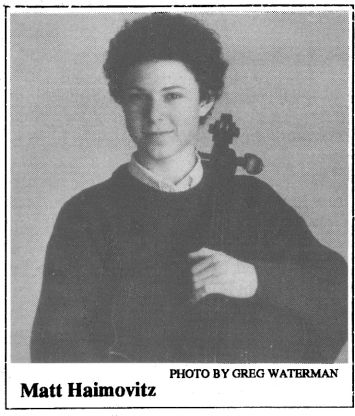 Haimovitz began his Louisville concert with the Sonata No. 2 in D Major, BMV 1028 by J.S. Bach. Haimovitz followed the trend with recent performers to play Bach in romantic style, and, in this case, not quite successfully. However, his brilliant technical ability with the Solo Suite No. 1 for Cello, Op. 72 by Benjamin Britton more than compensated for any stylistic problems. This piece requires intense concentration and ability to execute the unsettling rhythms and constant shifts in mood through three Canto sections. Haimovitz excels in the technical demands of pieces such as this; however, he exudes very little warmth in his interpretations, something which should improve as he matures.
The second half of the program consisted of the Sonata No. 2 in D Major, Op. 58 by Felix Mendelssohn. The second movement of this piece is a disarming Scherzo requiring a variety of staccato and legato articulations from the pianist. In fact, the brilliant capabilities of piano accompanist Margo Garrett were especially apparent here. The beautiful finale, characterized by improvisatory piano figurations, evoked the feeling of the Viennese Salon. Ms. Garrett currently heads the Accompanying Faculty of The Juilliard School and is a member of the Artist Faculty of the Tanglewood Music Center.
Haimovitz seemed to enjoy most his final performance of the Polonaise Brilliante in C Major, Op. 3 by Frederic Chopin. The simplicity of the piece and an obvious relaxed demeanor of Haimovitz added some warmth to an otherwise articulate performance.
In 1987, Deutsche Grammaphon signed sixteen-year-old Matt Haimovitz to an exclusive contract which was initiated by a recording of concertos by Saint-Saens and Lalo with James Levine and the Chicago Symphony. Future releases will include a recital of works by Schubert and Schumann with James Levine at the Piano, and the Dvorak concerto and Tchaikovsky "Rococo Variations" with James Levine and the Berlin Philharmonic.