Music Warehouse Opens Third Store
New Addition to Family Business
Don't have a cow, man, but the Bart Simpson "Yo, Dude" guitar straps were 25% off at Music Warehouse on Saturday, October 13, when Ray Shipp held an open house to introduce the newest member of his family. The new member is their third store, located at 4121 Shelbyville Road in St. Matthews.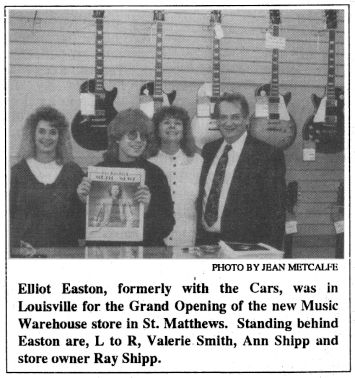 Everything, including a Jimi Hendrix pick guard and a portable Yamaha keyboard, seemed to be on sale for the occasion. A Gibson Les Paul Guitar was on display in the front of the store. The handsome instrument would be given away later to one of many hopefuls who took a minute to take a free chance.
Shipp, his wife Ann and their daughter Valerie Smith welcomed all the guests. Valerie's husband, Steve Smith, who is the manager of the original store at 3204 Bardstown Road, was also there to help out. Dave Ernspiker, manager of the new store, moved at a fast pace to greet visitors and customers, and was ably demonstrating a guitar for a quartet of prospective buyers when I arrived.
Outside, the "Grand Opening" sign was in the window and the WQMF Urban Assault Vehicle, with the station's weasel mascot's head protruding through the roof, was parked curbside.
Special guest Elliot Easton, former guitarist with The Cars, signed autographs and posed for photographs from his stool in front of the impressive array of Gibson guitars. The 36-year-old musician said that he had been playing Gibson guitars since 1971, when he was a senior in high school, and representing Gibson since 1979.
Gibson is keeping him busy, he said, with recent appearances in Dallas, Tampa and Saginaw, to name a few cities. When he's not traveling for the Gibson people, Easton is "just writing songs and rehearsing" with his new, as-yet-unnamed band.
Ray Shipp opened his first Music Warehouse location in May of 1966 in Hikes Point, after working eleven years at the Music Center. Ann Shipp worked in the store from day one. The Shipps later moved to a location at 3615 Bardstown Road, and when the owner sold the building he moved into a house at Old Shepherdsville and Bardstown Roads. In February of 1987 he opened a second store at 4120 Outer Loop near Preston Highway. The new St. Matthews store opened its doors for business on September 1.
The Shipps have indeed charted a busy course for themselves. We wish them smooth sailing.