October Showcase
By Gardner Barger
'The LASC presented its monthly Showcase on Saturday, October 6. The primary purpose of the Showcase is to give members an opportunity to present original material in an effort to improve themselves as writers, musicians and singers.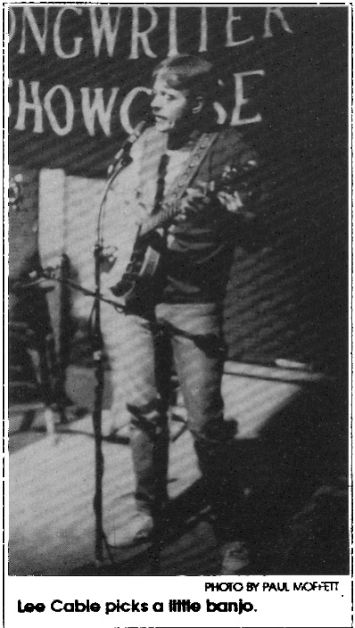 This Showcase had scheduled performances by the duos of Lee Cable and Robbie Bartlett, Michael and Diane Kessler and solo performances by Mike Layman and Earl Meyers. Robbie was unable to attend, much to the disappointment of those who have heard her sing.Bruce Thomas replaced her, teaming with Lee on several songs.
Lee's "Songwriting Fool" was a favorite. It expressed the belief that the songwriter's tunes would be welcomed in Nashville because the writer was "Bill Monroe's brother-in-law's cousin once removed."
Cable demonstrated his versatility by switching between banjo, guitar and mandolin as the songs required.
Michael and Diane Kessler were joined on stage by Jerry Hopkins. This group reminded the audience that music was made to be enjoyed whether you write, play, sing or just listen.
They invited the audience to join them in singing "Amazing Grace" and "Will The Circle Be Unbroken," which seemed to overshadow their fine efforts on "Independently Wealthy" and "Daddy's Big Bucks." They have long been active in the Louisville music scene. Their music has enabled them to travel throughout the United States, as well as to the Soviet Union.
Mike Layman's music leaned toward "groove" tunes which he performed rather well. The songs which meant the most to him were "It Was You," dedicated to his wife on their first anniversary, and his "Somewhere Down the Road," dedicated to the spirit of his father. His was able to transfer the depth of his feelings to the audience, an accomplishment every songwriter and performer would like to achieve.
Earl Meyers is the writer of the "Earl's Pearls" in the Louisville Music News, local coordinator of the Nashville Songwriters Association International and an accomplished songwriter. He writes a variety of songs and performed many of them, including the light-hearted "Jump Start My Engine" and the intense "Tabitha." Earl is willing to write and rewrite to improve his songs. He considers rewriting the major skill essential to becoming a successful songwriter.
Earl's set was interrupted several times by a balky sound system, but he maintained a disciplined temperament and finished his part.
All in all, this Showcase was one of the best I have attended. It did what it was intended to do - showcase the talents of LASC members.
The next Showcase will be part of the "Hit Makers '90" Songwriting Seminar and Showcase on November 2 and 3 at the Holiday Inn Downtown. Alan Rhody will headline a group that includes many songwriters. Admission is $6.