Open the Gates and Let the Blues Rush In
By Keith S. Clements Secretary, KYANA Blues Society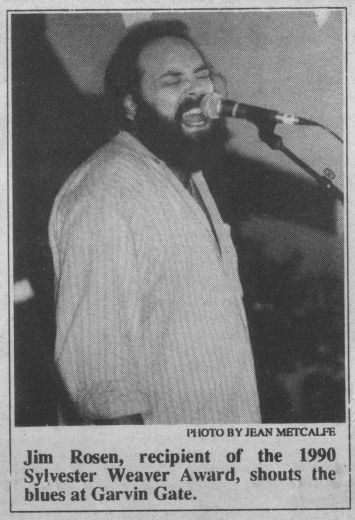 The red light says stop and the green light says go at the intersection of Oak Street and Garvin Place, but the signals were ignored the weekend of October 12 and 13 for this crossroads was transformed into an arena for two days of great blues. Crossroads is an appropriate analogy for the Garvin Gate Festival because it is on the threshold of becoming a major regional blues festival like the King Biscuit Festival in Helena, Ark., and the Mississippi Valley Festival in Davenport, Iowa. The event now features a wide variety of well-known bands as well as unknown groups. Through the combined efforts of Scott Mullins booking the bands and emceeing the acts, Laura Price with Pride! Events consulting, the Garvin Gate Neighborhood Association providing the Old Louisville setting, the KYANA Blues Society's joint sponsorship and, most important, all the people who attended, helped make the Third Annual the biggest and best event yet. The Festival still maintains a neighborhood-street-fair character at the south end of Garvin Place, with booths selling the usual fare of beer and corn dogs mixed with some exotic Oriental dishes and down-home jambalaya. There was even incense burning and some fair young ladies belly dancing, but at the north end of Garvin Place was where the wailing harps, pounding drums and the screaming guitars held reign. To accommodate the larger crowds, estimated between 20,000 and 25,000 for the entire weekend, Oak Street was closed between Fourth Street and Sixth, which created a great gathering space between the gate and the stage set up on the other side of Oak Street. This midtown location drew an interesting mix of people, young and old, black and white, poor and not-so-poor, all with a common cause -- to have a good time with the blues.
The local bands that performed included Curtis and the Kicks, Foree Wells and the Walnut Street Blues Band, Mark Stein and the Steamrollers, Lamont Gillispie and the Homewreckers and da Mudcats. These five bands represented the cream of the crop of our hometown blues talent. All of these bands, with the exception of Lamont Gillispie, have a cut on the new Louisville Blues Compilation cassette and album. Each group deserves to have more regional exposure and to record more of their music since they were in the studio two years ago.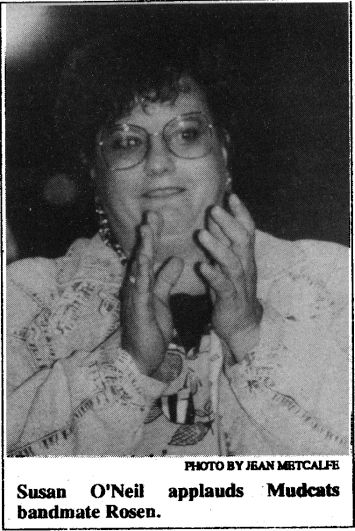 Curtis has developed a smooth sophisticated blues sound with his polished guitar licks. He did a nice version of Fenton Robinson's "You Don't Know What Love Is,"which Fenton sang again later that evening. The Kicks include Rick DeBow on sax, Keith Hubbard playing keyboards, Butch Ellis on bass, and Gary Underwood beating drums.
Foree's band is a family affair with his three sons: Gregory playing keyboard, Foree III on drums, and Michael on guitar. Smoketown Red was there on rhythm guitar, and George Curry played bass. When Foreee sings and plays his guitar it recalls the great sound of his early Memphis days with that touch of B.B.'s influence. He will wince as he bends a few sparse notes, then he gives a nod to Michael who steps on his pedal and fills the air with a cascade of contemporary blues notes. Foree's father-and-sons relationship recalls Big Daddy Kinsey and the Kinsey Report. During Foree's set Phil Guy performed, providing a sample of what was to come later that night.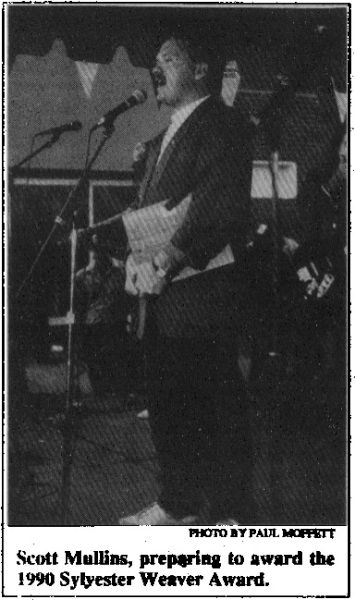 Fenton Robinson is called "The Mellow Blues Genius"by his many admiring Japanese fans because his music is considered thoughtful and melodic. This evening Fenton and his finely honed band turned in a memorable performance which included his classic "Somebody Loan Me A Dime."Fenton's stage presence is totally opposite to another Chicago guitarist, Lefty Dizz, who performed on Saturday. Fenton does no gymnastics or theatrics, he just stands there and plays some of the sweetest blues sounds around. His voice reaches for the high notes no bluesman would dare, and his guitar flirst with jazzy and funky rhythms that reflect his formal study, blended with his paid dues spent playing the chitlin circuit and the Chicago bars. Fenton is currently nominated by the Handy Awards for the best Foreign Contemporary Blues Album for 1990, called Special Road, on the Black Magic label.
Mark Stein opened for Phil Guy in The Rudyard Kipling and, if there was a warm-up act, Mark is it. He plays a no-holds-barred style of guitar. Mark Hoekstra, the local contingent of West Side Heat, sat in with the band, playing excellent harmonica and singing.
Phil's brother, Buddy, was here in September for the Louisville Bluegrass and American MusicFest, and comparisons of their contrasting guitar styles are inevitable. Frankly, I prefer Phil's performances, for he plays under control and always brings good musicians, which included Doug McDonald on second guitar, J.W. Williams on bass, and Jody Young playing drums. J.W., who also plays with the Chi-Town Hustlers, said he will be featured on a second volume of the New Bluebloods album due for release by Alligator in the near future. It was 2:00 a.m. when I left, and Phil and The Chicago Machine were still in high gear.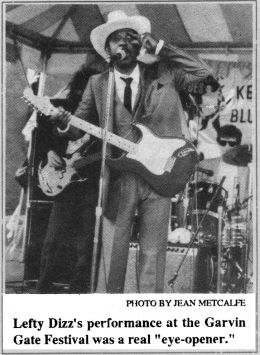 It wasn't but 15 minutes to showtime on Saturday afternoon when the sun broke through the cloud cover and the cross roads began to heat up once again. Paul Black and The Flip Kings came down from Madison, Wis., to open the second day's performances. The initial crowd was laid back but appreciative, and the numbers would steadily increase as the afternoon wore on. Paul played slide, alternating between two guitars. Henry Woodruff, who was next to me at the time, said, "He plays my kind of style -- sitting down."Paul mixed some of Robert Johnson's traditional sounds with Elmore James lashing riffs and even an occasional Hawaiian lick. The Flip Kings included three musicians on drums, stand-up bass and an excellent harp man that blended well with Paul's guitar work using both blues and chromatic harp. Paul Black's mastery of the slide guitar and gritty vocals was a pleasant surprise. His set was highlighted by "Sugar Coated Love,""Working With My Baby"(which included a nice harp solo), "Ramblin' On My Mind,""T.V. Mama,"and "I'm Your Fixer."
Lamont Gillispie put on an energetic set of solid Chicago blues with his harp and vocals, and the Homewreckers' lead guitarist, Rick Mason, did his excellent note-for-note version of Magic Sam's "Lookin' Good."The band came back later to back up Lefty Dizz. Left is 50% guitarist and 50% showman, and he always gets the crowd going with his antics. He characteristically holds his guitar out in front of him with one hand and plays the fret board with his clenched fingers. He also went out into the audience and found a toddler to pluck his strings. Lefty's red outfit made an interesting contrast to Lamont's bright-blue suit. Lefty is celebrated for his animated guitar work, but I enjoyed his plaintive vocals on "Oh No,""When Things Go Wrong,"and "Made Your Move Too Soon."Scott Mullins said while Lefty was in town he cut three songs with Lamont and The Homewreckers at Artists Recording Service, including "Let the Back Door Hit Ya, Where the Hound Dog Bit Ya"which will come out as a 45 EP.