The Chorus is More Than An Attractive Stage Setting
A Conversation with Yvette Eastham
By Henry C. Mayer
"The music for the Top 40 songs is better than their lyrics!"
The speaker is Yvette Eastham, who is appearing in the Kentucky Opera Association's chorus. Last year, she made her debut in Verdi's "La Traviata," followed by Mozart's "Magic flute." This season, she sings in the opener, Verdi's "Otello," followed by Gilbert and Sullivan's "Pirates of Penzance" and Bellini's "Norma."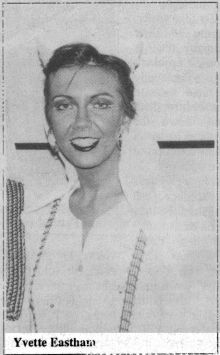 Yvette Eastham
Ms. Eastham recently moved to Louisville from Somerset, Ky., after commuting last year to practice and perform.
Daughter of a couple from Corbin, Ky., Ms. Eastham was born in Florence, Ala., in the midst of that state's coal field. She has a ready smile, a pleasing personality, is statuesque in appearance and well educated. Though not yet thirty, she has a diversified work experience and some challenging views about life. Her two degrees relate to vocational and community counseling.
Ms. Eastham continues, "There are many good things being done today in the various types of popular music. They reflect the struggles, frustrations, hopes and questions, especially among our young people. Yet I find it interesting that many of them are again listening to the songs of such artists as Bob Dylan, Peter, Paul and Mary, and other performers of the '60s. They are listening carefully to both the lyrics and the music."
"Music has always sought to express people's feelings about their lives. For me, the return to these songs says that they are looking for a lifestyle that goes beyond merely looking out for Number One. It is because so many of the Top 40 songs are dominated by one's self and how fast and how much one can make that I find limitation in the lyrics. That is not all that life is."
We then asked her what it's like to sing in KOA's chorus.
The sparkle in her eyes matched the excitement in her voice. "It's wonderful. I couldn't believe it when David Berger (KOA Chorus master) phoned me in Somerset to say I had qualified to be in 'Traviata.' I soon found that this appearance had brought me into special contact with two wonderful people."
"David simply communicates his great love for the music. His feelings for it excite you to do what you have to do. I also had a wonderful choral partner in Austin Pettaway. As you might expect, in our early rehearsals and practices, I got the jitters. Austin just patted my hand and said, 'Don't worry, I'll show you what to do.' And he was just as good as his word."
What does it take to get ready for an opera?
"We had about twenty rehearsals, each lasting three hours. On Saturdays, practice could take from five to six hours."
"When you go to the opera, watch the chorus more closely. They're not just attractive extras or decorations for the stage. They set the stage for what is going on. Take the Chorus in 'La Traviata.' It opens with a party dance at Violetta's apartment. The chorus helps you to feel the gaiety of the occasion and something of the lifestyle in which Alfredo and Violetta meet and fall in love. The gaiety also contrasts with the tragic misunderstanding which is what the opera is really about."
What does music do for you?
"Music is so much in my heart -- it tells me who I am. I feel the parts I take or hear. Last season I saw 'Les Miserables' in New York. I felt with the woman whom Valjean loves. But music is demanding; you need continuing self-control, great posture and to be in top physical condition."
In what other musical events are you involved?
"My husband Wayne, who is my accompanist and who is studying for his Master's in Ministry in Music at Southern Seminary, and I put on a two-part, one-and-a-half-hour program at various churches. We have appeared in a number of southern states and before congregations in Southern Baptist, Nazarene, Methodist, Lutheran and Episcopalian churches and the Church of God. We tend to use traditional southern gospel and spirituals because we find the people respond to them. We always leave a part of our program for the congregation to join in. We are there to help people worship; we are not there to be performers. I am especially happy when we have children take part. When I hear them sing 'I've got joy down deep in my heart,' I get a lump in my throat and the parents are so proud of their youngsters."
Do you ever think you would like to take a title role or principal part in opera?
"Oh, yes, that would be wonderful. But right now I simply want to be the best possible member of the chorus I can be."