Will Rambeaux and Shaking Family
at Snagilwet on October 26
By Leonard January
The operational word for the review of both Will Rambeaux and Shaking Family is "direction." First, Will Rambeaux.
Rambeaux is a singer-songwriter who was raised in Louisiana, lived in Manhattan's Greenwich Village, and now resides in Nashville, Tenn. The geographical shifting of this artist is probably one of the chief reasons he is able to take characters in his songs and dissect them to show all the subtle nuances that drive people to do the things they do.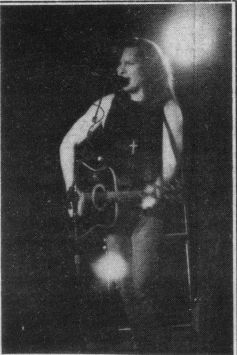 Will Rambeaux. Photo by A. Cobb
Songwriters of Mr. Rambeaux' caliber are like human sponges, being adept at observing people in their natural habitat. From the depths of the streetwalker in West Los Angeles ("Nobody's Girl"), who claims, "I'm not cheap, but I can be had," to the millionaire's daughter in a song entitled "Colleen," who was weaned on Perrier water. She is the blue-blood queen of the upperclass. These are the elements of turmoil that Mr. Rambeaux succeeds in exposing.
He has a tremendous amount of energy and this is important when you are up on stage. There is no place to turn to when you're an opening act in a new town. One has to be able to wrench out the guts in each number and lay it on the table for the audience's delight. Mr. Rambeaux does exactly this.
As a technician, he has mastered the guitar. His acoustic leads in each song reinforce the energy that he creates. The crowd at Snagilwet was most receptive, and by the time the seventh song -- "Old Typewriter" -- was completed, it was obvious they were into this artist. My favorite of the night was a song entitled "When the Night Comes Down." It evokes all the emotions, lost loves, lost homes and families which we all experience at one time or another. The thing I also like about this fellow is his ability to make fun of himself.
In one piece, entitled "Trouble," Mr. Rambeaux is writing about that "same old girl" who seems to haunt him in most of his man-woman-relationships-gone-to-the-dogs songs. In this case, it looks like he's gonna end up six feet under with the cows. That really got the crowd standing on their toes to get a better look at an artist who they obviously decided to accept.
Under new management, he has been able to clearly get the proper direction that is needed to guide a career. It's kind of like steering a boat. You've got to have someone up at the top looking out for icebergs and shallow waters.
Mr. Rambeaux's next port of call will be on November 27 at the Vogue Theatre in Indiana, opening for Warren Zevon.
Shaking Family is a very good band. Shaking Family has great vocals, and each member has mastered his instrument. They are quite animated. Just to look at each member, one gets the feeling that they all are doing exactly what they want to do in music. So what's wrong with this picture? To most of their fans in the audience . . . nothing. To this writer, and probably to their record company, there is a minor problem: direction. Somebody needs to hand them a compass and show them which way down the road they need to travel to make their selection of songs more cohesive. In the several new originals that they introduced last night, it seems they may be getting on that road.
Of the new tunes, entitled "Lighter Than Air," "Don't Tell A Soul" and "Plenty," the former has fairly good potential for being acceptable as a directional, commercial tune. Ah, commercial. The dreaded "C" word that every songwriting band loves to throw shoes at. That's what appears to define the word direction. If you can string enough commercial-sounding songs/hits . . . you've got direction. I think what bothers me in some of their songs is that they get on a certain groove (for lack of a better word) and then seem to love to change beats and time structures. For me, I get a bad case of rhythmic whiplash. Just when the family should be staying in a certain, successive pattern, they feel the need to go into a funk style. However, this type of critique will be saved for their next album, due out sometime next Christmas.
One interesting aspect was lead vocalist drummer Tim Chewning teaming up with Barbara Ann Carter on a Little Feat cover, "Sailing." They were fantastic, and Ms.
Carter's vocals, although sounding somewhat hoarse throughout the evening, seem to mesh perfectly with Mr. Chewning. This man has an incredible delivery, and I somehow get the feeling that he would rather be doing a lot more lead vocals in the future. His a cappella encore was outstanding.
Brendan Lewis on bass is, as usual, superb. He and Mr. Chewning are an incredibly solid rhythm section. They could play on any stage with anybody.
Guitarist Vince Emmett was right on the coin and was pointedly solid on vocals.
Aside from constant feedback, the mix of sound was fine for a brick shotgun room.
There is no doubt that the bands gets smoother and righter each time I see them. One hopes that new Memphis manager David Page has the compass out and pointed in the right direction that will let these talented Louisvillians go straight to the top -- where they should be.